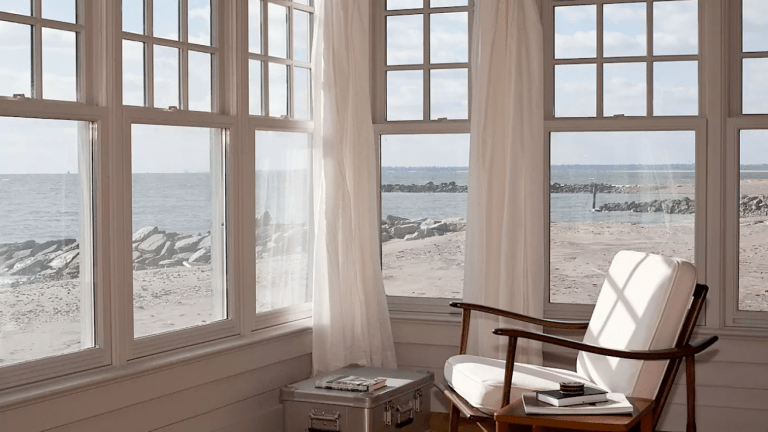 It's Time You Knew About These 15 Dreamy Beachside Retreats in the U.S.
Cravings for a coastal summer? Add these seaside escapes to your bucket list.
I was born in Long Beach, California, and have lived on both U.S. coasts my entire life. Suffice it to say, I feel most peaceful and free when I'm by the shore. Thankfully, America is surrounded by breathtaking beaches on three sides—not to mention inland, if you count the Great Lakes.
Always up for a girls' getaway, we combed through Airbnb's massive selection of seaside escapes to bring you the best local beach house summer rentals you can book with your bestie (or your entire squad) right now.
Ocean Front Beach House
Location: Malibu, CA
Guests: 5
Price: $480/night
This dreamy Malibu beach house sits on a private beach with doors that open onto a seventy-feet-long deck overlooking the Pacific Ocean. Plus, waterfall shower heads and an indoor jacuzzi—need I say more?
Pebble Beach Guest House
Location: Pebble Beach, CA
Guests: 2
Price: $315/night
With its French doors and fine furniture, this Pebble Beach guest house in the Del Monte Forest, a Northern California golf destination and upscale gated community, is straight out of an Austen novel.
Romantic Beach Cabana
Location: Laguna Beach, CA
Guests: 2
Price: $225/night
It's not on the sand, but this cozy cabana is just a few-minute walk to the beach. Sip wine from the private deck while soaking in the ocean view and the sounds of crashing waves below. Cabana-side sunsets are a plus.
The Bay Bungalow
Location: Hanalei, HI
Guests: 4
Price: $900/night
That price tag doesn't come without its perks. The newly remodeled bungalow sits on world-famous Hanalei Bay on Kauai, renowned for its white-sand beaches, world-class surfing, homegrown coffee shops, bakeries, and farmers markets abounding with exotic local produce (dragonfruit and avocados the size of your head for $1 each).
Brand New Cottage by the Beach
Location: Cannon Beach, OR
Guests: 8
Price: $425/night
Chip and Joanna Gaines would approve of this well-designed cottage's Pacific Northwest coastal aesthetic. After hanging out at the beach, grill on the back patio or get cozy around the fire pit.
Beach Front Cottage
Location: Stratford, CT
Guests: 5
Price: $250/night
This classic 1930s cottage has Gatsby-worthy views of Long Island Sound, with the surf and sand right outside your front door. The stylish and simple decor are a dream for vintage minimalists.
Smuggler's Treasure
Location: Chincoteague Island, VA
Guests: 8
Price: $200/night
Take in the smell of the salt air and whispering pines while enjoying your morning coffee overlooking a tidal pond teeming with wildlife. Foodies will love whipping up meals in the grand gourmet kitchen, while guests can enjoy wining and dining alfresco on that sweet wraparound deck.
Martha's Vineyard Pied-à-Terre
Location: Martha's Vineyard, MA
Guests: 2
Price: $175/night
This pretty Martha's Vineyard pied-à-terre overlooks the quaint village's charming mix of restaurants, shops, galleries, and theaters. It's a short stroll from the harbor ferry, where you can rent a moped or bicycles to adventure along Vineyard Haven's working harbor.
Modern Beach House on Outer Banks
Location: Kitty Hawk, NC
Guests: 5
Price: $299/night
Half a mile from the beach, this home is a bit farther from the water than we'd like. But the hosts provide all the trappings you'll need for a carefree summer vacation, and the bright and airy decor is a breath of fresh, salty air.
A Pirate's Life for Me Houseboat
Location: Charleston, SC
Guests: 3
Price: $289/night
Featured on FYI Network's Tiny House Hunters, this floating abode in a private slip on Charleston Harbor was made for people looking for absolute peace and tranquility.
Lido Beach House
Location: Sarasota, FL
Guests: 6
Price: $275/night
There's something super-kitschy and cute about this cheery yellow house, just a stone's throw from Lido Beach in Sarasota. If you're into mid-century modern cool, this is the seaside destination for you.
Palm Beach Studio
Location: Palm Beach, FL
Guests: 2
Price: $124/night
Escape from life's stresses to this studio oasis in the historic Palm Beach Hotel. After a day of building sandcastles, find respite in the brilliant blue tones, vibrant daffodil yellow tiles, and tasteful furnishings reminiscent of Yves Saint Laurent's Jardin Majorelle in Morocco.
French Quarter Luxury Condo
Location: New Orleans, LA
Guests: 6
Price: $198/night
Go back in time to the glory days of French opulence in this historic 1830s building. While not technically beachside, it is riverside—you can take a paddlewheel cruise on the Natchez River Boat, which docks just a few blocks away.
Camp Coyoacan Tent Bungalow 
Location: Port Aransas, TX
Guests: 2
Price: $85/night
Camp Coyoacan is an urban boutique campground—outfitted with a private pool and grills—that offers quirky but comfy lodging just steps from the beach, restaurants, and nightlife.
Modern Farmhouse
Location: Northport, MI
Guests: 6
Price: $220/night
Beaches, boating, fishing, quaint towns, wineries, cheesemakers, and hiking surround this picturesque farmhouse with modern amenities within a five-mile radius. Plus, when else will you have access to vegetable gardens, free-range chickens, an outdoor kitchen and fireplace, and a hilltop hammock with a view of the Michigan Isles?