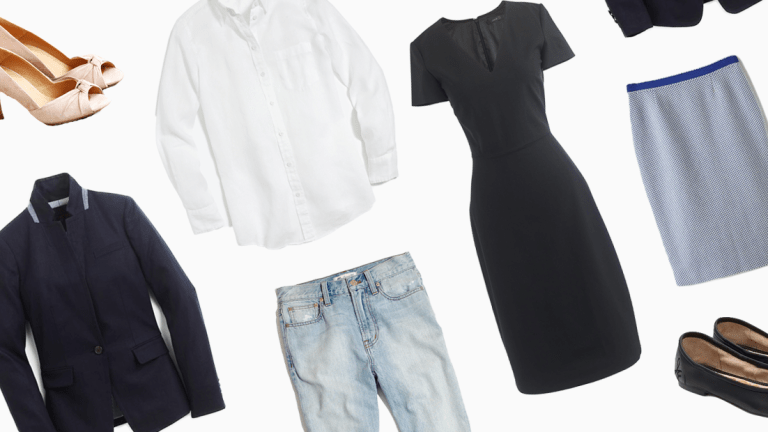 The 7 Items That Should Be in Every College Grad's Closet
Because facing the adult world is better with an awesome outfit
So you've tossed your graduation cap and taken the first few steps into the adult world. With a brand-new chapter of life unfolding before you, it's important to put your best foot forward, and for many of us, looking like an adult is vital for confidently taking on a new job and social life. But let's be real: Ninety percent of the typical college grad's wardrobe is made up of yoga pants and items from the Forever21 sale rack—not exactly the attire of an aspiring professional.
Well, dear college grad, it's finally time for a wardrobe makeover. Fear not, your closet overhaul won't cost you thousands of dollars. Really, only seven items are necessary for surviving that first post-college year.
You don't even need to buy these items at retail prices or all at once. The top tip for any young adult is to shop thrift stores and consignment shops for high-quality professional items. These secondhand shops are teeming with luxury items that simply need a trip to the dry cleaner. Avoid fast-fashion stores and any fabrics with high polyester content; these items often look cheap and won't last longer than a year. Keep in mind that if you invest in quality, your wardrobe will look professional and will last for many more years to come.
Ready to shop? Remember these seven items, and you'll be ready for the real world in no time.
Arguably the most "grown-up" item you could own, the blazer serves many occasions while keeping you polished and professional. The great thing about the blazer is that it can be worn both formally and casually. A blazer pairs perfectly with any office slacks or pencil skirt while also matching seamlessly with a pair of blue jeans for a more laid-back look. Most importantly, high-quality blazers are very common at thrift stores, so stock up on a few in a variety of colors, fabrics, and prints.
After college, you don't really need T-shirts anymore, unless you're working out. The button-up shirt offers all the comfort of your favorite tee but actually helps you look put-together. The great thing about the button-up is its styling versatility: You can roll up the sleeves, tuck it in, pop the collar, and so on. You can also pair it with the rest of your office wear or simply with some shorts on the weekend. This is another fantastic item to stock up on at a thrift store.
Every woman searches for the perfect jeans, and what better time to find them than right after graduation? But your dream jeans probably won't be made out of flimsy fabric or found at a cheap store. Head to a store that is known for its jeans, such as Madewell, which has mastered the art of a flattering high rise. Stick to a wash that you can dress up or down and that has minimal destroyed details.
"Sensible heels" have become a running joke, but they actually come in handy. Sensible heels don't have to be boring or mom-ish. Simply stick to neutral colors such as black or nude and a moderate heel height (two inches or less). Pick a shoe shape you love so that you're excited to wear them to work, special occasions, or drinks on a Friday night.
The key to a grown-up wardrobe is to invest in a go-to dress that you can wear everywhere. Whether it's the office or cocktails, you need a dress you count on. Stick to a classic fit such as the pencil dress in a neutral color like black. That way, the dress will serve as a canvas to however you want to style it.
Like the pencil dress, the pencil skirt is versatile but will especially come in handy when you're going on interviews or to work. Make sure you get it in a comfortable fit that doesn't restrict your movement. You can wear it with both flats and heels as well as any top. The pencil skirt is another great item you will most likely find at a thrift store. They are often made out of high-quality fabric and come with a silk lining. 
We all have a vision of ourselves conquering the professional world in heels, but the reality is that heels are painful. That's why it's super-important to find a pair of comfortable flats that can take you through your commute and workday. Take a cue from the Parisians, and wear your ballet flats outside of work, too. Simply wear them with jeans or any dress or skirt you own.