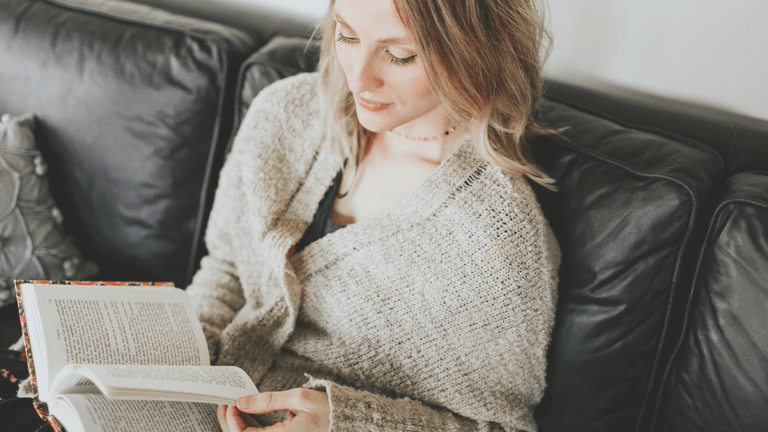 These Fave Young Adult Books Are Just as Good (if Not Better) When You're an Adult
No matter your age, a good book is a good book.
The inimitable C. S. Lewis said, "A children's story that can only be enjoyed by children is not a good children's story in the slightest." As a reader, a mother, and an editor of children's books, I have to agree. The books my kids and I reach for again and again are those with characters that resonate, scenery that illuminates, and themes that touch who we are as humans—even if the story itself involves things like talking badgers.
Years ago, I passed around a dog-eared, pre–Emma Watson copy of Stephen Chbosky's The Perks of Being a Wallflower with my two best friends until we could quote it by memory. Now, revisiting the books I read as a younger woman is like a conversation with another version of myself. I see different things in these stories now than I did then, and as I begin to share them with my children, nieces, and friends' children, I appreciate them on a new level.
The Giver by Lois Lowry
In its year of publication (1994), The Giver won the Newbery Medal, arguably the most prestigious award in children's literature. Written before dystopias were all the YA rage, it's the story of 12-year-old Jonas, who has been selected as the new Receiver of Memory in his strictly regulated community. The task is a lonely and troubling undertaking and pushes him to his limits. The 2014 film adaptation was well done (except Jonas' eyes weren't blue!). The three books that follow, creating a quartet, are also worth a read.
The Chronicles of Narnia by C. S. Lewis
I used to think I didn't like science fiction or fantasy, so it wasn't until I was an adult that I gave this seven-volume series a chance. How wrong I was! For the most part, the books center on the four Pevensie children—Peter, Susan, Edmund, and Lucy—and their adventures in a magical land accessible through a forgotten wardrobe, a train station bench, and a framed painting, to name a few. The world is fantastical, but Lewis' observations of the realities of human nature are as shrewd and humbling as in his works written for adults (The Screwtape Letters, for one).
A Wrinkle in Time by Madeleine L'Engle
You have a choice when revisiting this blast from the past: stick to the original or indulge in Hope Larson's gorgeous graphic novel adaptation. All the dialogue is taken directly from the novel, so you won't lose much in translation. To know the protagonist Meg Murray is to love her. She is different, some might say awkward, and aware of her weaknesses. But she's also capable of more than she realizes. Travel takes on new meaning, so you can also try the audio book on a spring road trip.
Where the Red Fern Grows by Wilson Rawls
This is the first book that made me cry, and by cry I mean bawl my eyes out. I couldn't read it alone; I needed my mom to sit with me and help me through the painful moments to the hopeful sign at the story's conclusion. There is no romance here, but there are themes of love, loyalty, loss, and sacrifice that made a powerful impression on me.
The Face on the Milk Carton by Caroline B. Cooney
Amazon's description of this series makes reference to We Were Liars and Girl on the Train, but make no mistake—Janie came first. Imagine discovering that you were kidnapped simply by glancing at your milk carton during lunch in your high school cafeteria. So begins the story of Janie—or is it Jenny?—and her journey to finding her true family. Page-turner is an understatement.
Tuck Everlasting by Natalie Babbitt
If you could live forever, would you? The Tuck family has experience in this arena, and their relationship with much-younger Winnie creates a landscape for all kinds of questions about what it means to live. Before Babbitt passed away, she spoke at an event celebrating the book's fortieth anniversary and advised the audience not to see the 2002 film adaptation. Take heed and stick with the book. Look for a copy with the yellow cover; Babbitt herself did the artwork.
As Lewis said in another gem of a quote, "No book is really worth reading at the age of 10 which is not equally—and often far more—worth reading at the age of 50 and beyond." What books from your earlier years are due for a visit? Share your favorites with us in the comments!