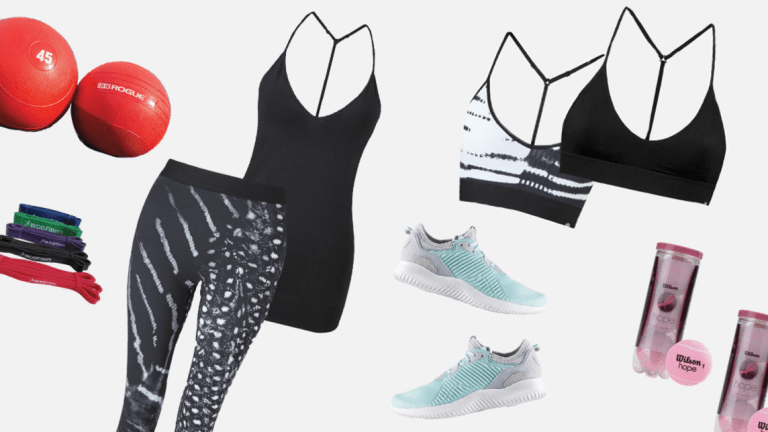 6 Fitness Purchases That Experts Recommend for All of Us
Spend your money like a health expert.
Raise your hand if you've ever spent money on a fitness purchase that you used a handful of times and haven't used since. I'm glad I'm not the only one. So rather than a fad as-seen-on-TV appliance, what should you spend your cash on? I asked health and fitness experts which products they recommend investing in if you actually want to get the most out of your fitness routine.
01. A Solid Sports Bra
Dr. Joshua Zuckerman, a Manhattan-based plastic surgeon, recommends "wearing a good supportive sports bra that limits the motion of the breasts for any kind of workout from a brisk walk to running or cycling. Any time the breasts will be stressed by intensive motion or activity, they need support." When you're looking for a sports bra, Dr. Zuckerman suggests finding one that is both supportive and breathable, "because otherwise, dermatologic issues, such as slight acne, can develop with constant bra wear."
02. Form-Fitting Workout Wear
Some people don't think it matters what they wear while working out (does "I'll just get sweaty anyway" sound familiar to you?). But personal trainer and coach Robert Herbst says, "While workout attire can be attractive, it should be functional. It should be cut for freedom of movement but should not be baggy." Bonus: it's much more motivating to get to the gym if you feel great before you even break a sweat!
03. Shoes for Your Sport
Herbst advises buying a good shoe that reflects your fitness goals. "For example, if you will be doing a lot of strength training, you will not want a running shoe with a spongy sole as you will not have a lot of stability." Invest in a pair that will stand the test of time and support you in the activity you participate in it three or more times a week, according to The American Orthopaedic Foot and Ankle Society. They recommend purchasing from a specialty store and trying on athletic shoes after a workout or at the end of the day when your feet are most swollen. Wear the same type of socks you expect to exercise in. The shoes should feel comfortable right away; there is no "break-in" period.
04. Tennis Balls
Chiropractor Dr. Caleb Spreiter says the number one fitness purchase he recommends is a can of tennis balls—not for playing tennis but to use on sore muscles. "I see patients with trigger points and sore muscles on their backs and upper traps all day long. They can treat those trigger points at home by pinning the tennis ball between the wall or the floor and their back, then applying steady pressure or rolling back and forth over it." Dr. Spreiter adds, "It's a great way to reduce some muscle tension for less than $5." They aren't just good for backs either. There are myriad ways you can use tennis balls before or after workouts to relieve tension and pain, such as using them for your feet, knees, and thighs.
05. A Weighted Slam Ball
Steven McDaniels, director of fitness and athletics at Beacon College, recommends a weighted ball like the Rogue Echo Slam Ball to add an easy, at-home piece of workout equipment with multiple uses. Slam balls can be used in place of free weights and can increase the cardio aspect of strength-training exercises. McDaniels says, "These are great because when you throw the ball on the ground, [it] will not bounce back up at you." You can "squat, grab the ball, and slam it down again. Do about twenty of these babies, and you'll feel the burn and get a good sweat."
06. A Fitness Band or Suspension Trainer
A simple fitness band is another easy piece of equipment to keep on hand at home or in your bag. They're portable, easy to store, and won't break the bank. McDaniels recommends WODFitters Resistance Bands, which are "ideal for developing muscle memory. . . The thicker the band, the more assistance it gives. . . . As your skills improve, you can go to less and less resistance." They're easy to add to your existing workout routine to make them more efficient.
Similarly, personal trainer Jason Debel recommends investing in a suspension trainer such as this one from Urban Strength. He says, "If you look at gymnasts, you'll see they are icons of flexibility, mobility, and strength." A suspension trainer is great for stabilizing upper body strength and developing core muscles. Debel adds, "They can be thrown over a branch or bar, and you can get a full body workout that challenges nearly every muscle in your body." Can't go wrong with portable and affordable!
Your health is an investment, not an expense. These tried-and-true fitness purchase recommendations are worth your time and money.