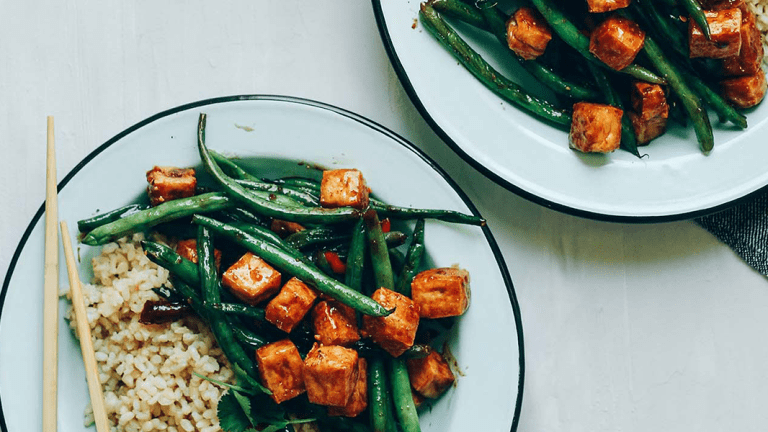 Add These 15 Foods to Your Clean Eating Grocery List at Trader Joe's
All this healthy goodness for under $55? Worth it.
When you see the Trader Joe's name on a label, you can be assured that their products contain no artificial flavors, preservatives, MSG, genetically modified ingredients, or partially hydrogenated oils (aka, artificial trans-fats). Their private label also uses only colors derived from natural sources like plants and minerals—beets, beta-carotene, turmeric, and paprika, to name a few.
Still, there are plenty of Trader Joe's goods that are highly processed and contain ingredient lists as long as my arm. Whether you're aiming toward an anti-inflammatory diet or just trying to eat cleaner, healthy eating doesn't mean having to sacrifice taste, convenience, or affordability.
Here's a quick list of the Verily team's favorite tried-and-true items at TJ's that help us eat whole foods at a price point we can all stomach. But do heed Trader Joe's (extremely amusing) disclaimer:"[P]rices may have changed due to fluctuating market prices, federal regulations, currency rates, drought, pestilence, bandits, rush hour traffic, filibusters, clowns, zombie apocalypse, punctilious product developers…; Contact our Crew for current price and availability."
Fresh
Riced Cauliflower ($2.49 for a 16-ounce bag) Nothing but cauliflower, you can use this surprisingly convincing ingredient to replace recipes you would normally eat with rice: pilaf, paella, jambalaya, sushi, and even risotto.
A Pot O' Basil ($3.99 a plant) Warm weather is calling for Caprese antipasto, homemade pesto, and fresh Basil tossed in every. Single. Salad. Invest in one, and you'll savor fresh basil all season long.
Whole Milk Greek Yogurt ($1.29 per 8-ounce cup) Whole milk yogurt tends to be richer and creamier, even though there's only a 1.5% difference between this and 2% varieties.
Firm Organic Tofu ($2.49 for a 16-ounce package) At 14 grams of protein per serving, you can't go wrong with slicing, dicing, grilling, stir-frying, or scrambling this into your next salad, sandwich or side dish. Or crisp them in the oven for an Almond Butter Tofu Stir-fry by Minimalist Baker.
Frozen
Spinach & Kale Bites ($3.99 for a box of 10 bites) A blend of spinach and kale, mixed with onion and Parmesan cheese, then lightly dusted with panko breadcrumbs for a bit of added crunch, these crowd-pleasers are the perfect party app.
Shrimp Stir Fry ($3.99 a bag) Pair with riced cauliflower for a quick and tasty weeknight meal instead of ordering takeout. Verily's editor-in-chief said it best, "The shrimp stir fry is SOLID and super, super healthy. It's literally just veggies, shrimp, and a salt and pepper spice pack."
Grass Fed Angus 80/20 Burgers ($6.99 for 4 patties) Black Angus New Zealand cattle are 100% grass-fed and spend their lives grazing wide-open pastures. Because they're also antibiotic and artificial growth hormone-free, they don't take on a heavy or fatty taste. They're full-flavored, clean-tasting, and beefy—the trifecta for a perfect burger.
Sweet Potato Frites ($2.29 for a 15-ounce bag) A healthier alternative to french fries, these bright orange fries bake crisp on the outside and creamy-but-firm on the inside. Another top anti-inflammatory food, sweet potatoes also bear a nutrient-rich profile of vitamins A, B, C, potassium, and dietary fiber.
Organic Edamame ($1.99 for a 12-ounce bag) This protein-packed, fiber-rich legume has been eaten as a snack in Japanese and Chinese cultures for centuries, but they also make a satisfyingly crunchy addition to stir-fries, salads, side dishes, and soups. Sub them where you'd use green peas, like in this 30-minute, 1-Pot Kale Sweet Potato Curry.
Pantry & Snacks
Island Salsa ($2.99 a jar) This sweet and slightly spicy mix of anti-inflammatory mango, pineapple, bell pepper, and red jalapeño will transport you to the tropical beach vacay you've been dreaming about.
Omega Trek Mix ($4.99 for a 12-ounce bag) Almonds, walnuts, pumpkin seeds, pecans, pistachios and dried cranberries maximize the Omega-3 fatty acids in this snack which makes it a great addition to anti-inflammatory diets.
Dark Chocolate Honey Mints ($3.99 for a 7-ounce bag) When you're craving something sweet, this treat is made of three ingredients: dark chocolate, honey, and peppermint oil. Just don't eat a bag a day, and you'll be fine.
Unsweetened Instant Oatmeal ($3.49 for a box of 8 packets) Certified gluten free whole grain oats mixed with flax, chia, quinoa, and amaranth lend rich and nutty qualities you can enjoy by itself or with your favorite clean toppings—fresh fruit, honey, almonds, or milk.
Drinks
Fresh Almond Milk Unsweetened ($2.99 for a half-gallon) It's rich, creamy, fortified with calcium and vitamins A, D, E, and the sweet taste of almonds. Plus, it's low in calories and gluten free.
Matcha Green Tea Powder ($6.99 for a box of 7 packets) The vibrant emerald-green tea powder comes from tea leaves that are grown and ground in Japan. Its rich taste with a delicate hint of sweetness makes us glad green tea is an immunity booster, antioxidant-rich superfood, and PMS reliever. It's as lovely in a latte as it is satisfying in a smoothie. 
Of course, we've saved the best tip for last: If you happen not to like something, you can bring it back for a refund or exchange, no hassles. You're welcome.
Photo Credit: Minimalist Baker