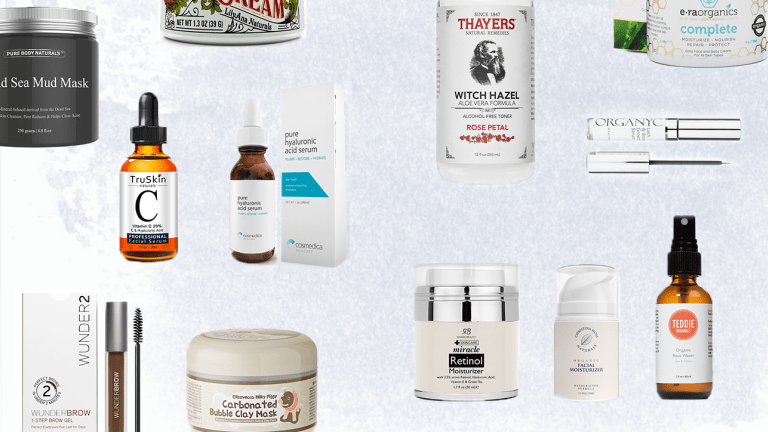 The Top-Rated Skin Care Products on Amazon You've Never Heard Of (But Will Change Your Life)
Did we mention they're all $35 and under?
Let's be real, perusing the shelves of makeup boutiques and department store counters can be a daunting experience. With endless products and pushy salespeople, we end up buying whatever looks best and running for the door. But what if there were a place that offered effective products, had no annoying salespeople, and offered tons and tons of reviews—for a fraction of cosmetic store prices? Oh, wait, it does exist. It's Amazon.com.
With five-star ratings based on thousands of reviews and impressive before and after photos, get ready to meet the products you never knew you needed to have.
Aztec Secret Indian Healing Clay, $11 // 12,000+ reviews
With 12,000 mostly positive reviews on Amazon, this might just be the best face mask you can get online—or anywhere. One hundred percent calcium bentonite clay, this mask is all natural and contains no additives or fragrances. With plenty of before and after pictures, reviewers have shared their stories of battling severe acne and the miracle-like effects of using this healing clay. At $11, how could we not give this one a try?
"The moment it touched my face, I felt it work. The very next day, my fresh bumps decreased in size, the redness went down, my pores got smaller, and my SUPER oily skin finally balanced out. THIS STUFF IS AMAZING!!" –AlyssaLynn
Teddie Organics Alcohol-Free Rose Water, $17 // 2,000+ reviews
Now, you may being thinking, "Why would I spend money to spray rose water on my face?" But with more than two thousand reviews about how life-changing this floral spritz is, it's worth investigating further. Before and after photos of reviewers show dramatically less red complexions thanks to this water spray. Many raved about how it especially helped their rosacea, acne, and eczema. Made with 100 percent pure rose otto flower (and nothing else), this spray also balances the skin's pH and absorbs excess oil without drying the skin.
"I am in shock! The redness in my face is gone! I used to put on foundation almost everyday [sic] because of my redness and acne scars. I now go out of the house with zero makeup on and feel confident in doing so. My face is super soft! My husband actually thought I was wearing makeup because my face was so clear." –Crystal
TruSkin Naturals Vitamin C Serum, $20 // 4,000+ reviews
There's been a lot of hype around vitamin C serum lately. For good reason, too, because the dermatologists give it a gold star. If that's not enough to convince you, maybe more than four thousand positive reviews will. Formulated with quality organic ingredients, the serum is touted to help prevent premature aging, prevent pimples, and heal acne scars. Not to mention, it promises an overall glowing complexion. With most serums surpassing $80, this product seems like the internet's best-kept secret.
"I had no idea this stuff would actually work for me. Out of curiosity I gave this serum a try. I have used it for one month, and I cannot get over the difference in my skin. The hyper pigmentation from aging and sun damage is almost gone, my face feels so smooth and clear, and as a bonus I no longer have oily skin, therefore no acne. I wish I had found this sooner." –Moma Morse
Organyc Eyelash & Eyebrow Growth Serum, $35 // 2,000+ reviews
Have you always been intrigued by Brooke Shields' and Claire Danes' Latisse commercials? I mean, who doesn't want fuller, longer lashes if given the chance? Granted, this one is nowhere near natural, so beware if you have any sensitivity to chemicals. But with nearly two thousand positive reviews, this serum has natural ingredients that can apparently help you achieve the lashes of your dreams. The company guarantees no negative side effects.
"I have an autoimmune disease, which makes my hair (and eyelashes) fall out. I have eyelashes again since using your product!!" –Martha
Christina Moss Naturals Facial Moisturizer, $24 // 4,000+ reviews
If you have super-sensitive skin but want the benefits of an anti-aging and super-hydrating moisturizer, look no further than this Christina Moss moisturizer. You'd think this cream was made from literal fairy dust given the rave reviews. Organic ingredients are the foundation of this product, which promises non-greasy application and silky smooth absorption. Great for all skin types (yes, even dry and oily skin!). Nearly four thousand reviews are over the moon for this one.
"This cream is very light weight [sic] and absorbs quickly. That was such a relief for me as my skin is in such bad shape. To notice a difference the first day was amazing. The second day even better. It's mind boggling." –Debbie
Thayers Alcohol-Free Rose Petal Witch Hazel, $11 // 7,000+ reviews
Clearly, we're on a roll with organic products that cure common skin ailments. As the No. 1 bestseller in toners and astringents, Thayers witch hazel is packed with natural acne-fighting ingredients and leaves out harsh ones such as alcohol and parabens. The proof is in the pudding, as numerous users have posted before and after photos of their clearer skin. At such a low price point for such an effective product, how could we not add this into our routine?
"I have tried tons of retail products and been to a dozen dermatologists, who just shake their head like they can't believe how bad my skin is. I bought this product on my latest whim and I am glad I did. It has greatly reduced the redness on my face and has been unclogging my pores, which is reducing blackheads and cystic acne. My skin is not perfect, but after two weeks it is the best it has looked in years!" –Johnodie
Elizavecca Milky Piggy Carbonated Bubble Clay Mask, $10 // 4,000+ reviews
Face masks are a must for a girls' night in. And after reading about the Aztec Secret mask, it's hard to look elsewhere, but have you ever tried a bubbling face mask? With more than four thousand reviews, this Korean detox mask has certainly created enough buzz to grab our attention. Reviewers claim that this mask, ideal for pore cleaning and blackhead removal, is both effective and fun.
"I never felt this good even with my other, more expensive masks. Not even the Rx masks from my dermatologist! This one is a supreme mask, and I will stand by this product because I have never been so amazed. The black spots, especially on my nose, those icky blackheads. GONE!" –Joey
Cosmedica Skincare Hyaluronic Acid Serum, $14 // 4,000+ reviews
Again, serums have been buzzy in the beauty world lately, but it's not just hype because derms have proven their efficacy. If you're ready to full-on wade into the serum territory to transform your skin, consider using this Hyaluronic Acid, which helps skin's elasticity, hydrates, and promotes a healthy glow. With more than four thousand positive reviews, sometimes it's best to let the users do the talking.
"It only took three days to see an obvious improvement in my skin. My breakouts have cleared up, and my pores have shrunk by over 50 [percent]. I keep looking at my skin in the mirror and can't believe the results I have achieved in such a short period of time." –ChristmasShopper
Radha Beauty Retinol Moisturizer Cream for Face and Eye, $20 // 3,000+ reviews
Retinol is another skin care step dermatologists encourage, but with prices into the hundreds, it can be hard to justify. You don't have to drop major dollars on a retinol when you can get one that has more than three thousand positive reviews for only $20. Made from active retinol (vitamin A) and organic aloe, green tea, jojoba oil, and shea butter, Radha Beauty Retinol Cream is definitely worth the try.
"What drew me to this product was that the main ingredient is aloe vera, which is really good for the skin. It's also got oils that are good for the skin, as well as vitamins, extracts, and more. It's chock full of skin-loving ingredients. . . . It's not just retinol in some water with chemicals and fillers." –John & Amanda
Active Wow Teeth Whitening Charcoal Powder, $25 // 3,000+ reviews
Teeth whitening is not limited to Crest Whitestrips! If your teeth are sensitive or you're not a fan of chemicals, this is the teeth whitening route for you. It's made with refined coconut charcoal powder, bentonite (absorbs toxins), and orange seed oil, and all you have to do is dip a damp toothbrush into the powder and brush your teeth for one to two minutes and then rinse. It's not pretty—your mouth will be covered in blacks suds—but the result will be a brighter smile, naturally.
"No product succeeded in whitening my teeth, and, much worse, I got terrible pain from trying. I have only been using this product for less than a week, and YES, it is working great. No sensitivity, no side effects, no taste." –Frequentamaz123
Era Organics Natural Face Moisturizer Cream, $21 // 2,000+ reviews
Listed as "superfood for your skin" with aloe vera, manuka honey, coconut oil, shea butter, olive oils, hemp seed oil, and vitamins A, B, C, and E, this moisturizer promises to deliver nutrients to your skin for optimal healing. With plenty of before and after photos, women with various skin problems have been reporting its healing powers.
"I was battling with horrible acne for a while. I cried so hard because it was so frustrating for me to find a good face product for sensitive skin. I literally lost my hope in face products, even high-end ones, [until] Era Organics came into my life. You have no idea how happy I am." –Heather Nurse
Pure Body Naturals Dead Sea Mud Mask, $17 // 6,000+ reviews
Nothing is more convincing than before and after photos. Which is exactly why we're ordering this face mask ASAP. Perfect for those who struggle with acne, clogged pores, and blackheads, the Dead Sea mud mask is made of deionized water, Dead Sea mud (of course), kaolin, shea butter, sunflower oil, aloe vera, and more. For a spa night in, this might be just the bargain you were after.
"Because I have acne, oily skin, and scars on my face, I use this product twice a week. This product worked like magic. Never dried out my skin, keeps my face smooth and moisturized. My face used to get oily about one hour after taking a shower, but it never gets as oily as it used to before." –Takahisa Kitagawa
LilyAna Naturals Eye Cream, $16 // 1,000+ reviews
If you're looking for an eye cream, forget the expensive mainstream products and try this natural eye cream for a fraction of the price but all the benefits (and more). Reviewers can't stop raving about this secret product, touting it as being better than typical eye creams. If you're low on sleep and combating dark circles or just trying to combat signs of aging, LilyAna is an affordable alternative to the $50 creams lining Sephora shelves.
"I have definitely noticed that my dark circles are lighter and my eye makeup goes on better because the skin is super-soft. The fragrance is light and pleasant, not overwhelming at all. I see myself using these products for years to come!" –Nicole Miller