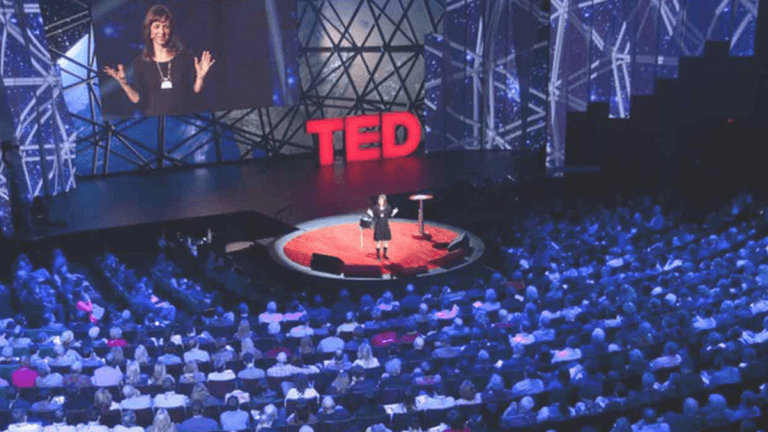 3 TED Talks That Will Change the Way You Dress Forever
Everything you need to know about fast fashion.
The ethical fashion movement is slowly but surely on it's way to becoming an industry standard. Fashion Revolution Week, an initiative to promote ethical and sustainable choices, is in full speed, but some of us might still be struggling to understand the basics of fast fashion and how we got to this tipping point. Well, get ready to become an expert because these three TED talks will tell you everything you need to know about smart clothing choices and will change the way you dress forever—in a good way. 
The Basics of the Fashion Industry and How It's Changed  //
If you're just looking into what's going on inside the fashion industry, journalist Lucy Siegle will take you through it step by step. Ever wonder how Zara and H&M seem to constantly have new styles coming in? Lucy helps us to understand how and why we've come to this point globally and culturally by explaining that designers and retailers now focus on micro-trends (trends that change hundreds of times a year), causing them to practice non-sustainable production methods. This inside look into the fashion industry can help consumers understand what fuels fast fashion, empowering us to change our shopping habits for global change. 
The Environmental Impact of Fast Fashion //
With endless racks of clothing available at our finger tips, it's easy to feel disconnected from the clothes we buy. Author and founder of Redress, Christina Dean, emphasizes the need to make a connection to our clothing to reduce waste. Current trends encourage shoppers to buy more for less money, which wear out more quickly, creating an endless cycle of cheaply made clothes that pile up in landfills in the hundreds of tons daily. Dean's talk will change the way you think about your overall clothing choices (and how you're getting rid of the excess).
What Fast Fashion Is Really Made Of // 
Sometimes it's hard to understand why cheap fashion is so devastating to the planet—isn't it just like any other item of clothing that's been produced? Maxine Bedat, co-founder of Zady (a favorite of Emma Watson), explains how the garment industry has become the second most polluting industry in the world. She breaks down how the polyester fabric (which most fashion garments are made of) is non-biodegradable plastic that is polluting the oceans. 
Bedat gives us a haunting fact, "Every piece of polyester that has ever been produced, is still on this planet today." With 150 billion pieces of polyester-based clothing being created every year, her talk is certainly making us double check our fabric tags.