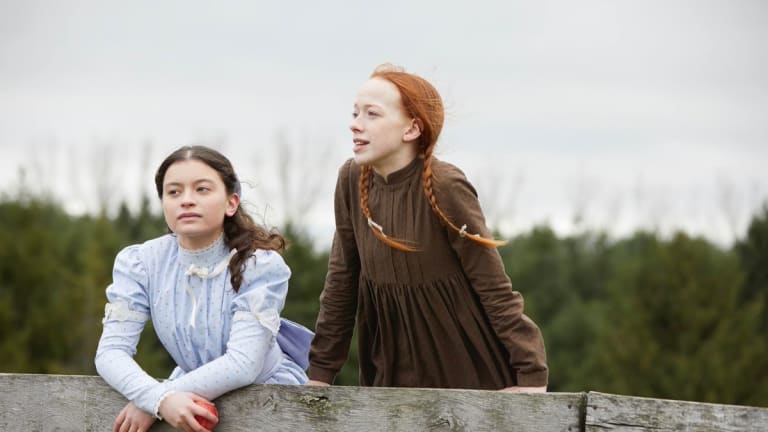 From 'Anne' to 'Great News,' Here's What We're Watching on TV this Spring
Our picks for spring TV
If the warmer weather weren't enough to make you excited for spring, there are some exciting things coming to TV. With stars from Tina Fey to Jennifer Lopez among the producers, new show offerings such as Great News and World of Dance are presenting a lot to look forward to. Here are our top picks, coming to a television near you.
Great News (NBC, April 25)
If you have yet to get over the void that appeared when 30 Rock ended, this premiere is great news, indeed. Set in a bustling newsroom workplace, this Tina Fey and Robert Carlock–produced series involves the fictional show's producer (Briga Heelan) dealing with her new intern—who happens to be her mother (Andrea Martin). Fey told Deadline that the show is a comedy that deals more with relationships than current events. The show is loosely based on the life of its creator Tracey Wigfield. Nicole Richie will also be a regular cast member.
Anne (Netflix, May 12)
Anne of Green Gables strikes again. Following its run on CBC, the story of Anne Shirley is now coming to Netflix. Amid all the excitement of the spunky redhead's arrival on the binge scene, controversy quickly sparked over the promotional imagery. Notably Photoshopped compared to the CBC version, Netflix's image of Anne (played by 15-year-old Amybeth McNulty) shows fewer freckles, a brightened complexion, reduced lines around the eyes, and contouring to her chin and brow. Fans say the image manipulation is more egregious than standard changes because it reduces the very character traits that make Anne's character who she is. Regardless, the modern adaptation of a beloved childhood literary heroine is one of the most anticipated premieres of spring.
Unbreakable Kimmy Schmidt (Netflix, May 19)
Speaking of spunky redheads, Kimmy Schmidt returns to Netflix for season three this May. Ellie Kemper (Kimmy) has teased viewers by saying the new season is "singsational"; the teaser shows Titus doing a little Beyoncé Lemonade parody, so we can only imagine what more is in store for this Emmy-nominated series. If you're looking for a new show that you can easily catch up on before the next season, this is it. As of now, it has a 97 percent critics rating on Rotten Tomatoes.
Girlboss (Netflix, April 21)
The last time Girlboss was in the headlines was because the author of the prolific working woman's tome, Sophia Amoruso, was having to answer a lot of questions about the bankruptcy filing of her company Nasty Gal. Amoruso wrote the bestselling #Girlboss about her success transforming her company from an eBay vintage clothes gig to an e-commerce business with $100 million in sales in just six years, but she's now come under fire as people question just how successful her business acumen is. Nevertheless, Amoruso's rags-to-riches story is now being chronicled in a thirteen-episode show on Netflix starring Britt Robertson. The show was created and co-executive produced by Kay Cannon of Pitch Perfect. If it's anything like the book, expect some feisty dialogue.
Dirty Dancing // Musical Remake (ABC, May 24)
ABC's musical adaptation of Dirty Dancing has been in the works for a while now. The production, featuring Abigail Breslin as Baby, Sarah Hyland as her sister, and Debra Messing as her mother, promises to shine some new light on the original 1987 film starring Patrick Swayze and Jennifer Grey. Actress Nicole Scherzinger, who plays Penny in this production, says she almost turned down the job because of the role of abortion in the story, having being born to a mom who got pregnant at 17 and whose parents were against abortion. But she told the Daily Mail last December she changed her mind, thinking "hopefully they can learn from [Penny's] ways, and I can be a positive influence. . . . I just want to encourage everybody to keep your babies." The differences in acting perspectives are among the new elements that promise to make this production of the eighties cult classic interesting.
Silicon Valley (HBO, April 23)
As it returns for its fourth season, Silicon Valley promises more of the dry humor and nerdy character clashes we've come to expect from the HBO show on tech entrepreneurship. Richard, Erlich, Dinesh, Gilfoyle, Jared, and Monica return as Pied Piper's existence hangs in the balance. Last season ended with the team facing the ramifications of Jared secretly employing a click farm out of Bangladesh to boost their numbers, but it backfired spectacularly, per usual. Expect to laugh at the show's brilliant silliness and feel lightly educated in matters of the digital space at the same time.
World of Dance (NBC, May 30)
So You Think You Can Dance meets Dancing with the Stars meets The Voice in NBC's latest addition to the performance competition genre. Jennifer Lopez executive produces and judges on the new show World of Dance, which showcases a range of dance types competing for a $1 million prize. Lopez is joined by fellow judges Derek Hough, Ne-Yo, and Jenna Dewan Tatum. By the promos we're seeing for the show's premiere, this is looking to be an impressive and exciting new addition to your Tuesday.
The Great British Baking Show (June 16)
The Great British Baking Show returns to the United States for its seventh season. The show, called The Great British Bake Off in the United Kingdom, may suffer from a less cool name in the States (we have a trademark conflict with Pillsbury to thank for that), but it doesn't suffer in interest. In hopes of impressing judges Mary Berry and Paul Hollywood, contestants will compete to make cake, bread, pastries, and the finale of the "Royal"—a meringue-filled crown—all with delightful British accents and much less drama than American competition shows. Whether you watch to learn, or just mouth-water for your next trip to the pastry shop, the seventh season won't disappoint.
Photo Credit: CBC