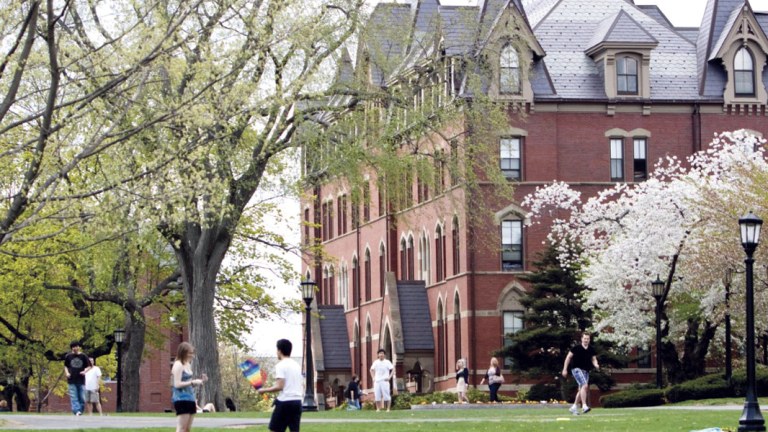 Protecting Women from Sexual Assault Requires Acknowledging the Differences Between Men and Women
We're living in an age where keeping women safe is 'sexist.'
Editor's Note: This article is excerpted from Ashley McGuire's new book Sex Scandal: The Drive to Abolish Male and Female, available at a bookstore near you.
Returning to my dorm room at Tufts University near Boston one evening, I heard the sound of metal wheels swerving across pavement, punctuated by a guttural laugh. The sounds grew louder, until four large intoxicated college men came careening around the corner, laughing and pushing a shopping cart. I hid behind a column, terrified. I was alone, and Tufts was in the middle of a sexual assault epidemic. I squinted in the dark, trying to make out the oddly shaped mass in the cart. It was a female student. Passed out, she lay slumped, her legs dangling over the rim of the shopping cart, her Tory Burch shoes clanging against the metal. It was around 1:30, the wee hours of Sunday morning. The men had a wild look in their eyes; they were panting a little, steaming clouds into the frigid winter air with their laughter.
I briefly envisioned myself stepping out from behind the column and yelling, "Hey, you sick, drunk freaks, back away from the cart and the girl and go vomit yourselves to sleep!" I pictured myself straining to push her the half mile to the campus health center, where someone would nurse her to health and ensure that she made it home safely in the morning with a pixie cup with Tylenol and some apple juice. At least then she wouldn't wake up in the filthy sheets of one of those creeps, wondering how she'd gotten there. After calculating the odds on the basis of my approximately one hundred pounds to their collective almost eight hundred, I hurried back to my dorm.
A few weeks after the incident, I opened the Tufts home page for students and noticed a small hyperlink in the corner that read, "Unsure if you have been raped?" I thought of the drunk girl in the shopping cart and wondered if she was wondering that herself. Not only did Tufts experience a spate of incidents involving date-rape drugs in drinks at fraternities during my time there, but the school was grappling with the latest frontier since the sexual liberation movement: rape uncertainty.
No one was willing to blame the hookup culture, but based on my time at Tufts, the connection was obvious. Tufts was a debaucherous hookup hell.
There was the annual Naked Quad Run, held during the study week before exams, in which hundreds of students would get rip-roaring drunk and run laps around the quad. The university played its part by enlisting the campus police to stand guard and setting out cider and doughnuts for the nude athletes. I attended as an observer my freshman year, and before the race had even begun, a female friend with me was attacked by a drunk and naked pirate wearing only a cape, tri-corn hat, and an eye patch. He left her bleeding.
Then there was the annual Sex Fair, held on Valentine's Day in the student center, hosted by Planned Parenthood affiliate "Tufts Vox" and sponsored by the Women's Center. Students could enjoy vagina cupcakes or check out the latest sex toy. There wasn't a whiff of romance or even so much as a pamphlet about sexual assault. Ten years later, I found an article about the women's group's response to concerns that the sex fair was sending a "sex compulsory" message to women. An article in one student paper said, "Some have worried that Vox often blurs the lines between being sex-positive and sex-compulsory."
The story quoted one student leader of the Planned Parenthood Affiliate as saying, "Often in trying to promote sex-positive attitudes, people can wind up pushing people into spaces where they're not comfortable with the kinds of conversations about sex or talking about sex at all. In a way, being sex positive is about empowering others to choose their conversations about sex, and being sex compulsory actually takes that power away."
Do tell.
'Go Where the Rapes Are'
Another push for gender equity on campus seems similarly misguided: the demand that sororities should be given the same options as fraternities when it comes to partying.
Sororities have traditionally been barred from serving alcohol at parties, which makes them less than ideal locations for ragers. The movement to change this, premised on the idea that it might reduce sexual assault if women hosted parties on their own turf, garnered enough traction as to merit an op-ed in the New York Times by Juliet Lapidos, who argued, "Administrators might want to consider a more free-market approach to changing the campus party scene . . . by encouraging other, possibly more responsible groups to throw parties that are less dangerous for women. Who could compete with fraternities and bring more party choice to universities? Sororities."
Lapidos quoted Julie Johnson, an officer of the National Panhellenic Conference, who pointed out that the sorority drinking ban is to "ensure safety." Which makes sense. How exactly does becoming more like fraternities make women safer? Do we really expect the sorority parties to stay rape-free once they start wheeling in kegs and inviting the frat boys over?
The same questions should be asked of Harvard's forced sex integration of social clubs. As Harvard grad Naomi Riley points out in a piece last year for the New York Post, "Newsflash: Even if women were in 'positions of power,' drunken sexual encounters and even sexual assault would still be a problem at these clubs." The article is entitled, "Harvard Tells Its Women: Go Where the Rapes Are."
Riley cites Caitlin Flanagan, who wrote a lengthy exposé for The Atlantic entitled "The Dark Power of Fraternities." Flanagan argues that "college women are no longer a civilizing force. They drink really heavily, and they love to prove that they are just as gross as the guys.
"If [Harvard's all-male social clubs] are actually such centers of sexual assault, why in God's name would the university recommend that its female students join one of them? 'Women get raped at this location. We must send more women to this location.' What's next? Sending women students to areas with a high murder rate?"
Riley points out that Middlebury College has already experimented with forcing frats into becoming coed "social houses." "At one, I recall," she wrote, "when Madonna's 'Like A Virgin' started playing at any of its parties, all the women in the room would spontaneously remove their shirts. The patriarchy didn't make them do it.
". . . If these task force members really believed that women were being regularly raped at Final Clubs, the university president would be on the phone with local police. Harvard men would be escorted out in handcuffs." 
A Return to Privacy?
While Harvard was theoretically hoping to stop rapes by plunging into the wave of gender neutrality sweeping the nation's campuses, another university, the Catholic University of America, was going against the tide—re-instituting same-sex housing. 
Coed dorms have long been the norm: approximately 90 percent of colleges and universities have coed dorms, often mixed by floor, and more than 150 schools have coed bathrooms (including showers). A significant and rising number of schools allow coed rooms—thirty-eight, by one recent count. That these rooms are "gender neutral" doesn't make them safe. Several schools offering them—including Harvard, Brown, and Dartmouth—are among the 124 colleges and universities being investigated by the Department of Education's Office for Civil Rights for mishandling sexual assault cases.
CNBC recently labeled college "one of the most dangerous places for women in America." And a woman's dorm room mattress might just be the most dangerous spot on campus. According to data reported by universities and colleges in accordance with federal law and published by the government, in 2014, for example, 74 percent of all reported rapes of college students, 82 percent of reported on-campus rapes, and 53 percent of what they termed "on-campus fondlings" happened in student housing.
While that data didn't differentiate between dorms and other student housing such as fraternities, another extensive study conducted over the course of a decade on rape and sexual assault in colleges in Massachusetts found that 81 percent of reported rapes and sexual assaults took place in a dorm versus 9 percent in houses and apartments and a stunningly low 4 percent in fraternities.
One college president decided to do something practical about this problem—and a host of others exacerbated by campus housing arrangements that try to pretend men and women aren't different. In a 2011 piece for the Wall Street Journal, Catholic University's president, John Garvey, announced that the school would try a "slightly old-fashioned remedy" to address the binge drinking and hooking up in coed dorms that was connected to problems ranging from sexual assault, to depression, to deaths on college campuses: single-sex dorms.
Garvey cited studies indicating that students in coed dorms were more than twice as likely to binge drink and more than twice as likely to have three or more sexual partners, and research showing that such risky behavior harms women in particular. As many as 20 percent of women who have had two or more sexual partners in a year, for example, are depressed, nearly double the rate of women who had none.
As the college president wrote, "The point about drinking is [a surprise]. I would have thought that young women would have a civilizing influence on young men. Yet the causal arrow seems to run the other way. Young women are trying to keep up—and young men are encouraging them (maybe because it facilitates hooking up)." In other words, today's colleges, in practically forcing the sexes to cohabit, wind up creating an environment where women are pressured into risky behavior that leaves them vulnerable to sexual assault.
Naturally Garvey and the school got blowback. There was even an undercover report in the Washingtonian alleging that, surprise, male and female students still sneak into each other's rooms.
And yet when I spoke to President Garvey about his perspective on the decision five years later, he said that the feedback he has gotten from both students and RAs has been positive. Having same-sex privacy has encouraged a greater cultivation of friendship, among women in particular, he noted, and facilitated more same-sex programming that puts students at ease. "Cultivating those friendships," he said, "is a healthy thing in forming their own sense of identity; it makes their own lives happier."
Shutting Down Safe Spaces for Women
Meanwhile, Harvard's President Drew Gilpin Faust is taking the first steps toward eliminating the few remaining sex-segregated spaces on campus. Faust, the successor after Harvard's Larry Summers was fired, embarked on a gender equity campaign, and eventually turned her eye to Harvard's single-sex clubs, which she all but banned in the spring of 2016. In a campus-wide email, she announced that students who are involved in Harvard's unregistered single-sex "final clubs" as well as those involved in Greek life through fraternities and sororities would be barred from leadership positions in student groups and captaincies of sports teams, as well as ineligible for school endorsement and scholarships such as the Rhodes Scholarship. "Although the fraternities, sororities, and final clubs are not formally recognized by the College, they play an unmistakeable and growing role in student life, in many cases enacting forms of privilege and exclusion at odds with our deepest values." The school's dean tag-teamed with his own email about the move, writing, "The discriminatory membership policies of these organizations have led to the perpetuation of spaces that are rife with power imbalances. The most entrenched of these spaces send an unambiguous message that they are the exclusive preserves of men." (Never mind, as the Wall Street Journal noted, that there are as many female final clubs as male clubs, as well as two coed options, and never mind that 75 percent of assaults happen in Harvard-run housing.)
One could see how Faust would find it hard to encourage future female CEOs at Harvard's business school while fraternities host parties for "CEOs and Office Hoes." But not all Harvard women were enthusiastic about the attempt to stop men and women from freely deciding to associate in organizations limited to their own sex. As one recent Harvard alumna said of her threatened single-sex club, "We're scared we're going to die... We're trying to think how we can go co-ed in a safe, effective way. It's hard to figure out how this will help women or improve the social experience." 
Many of Harvard's women viewed the change as an attempt to shut down places where they felt safe. Just days after the announcement, women marched through campus shouting, "What do we want? Safe spaces! When do we want them? Now!" Forty-four women in crimson t-shirts and backpacks carried banners with slogans like "Women's Groups Keep Women Safe" and "Assault Is Not Our Fault" and rallied online under the Twitter hashtag #HearHerHarvard.
One female student interviewed by the Washington Post said, "The most important message that we do want to share is the value that we put on women's spaces. We're looking to improve the environment on campus for women, and we feel it's important that we have space for women on campus."
Another woman student said, "My first semester at Harvard, I lost my voice and sense of self at such a competitive school. Joining a women's organization helped me find my place at Harvard. . . My women's organization has been more than a social organization. It has been a mental health respite, a place to discuss sexual assaults . . . And my women's organization has given me the voice to protest when Harvard shows their continued disdain and ignorance of women's voices on campus." Maybe requiring that men and women socialize as if there were no differences between them is not the way to solve sexual assault, male boorishness, and discrimination.
But Harvard dug in its heels. A university spokeswoman compared the female protestors to the men who opposed admitting women to Harvard in the first place, stating that while "past steps to remove gender barriers at Harvard" were met with opposition, "few today would reverse those then-controversial decisions. We continue to believe that gender discrimination has no place on Harvard's campus."
Harvard's upset women were dismissed as reactionaries who just need to realize that everyone here agrees on gender equity, so it's no big deal. Welcome to the modern university, where a woman who says she is being discriminated against when robbed of her distinct space and privacy is accused of discriminating . . . against her own sex.
And so you have it. Elite institutions have created their own safe space and gender equity catch-22s. It has rendered universities unable to take the most basic steps toward reducing sexual assault, because sex-segregated spaces are considered anathema. Even when they make women safer, they are sexist. And when women persist in asking for respect and for a safe space—whether it's an all-female club, a house for women, or a room to put on a play about sexual violence against women—it is they who are the enemies of gender equity. Universities and colleges have become the primary engines behind making sexual difference scandalous. And now the scandal is on them.
Photo Credit: Tufts