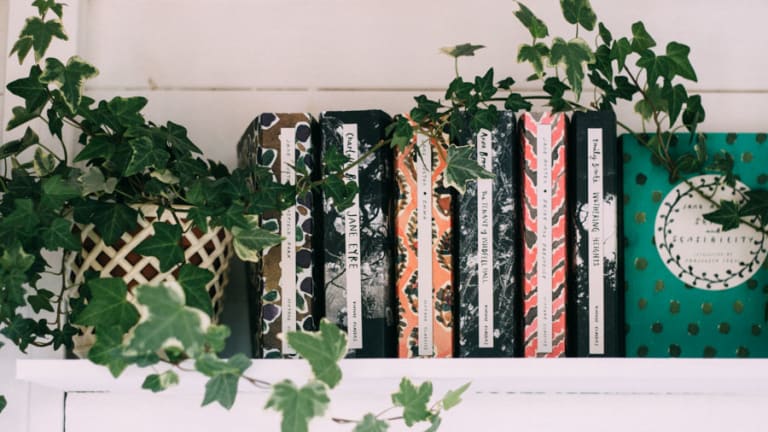 3 Easy Tips to Rekindle Your Love of Reading Literature
From now on, savor every minute of a great story.
On July 11, 2007, I waited in line for four hours to buy a Harry Potter book immediately upon its release at midnight. I devoured it in a single day. But afterward, I promised myself I would never again read a book that I enjoyed so much that fast. From then on, I was going to savor every minute of a great story.
Nearly ten years later, most of my reading material consists of research related to my work as a Ph.D. student and snippets of articles I lazily scroll through on my phone. My "book drought" left me yearning for the days when I could indulge in pleasure reading for hours on end. Whether your days are tightly scheduled or other habits such as Netflix bingeing have taken priority over book bingeing, here are three easy ways to rediscover the joys of reading in your busy life.
01. Arm yourself with options.
My shelf is filled with books from all the way back to my childhood, so I definitely cannot say that I am without enough reading material. Yet I had already read the majority of them when I was younger. If you're in a similar boat, ask your friends if they've read any good books lately, pick up a young adult classic, visit the library, or go online and order a book you've never read. Leave them out where you can see them. Keep one or two options by your bed and a few others on your coffee table so that next time you reach for the TV remote, you might be more inclined to pick up one of your books instead.
02. Establish a reading ritual.
A well-read woman is also a healthier one. So pair a good habit you have already firmly established in your life with a good book. It might not be the easiest thing to brush your teeth and read at the same time, but even a few minutes of getting lost in a story while you enjoy your morning coffee or tea will work wonders to reestablish your love of reading. Not to mention, reading will help you de-stress and relax. For an even more peaceful setting, combine time out in nature with a great book. I love reading while sitting on my porch swing in the spring and summer. Being outdoors with a great read will put you in a good mood, guaranteed.
03. Start or join a book club.
Book clubs are an effective way to reintroduce great literature back into your life in small doses, with the added benefit of building a community around your reading. Not only will you be able to tackle different topics, but committing to a book club can also provide the motivation to read and share the experience that comes from exploring great literature with others. Spring is the perfect time to follow these three easy steps to starting your own book club.
For such a worthwhile activity, there has been a long and steady decline of literary reading with the rise of the internet, social media, and an ever-growing number of tasks demanding our attention. The most recent data from the National Endowment for the Arts found that in 2015, only 43 percent of adults in the U.S. had read at least one work of literature in the entire year, a three-decade low. As the author Laura Vanderkam recently shared on Verily, if you master the art of answering the question "What should I read next?" there will always be enough time to indulge in the pleasure of a truly wonderful story.
Photo Credit: Lobster and Swan