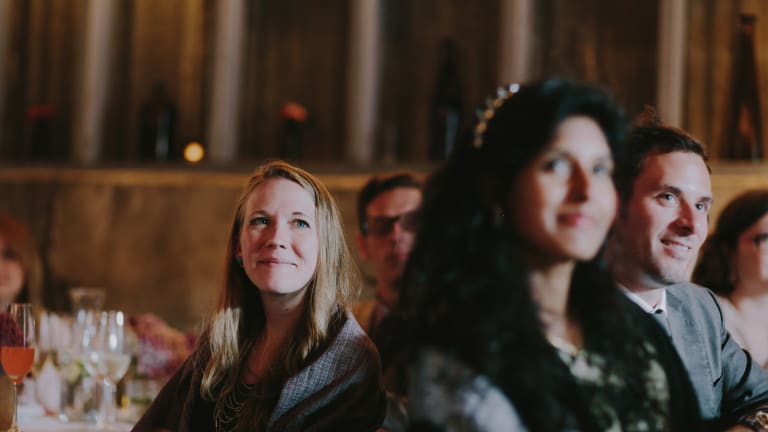 No Plus-One? No Problem. Here's How to Meet a Guy At a Wedding
One woman's marriage can lead to another's first date!
There's a lot of romantic mythology surrounding the potential to meet the man of your dreams at someone else's wedding. From Wedding Crashers to Four Weddings and a Funeral, Picture Perfect and even quirky TV shows like You're The Worst—pop culture has teed us up to believe that weddings are a breeding ground for the ultimate real-life meet-cute.
And you know what? They totally can be. There really is something in the air when those church bells chime, champagne glasses are lifted, and the DJ puts on "Shout."
Wedding season is gearing up. And for those of us who are unattached, that means one of two things: Either letting your single status insecurity get the best of you or buying yourself a flattering new dress, breaking in those dancing shoes ahead of time, and RSVP-ing "Yes" with some genuine enthusiasm about meeting a new guy.
Here are six things to keep in mind.
01. Make the most of having a role in the wedding.
This is something that will obviously vary from wedding to wedding, but be sure to take advantage of the bridesmaid opportunity if it comes up. The groomsmen on the opposite side of the aisle are target number one. But if none of them emit sparks, just sit back and wait. Trust me. Just wearing the matching dress and having a supporting role on the big day will draw the right eyes your way. (Smile big, and don't be afraid to look around a bit while you hold that bouquet!)
I've also had great success serving as a reader at a friend's wedding, which meant that I was included in all of the special, intimate events with the wedding party. Plus, I had quite a few people (elders and bachelors alike, to be honest) come up and compliment my public speaking skills at the post-ceremony cocktail hour. It was an easy conversation starter for the guy and a jumping-off point for plenty of interesting conversation.
02. Don't bring a "back-up" plus one.
Weddings are expensive! These days a "plus one" is actually pretty rare and usually only extends to engaged friends and the bridal party. If you're close to the bride and groom, they may extend you a plus one as an (incredibly generous) security blanket. Believe me, I understand the temptation to bring a trusted guy friend so you have a sort of social "home base"—but resist! Even if you promise yourself that you won't lean on him, I wouldn't even give yourself the option. Arriving solo ensures that you can keep your eyes peeled for potential throughout the day.
03. Use the easiest pick-up line in the world: "So how do you know the bride and groom?"
This is intro-line gold, gals. Sitting next to a cute guy at the ceremony? Ask him. Sidling up to the bar near a mixed group of people or even a bunch of girls that look friendly? Smile, say hi, and alter the line slightly, "How do you guys all know the bride and groom?" and you're in! The buffet line, your rehearsal dinner seat buddy, the guy passing out slices of cake to everyone, the groom's brother… Kidding! But you get the idea. Keep this line in your back pocket (or your clutch, as the case may be) like a secret weapon. This question allows you to start chatting without directly hitting on someone, which should ease your nerves if you're a little shy. And if you get sucked into a conversation with a dud? Just ask him if he knows where the restroom is and move right along to refresh your lipstick and try again.
04. Chat up some of the parent-age guests.
I feel like I should back up for a second and assure you that I'm not suggesting you treat your friend/sister/cousin/college roommate's wedding like the last singles mixer you'll ever attend. You don't have to "have your eye on the prize" all night, is what I mean to say. Relax, enjoy yourself, see what happens.
To that end, I'd chat up some of the guests that aren't your direct peers. You can use my above intro line or just wander over and introduce yourself. Maybe you've been meaning to say hello to the bride's aunt, for example? You never know who might have a son, nephew, or friend's son you should meet. You also never know who's business might be looking for an "insert your dream job here." Then again, it might just be nice to talk to someone older about what weddings were like in their day.
05. Hit the dance floor.
This one should be obvious, though I think it should be said. When I asked some of my friends, both male and female, what they thought was the best way to meet someone at a wedding, they all, emphatically and without hesitation, said "Get on the dance floor!"
Personally, I don't hit the dance clubs in my everyday life. So when I get the opportunity to cut a rug surrounded by friends and families and people who are wildly in love—I don't let the moment pass me by. You shouldn't either! Dancing is just plain fun. And freeing! And good exercise! Kick off your shoes (if you didn't do the aforementioned break in) and join the crowd. Make eye contact with a stranger, and flip your hair around. Swing a child around by the arms or maybe even get a limbo line going with a willing man.
06. Unleash your charm at the bar.
The second most popular tip I was offered from friends? Balance your time between said dance floor and the bar. Even if you don't drink or aren't planning to really get loose that night, the bar is just a location. Order a soda with bitters and lime if you want to avoid that dreaded, "Why aren't you drinking?" question. The bar is where people gather to catch their breath, catch up, and do exactly what you're doing—meet other people.
That's the other thing you can't forget. Don't let your feelings of singledom cloud your perception of reality. You are not the only single person at this wedding. You are not the only person hoping that their zillionth wedding of the season just might lead to the ultimate real-life meet-cute.
Photo Credit: Nirav Patel