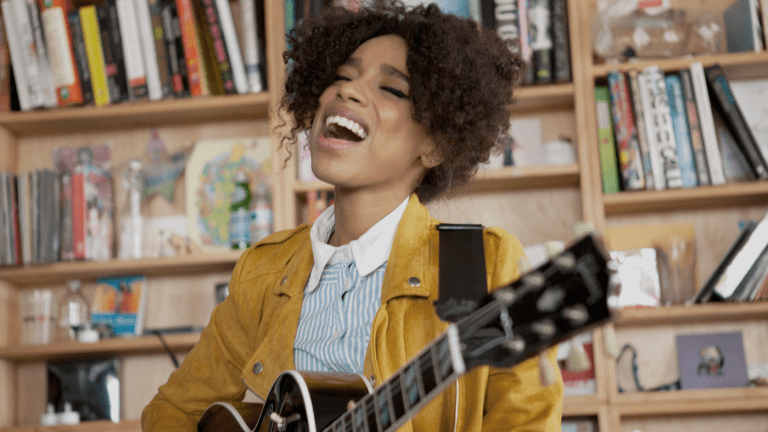 If You Like Florence + the Machine, Try These Indie Musicians
What else could possibly resound like Florence Welch?
Even the most patriotic Yank will admit that England, our starchy chum across the pond with the quaint affectations—afternoon tea, the royal family, and football that isn't football—has given us a lot over the years. Where would America be without the Beatles, the Stones, and a bicameral legislature? 
In recent times, England has cornered the market on a particular pop music export: the female vocalist. The canon of British singers who have had huge success both at home and abroad reads like an all-star team of vocal dynamite, including names like Amy, Adele, Joss, and even hearkening back to the likes of Annie Lennox and Kate Bush. To this panoply of talent we must add the ginger-haired Londoner Florence Welch, better known as the creative engine that drives indie rock powerhouse Florence and the Machine. 
Propelled by Welch's voice, an instrument of astonishing force and expressiveness, Florence and the Machine have been hugely successful, raking in awards, headlining festivals, and releasing hit records, including 2015's How Big, How Blue, How Beautiful, which debuted at number one right here in the U-S-of-A. The alchemy is not complicated: Go Big. The pounding piano chords and stripped down beat of "The Dog Days are Over," the devotional take-me-to-church pipe organ reverb of "Shake it Out," the soaring go-for-broke chorus of "Ship to Wreck," all are anchored by Florence's prodigious voice, captivating us with searching narratives concerning love, loss, and the solitary human soul. Submitted for your further listening enjoyment are several indie artists who the F+M fan might want to check out.
Haim
What do L.A.'s Haim sisters, Danielle, Alana, and Este, have in common? They're all in Haim, a band that delivers catchy new-wave flavored guitar rock that is nothing if not Strokesy. So much so that I was unsurprised to learn that guitarist Danielle toured with Julian Casablancas, in addition to a stint with Jenny Lewis, which adds up to blue blood indie rock cred. They made a splash at the end of 2013 when their bubble-gum breakup single "The Wire" commandeered the pop-rock mediascape, driven by their popularity in the UK, where they won the BBC's 'Sound Of' award that year (the same prize that F+M was nominated for in 2009). Two years later, they were Grammy nominees for best new artist (highlighting Grammy's flexible interpretation of what qualifies as "new") and buds with Taylor Swift, as many followed on Instagram. By then their debut record, Days Are Gone, was a critical and commercial success, showcasing Haim's facility with deft hooks and mingled vocal melodies. The group hinted that they would be releasing a new album in Summer 2017, so I would expect a new single soon. 
Lianne La Havas
Speaking of the BBC Sound of 2013 award, also nominated that year was Lianne La Havas, another one of those über-talented young English singers. Unlike many of her contemporaries, La Havas also deploys a guitar, to understated bluesy effect. It was the distinctive rise and fall guitar phrase that opens Is Your Love Big Enough that first caught my attention. "Is your love big enough for what's to come?" La Havas demands in a full-throated arcing chorus, the capstone to a very cool song. What was to come was a rush of positive attention, including, apparently, love thrown her way from the likes of Prince. 
Phantogram
A New York duo featuring vocalist Sarah Barthel and guitarist Josh Carter, Phantogram has been delivering tripped out electro-rock for about ten years now. Their formula pairs sampler-era drum effects and looped guitar and keyboard melodies with Barthel's cottony vocals, often spliced up and collaged into addicting little epileptic loops. The resulting soundscapes prove that there are many different roads to "catchy" (and are evidently effective at selling razors, as a recent TV spot suggests). "Mouthful of Diamonds" from 2009 is a personal favorite, but see also "Don't Move" and "When I'm Small."
Santigold
Wesleyan shoutout! Santi White, who performs as Santigold, attended the pride of Middletown, CT, a footnote to an intriguing, wildly inventive artist whose style is a mashup of '80s synth pop, dubstep, and hip-hop with a dollop of good old fashioned indie rock to butter the musical bread. Santigold has collaborated with artists as disparate as Christina Aguilera, the Beastie Boys, and M.I.A. She featured Karen O on her song "GO!"—a good example of the bold and propulsive mania that infuses many of her songs, though my favorite track of hers is "The Keepers" (which has a pretty bizarre music video).
The Stills
This one might seem like a stretch, and a bit of a throwback at that considering that the Montreal-based group The Stills have not been a going concern for years now, but the Stills match up well with Florence and the Machine, especially songs off of their final record, Oceans Will Rise, which included the soaring anthems "Being Here" and "I'm With You," both redolent of the Go Big ethos that Florence has put to good use. I consider The Stills to be among the best rockers of indie's golden age in the aughts. Guitars layered just so, warm vocal lines, and song melodies that adhere to the eardrum, plus a quirky note of environmental stewardship that subtly runs through many of their tunes, all are found on each Stills record. Try "Lola Stars and Stripes" and "The Mountain" for other prime examples. 
Photo Credit: NPR