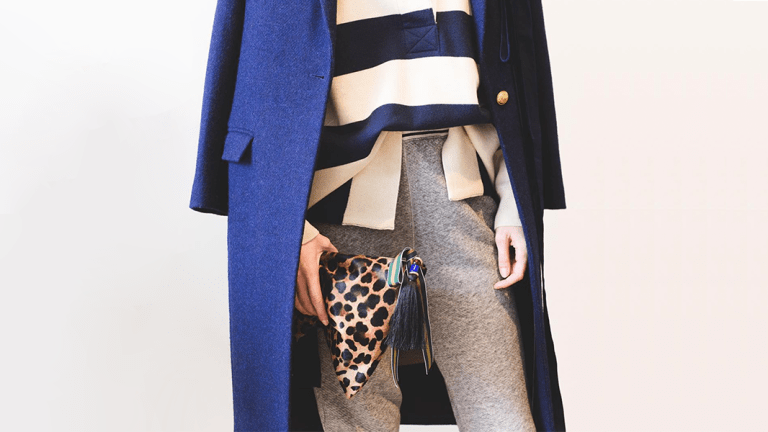 10 Times Stripes Went With Literally Everything
Meet your wardrobe's newest neutral.
Stripes are so versatile they're basically a neutral. Maybe it's because these trusty verticals and horizontals often come in easy-to-match hues (like black, white, and navy), or perhaps stripes are simply the new black. Whatever the reason, stripes add a quirky, polished flair that can be both professional and casual. Matched with other fun prints, textures, and colors, stripes can transform any outfit into a thoughtful and creative ensemble. 
Ready to wear your stripes differently? Check out our favorite stripey looks for some inspiration of your own!
With a Blazer //
Preppy to the core, stripes and blazers are a natural match. If you're just starting out with wearing stripes, this combo is both time-tested and effortless. Throw on a pair of jeans, and you've got yourself a chic weekend look! If you really want to mix it up, follow Clara Racz's lead and add a patterned scarf!
With Leopard //
Leopard is another pattern that has crossed over into 'neutral' territory due to its iconic print and neutral coloring. Leopard print is bold, but the tan, brown, and black coloring of the print allows it to go with almost anything. That's why it pairs seamlessly with the white and navy of the striped shirt. Not to mention, the boldness of both the leopard and striped prints complement each other. Talk about a dynamic duo!
With Florals //
It's no secret we're big fans of this combo. The key to making this look work is to choose a color scheme. For example, Jennifer Lake's floral skirt has blue in it, allowing her to match it with a blue striped button down. Another tip is to balance the prints: Big florals=little stripes and big stripes=little florals. 
With More Stripes //
You can't have too much of a good thing! Go all out with your stripes combo by wearing stripes on stripes. Take Kate Gelinsky's lead by wearing both vertical and horizontal stripes at the same time! The look may seem over the top, but wearing two stripes at once looks both intentional and unique.
With Paisley //
The paisley bandana print is another iconic American print, making it a perfect match for stripes. Tanesha Awasthi is all about the blue hues in this adorable outfit, wearing three different shades of blue to play up her stripes even more. While they're different prints, her paisley and stripes match because of the white and blue.
With Lace //
Less isn't always more as stylist Ashley Ording reminds us. Stripes are a statement print, but why tone down the look? Amp it up with equally bold textures and fabrics, like vintage lace. The white of the lace will match the white in the stripes, while still looking spontaneously creative. 
With Gingham //
We can already hear the "Star Spangled Banner!" This patriotic look is brought to us by Blair Eadie, who is rocking the complementary colors of red, white, and blue. The red and blue naturally flatter each other, making her blue striped sandals an ideal match for her red gingham pants. The white in each print also matches, tying the look together. 
With Khaki //
We couldn't stray too far from the preppiness, could we? Jenny Walton shows us how to makes a nautical classic look chic with this head to toe wide-striped tee and skirt combo. The look is completed with her khaki trench, which is elegantly draped over her shoulders like a cloak. Who knew stripes and khaki could be so regal?
With Ruffles //
Stripes have an element of drama to them with their fearlessly bold lines, so why not highlight them with ruffles? Tamu McPherson does just this with her couture-worthy ensemble of wide-leg pants and a ruffled, striped blouse. The light-blue stripes match the light-yellow, and the elegant line of the pants balance the volume of her blouse. 
With Monochrome //
A monochrome outfit is technically all about wearing the same color, but a bit of stripes never hurt anyone! To break up a one tone outfit, let your stripes peak through to add some quirkiness. Caroline Issa's got the right idea with this baby pink pant suit and striped blouse!