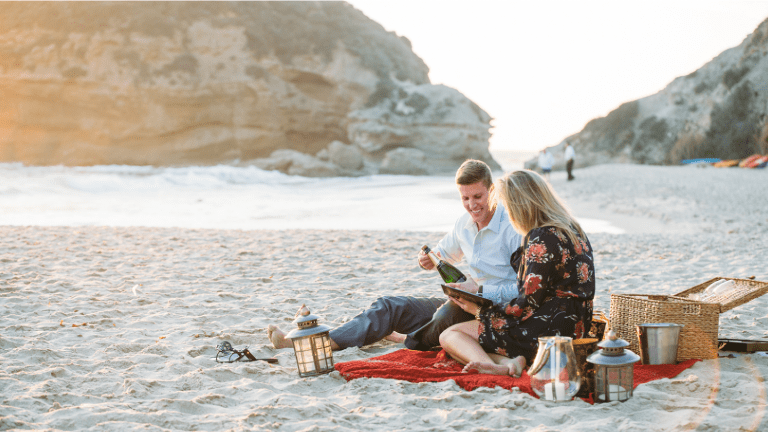 This Is the Secret To A Perfect Honeymoon (Even If All Your Plans Go Wrong)
Don't let your first married vacation be a never-ending horror story.
When I think back on my honeymoon a little over a year ago, it's not without a little embarrassment. Before my wedding day, and really for my entire adult life, a honeymoon—a really wonderful honeymoon—could only be one thing: a tropical getaway. More so than my wedding day, it was the trip afterward that I fantasized down to the very last detail. We found our dream spot in Mexico—excellent hiking, breathtaking views, and our own private swimming pool. This trip was everything I ever dreamed. 
Then Zika happened. 
Zika, the virus that is suspected to cause tragic birth defects and death among newborns whose mothers contract Zika during pregnancy, had been identified in some areas of our honeymoon destination. Joe and I decided not to take the risk (however small). And just like that, my fantasy trip was cancelled. 
As I wrote about previously, I totally lost my cool and almost allowed my inner Bridezilla to spoil our wedding day and whatever plan B destination we chose—all because things didn't go my way. Lucky for me, my fiancé was not afraid to call me out and remind me of what matters most. 
I came to learn—not just on that day, but throughout the week we spent on our plan B honeymoon in California's wine country (I know, poor me, right?)—that creating moments you will cherish forever requires choice and intention. 
Dr. John Gottman, prolific marriage researcher and author of The Seven Principles for Making Marriage Work, says that happy couples are typically couples who retell their story, focusing on the positive—even when things were less than perfect. They don't forget that they lost their baggage or got pick-pocketed in a foreign country, for example, they just choose to use those moments to build intimacy and history. Zach Brittle, Gottman certified therapist and co-founder of a marriage course called ForBetter.com, explains, "It's not even really the experiences we have; it's how we reflect on and report those experiences. Happy couples have a shared narrative of the past and a positive one too." 
Oftentimes the memories that bring you closest are the ones that are less than ideal. In fact, some of the many happy marriages I know began with a totally disastrous honeymoon. From being stuck in a beach house in the rain for a week, to having a terrible fight, to showing up at the airport without a passport, couples who have what it takes look into one another's eyes and say, "Remember when everything went wrong?" and they smile and roll their eyes or laugh and weave that disaster into their tale of happily ever after. 
For those of you planning a honeymoon you will cherish forever, don't forget to plan for something (or everything) to go wrong too. If your fantasy honeymoon gets swarmed by virus carrying mosquitos or your new husband decides to come down with the flu, what kind of story will you tell? If you decide now that all roads, even the bumpy ones, lead to greater intimacy and a deeper shared history, you and your brand new husband will have a honeymoon you will want to relive over and over again, no matter what happens. 
Photo Credit: Ashley Paige