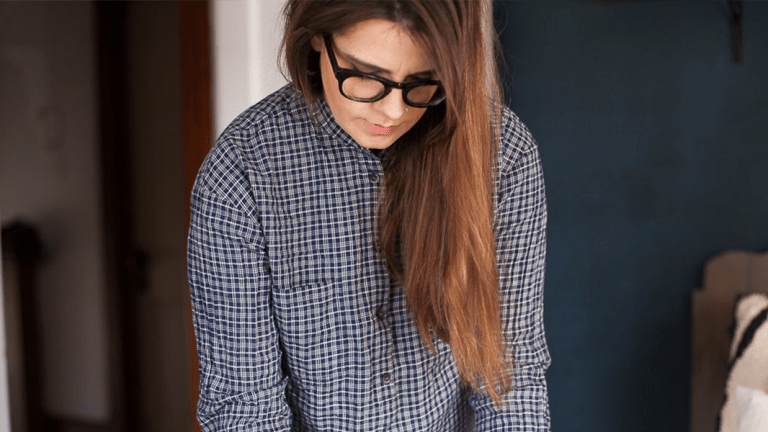 The Lazy Girl's Guide to Getting Ready in 5 Minutes
We've all been there.
Whether you missed your alarm or got a last-minute invite to brunch, getting ready in five minutes is something we all have to do at some point. Cramming what usually takes a solid sixty minutes into just five is an undeniable skill—one that takes practice and a bit of foresight. Do your future late self a favor, and apply some of these tips to your daily routine.
01. Pick Out Your Outfit the Night Before
This is the most obvious and crucial step. There is nothing like the panic of tearing apart your closet in the morning, desperately searching for something to wear in your freshly awakened stupor. If you want to get out the door as fast as possible, always (meaning, make it a habit) pick out your outfit so that you can change as soon as you get out of the shower.
Be sure to pay attention to the fabric of your prepared outfits. Nothing is worse than realizing that the outfit you planned on wearing is wrinkled. Invest in a steamer so that you can quickly de-wrinkle your outfit in no time (the night before, preferably). We suggest the easy-to-use handheld Turbo ExtremeSteam that heats up in just forty seconds.
02. Play Two 'Get Ready' Songs
You can set an alarm to warn you that your five minutes is up, but the best way to give yourself an idea of how much time has passed is to play two songs that are about two and a half minutes each. If you're familiar with the songs, you'll recognize how far along they are, and the break in between the songs will notify you to finish up the process. Besides, listening to music is the best way to motivate yourself for the day! Just make a morning playlist and hit play as soon as you open your eyes.
03. Skip the Shower and Use Wipes
When there's absolutely no time for a shower, you can still freshen up with wipes. Stick to a brand that has no harsh chemicals, such as SweetSpot, so you can use these wipes for both your body and face without worrying about irritating your skin (or smelling so not fresh).
04. Sleep on a Silk Pillowcase
We've all felt the frustration of thinking we made an awesome choice by showering the night before, only to wake up with hair that is bent out of shape—literally. Apparently cotton is not the fabric of our lives, as it can cause major hair havoc by stealing your hair's moisture and making it frizzy. A silk pillowcase will help your hair stay sleek and moisturized.
For extra no-effort styling, braid your hair the night before for waves, and use dry shampoo in the morning for more volume if desired.
05. Use a Lip-Cheek Tint
So, a full face of makeup is just not going to happen in five minutes. To give your complexion some color and life, forgo the makeup palette and stick to one product. Lip-to-cheek tints will save major time, as all you have to do is swipe the same rosy color to your lips, cheeks, and, for extra liveliness, to your eyelids. To avoid the pink-eye look, just apply the pink hue in your cut crease and slightly on your brow bone—not on the entire eyelid or by the lash line.
Getting ready on the fly is no easy task (and it'll probably have you thinking twice about that snooze button), but with some everyday habits, you'll be ready for the challenge.
Photo Credit: Rosemary and Thyme