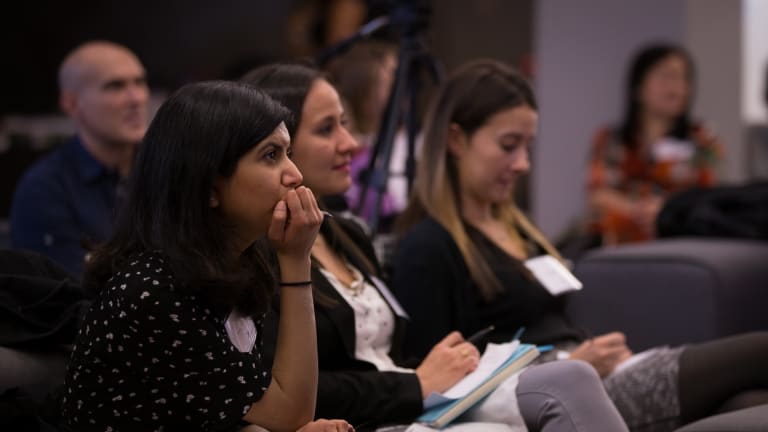 Proactive Things People Are Doing to Close the Wage Gap Instead of Waiting for Policy Change
How today's young women are getting paid closer to men
From the recently celebrated International Women's Day (March 8) to today, Equal Pay Day, there are as many reasons as ever to discuss the gender wage gap. If you've been part of any such discussions, you know the exact figures on the wage gap have been much disputed. The American Association of University Women's latest report says women are paid 80 percent of what men are paid, although as Christine Emba wrote for Verily in the past, "If we tighten up the comparison to only those men and women who work forty-plus hours per week, the gap shrinks to 87 percent. And if we adjust further to balance for things like education level, industry, job title, and experience, the gap closes a little more, to 91 percent." But on an individual basis, that number can be even lower for women of color and for women in certain parts of the country. Pop culture has been rife with high-profile examples of wage disparity ranging from Jennifer Lawrence to the U.S. Women's National Soccer Team, in case anyone needs to put a recognizable face on the issue.
But many discussions on the topic today don't go much further than exclamations to "close the wage gap!" without really offering solutions or any new substantial contribution to the national conversation. Others are attached to the progress only political policies can bring, which are slow coming. But what solutions are women today spearheading instead of, as John Mayer once put it, "waiting on the world to change?" While raising awareness, collaborating about solutions, and encouraging grassroots action toward achieving pay parity are certainly valuable steps, they are really only that: steps. Fortunately, more can be done and is being done, slowly but surely.
Taking a page straight out of a twelve-step recovery program, several companies are acknowledging that admitting the problem is the first tangible step toward closing the wage gap. PricewaterhouseCoopers was one of the first major corporations to air their wage gap laundry, publicly releasing results of an internal analysis of their UK employees' salaries in 2014. The average compensation for women at the company was 15 percent less than the average compensation for men, largely stemming from a lack of women in higher paying senior roles which led to analysis of their promotion practices and bonus structure. Reports Ian Powell, chairman and senior partner at PricewaterhouseCoopers: "By improving transparency and accountability, there is greater opportunity to understand whether opportunities are equal for all across a workforce and whether further action needs to be taken. We have been measuring against our goals and seeing progress—40 percent of our internal promotions to partner this year were women, a threefold increase on the number promoted last year."
On this side of the pond, software giant Salesforce boldly analyzed all 17,000 salaries within the company in 2015, uncovering a wage gap it promptly closed by investing $3 million in salaries found to be lacking. "We did find quite a few women who were being paid less than men, and we've made that change," CEO Marc Benioff said. In an effort to protect the recently achieved pay parity, Salesforce has also launched the High-Potential Leadership Program, an initiative "designed to provide leadership skills to advance women in the workplace." The program led to a 33 percent increase in the number of women who were promoted in the year following its launch, says Cindy Robbins, Executive Vice President of Global Employee Success.
Of course not every company has the resources and/or guts to comb through their entire payroll, much less publicize their findings. Luckily, efforts toward closing the wage gap don't always have to come from the top down. Linda Babcock, professor of economics at Carnegie Mellon University and cofounder of Women Don't Ask, notes that women are sometimes paid less than their male counterparts because they don't negotiate as often and as well when discussing starting salaries and raises. She reports that women are more pessimistic about how much is available, so they typically ask for—and subsequently get—less when they do negotiate. On average, 30 percent less than men, in fact.
Even if a woman knows her employer has a healthy bottom line, she may hesitate to negotiate for a higher starting salary or raise for fear of how she will be perceived. Joan C. Williams, a law professor and author of What Works for Women at Work notes that "women who do ask for raises tend to be disliked, and often end up making lower starting salaries. Stereotypes are that women are supposed to be modest and self-effacing," she said, characteristics that can seem inconsistent with listing off one's own qualifications and merits to quite literally prove she is worth more than what is being offered. And, added Williams, "when men ask for raises they're also often seen as negotiating for their families, so it may seem selfless for a man to negotiate for a raise because after all he has to support his family, whereas a woman, she's just a prima donna on an ego trip."
The tides seem to be shifting, though. First Jennifer Lawrence opened up about her own failure to demand parity. Robin Wright negotiated a salary equal to House of Cards costar Kevin Spacey by telling Netflix that if they didn't pony up, she'd go public with the disparity, and late last year Emmy Rossum followed suit by refusing to resign her Shameless contract until being offered the lead salary for her leading role. This is a Hollywood trend we can get on board with.
Salesforce is still on trend, taking steps to analyze and adjust salaries again after acquiring upwards of 15 smaller companies in 2016 and with them their corporate culture and salary structures. Companies of all sizes were invited to take the Equal Pay Pledge by President Obama last year; takers included Amazon, Pepsi, and Spotify, to name a few.
Better yet, recent research shows that while women on the whole still ask for raises less often than men, younger women are upending that status quo. A 2016 Warwick Economics study found that "for workers under the age of 40 . . . there appears to be no difference, in a regression-adjusted sense, between males and females in: whether they are in a job where pay is negotiated; whether they have been successful in obtaining a rise in pay if they asked for one; whether they did request such a raise." Put simply, women under 40 are negotiating for raises as often as men. And getting them.
From Hollywood to ESPN to middle-management positions in middle America, it's happening. Women are taking the frustration and indignation they've felt and discussed for years to the next level. Women are taking action. Businesses that value women are taking action, too. And with each step, the wage gap narrows a little. Step by step by step—the way women have always gotten things done.
Photo Credit: Ellevate Network