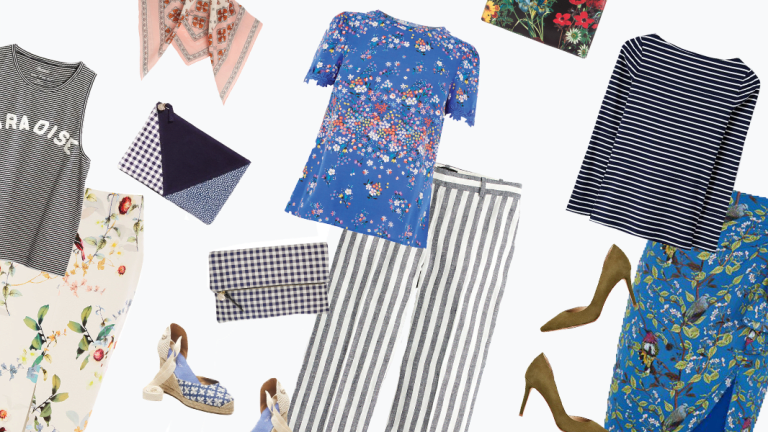 The One Mixed-Print Combo You Shouldn't Be Afraid of Anymore
You're ready for this look, trust us.
We all love a classic look, but basic outfits can be, well, basic. One way to switch up your everyday ensemble is to experiment with print mixing. It might be out of your comfort zone, but there is one mixed-print combo in particular that you really shouldn't be afraid to try: florals with stripes. These two iconic prints look so good together, they're basically complementary.
Not quite sure how to pull it off? Follow these tricks, and you'll be mixing florals with stripes like it's no big deal in no time.
It's All About Balance //
Not sure which stripes and florals to wear together? Balance the prints with each other. For example, if your skirt has a larger floral print, wear it with a shirt that has skinnier stripes. If the top has wider stripes, wear a skirt that has small florals.
Start Small //
If you're just easing into the floral + stripes combo, take baby steps. Before going all out with a floral bottom and a striped top (or vice versa), stick to just your top. For example, pair a striped tee with a floral blazer or a floral scarf. You will still achieve the same contrarian look with ease.
Go Subtle //
Stripes are so versatile, they're basically a neutral. They're even less noticeable when in lighter tones along the grayscale. A more dainty floral print or lighter stripes will ease you into the mixing game while still keeping your look innovative and experimental.
Intentional Contrast //
Juxtaposition is what makes mixed prints work—and not just because of patterns. Contrast can create balance between casual and fancy items, too. For example, the casual graphic tank with gray stripes tones down the dressy floral print. It's the casual-meets-fancy contrast of prints that makes this outfit effortlessly cool and playful.