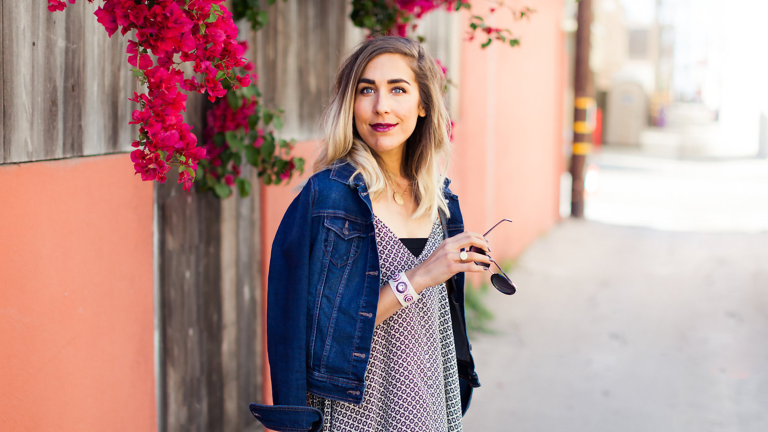 A Dress For All Seasons: Style Expert Jessie Artigue On Her New Ethical Collection
A dress we can wear literally anywhere? Sign us up!
Have you ever wished that you could just make your dream dress? One that works for every occasion and situation life throws at you? 
This is exactly what style expert and podcast host, Jessie Artigue did. But she didn't just make any old dress. After years of experience in the fashion industry and running her popular blog Style and Pepper, Jessie decided that she would go about the business of making the most versatile dress ever. Intrigued? Us too. Her collection is called Season and her dress to end all dresses is called The Pepper Dress, which is ethically made from 100% silk, right here in the U.S. 
We chatted with Jessie to get the scoop on her ethical fashion mission and what it's like to be a first-time designer. (Warning: swoon-worthy dress ahead.)
We're spotlighting Season for #FashionRevolution, a weeklong initiative to de-stigmatize and support ethical fashion. Season is still in pre-launch with a goal of raising $18k on Kickstarter. If you like what you see, you can back her collection here!
Verily: When did you become interested in the ethical fashion mission?
JA: My background as an online influencer has brought about the opportunity to connect with so many incredible people, and I'll never forget the phone conversation I had with an author named Elizabeth Cline during the Summer of 2012. Her publisher had identified me as someone who might be interested in Elizabeth's book, Overdressed: The Shockingly High Cost of Cheap Fashion, because of my penchant for shopping second-hand, paired with my mild (okay, major) obsession with my collection of vintage clothes. 
The thing I loved most about Elizabeth's tone was that she takes the very honest and compelling angle of a journalist who is considering her own life and shopping habits just as much as she was inspecting the industry as a whole. Her ultimate conclusion was that it's unrealistic for most people to commit to only purchasing ethical, eco-friendly, or socially responsible garments for the rest of your life but that making small shifts whenever possible is a great way to dip your toe in the water.
This attitude encouraged me to take a close look at my own shopping habits, and I've been very intentional about creating a company that reflects things that I would personally want to see as a customer.
Verily: What made you want to create ethically made clothing?
JA: I actually never thought I would end up having a clothing line of any kind! The way this new brand came about was truly inspired more by circumstance than a calculated decision. From the very beginning though, I've known I wanted it to become the kind of work that would reflect my own personal values and criteria for how I try to shop for my own closet.
Human rights have always been very important to me, but I think a lot of times we feel like a problem is so big that we can't possibly be a part of the solution. Over the past several years of being immersed in the fashion industry, I've seen how many of the large-scale mainstream retailers do not take this into account when making major material and production decisions.
When I first saw the documentary The True Cost about how mainstream production can affect our world in such a tragic way, I felt like I needed to at least do something small to counteract the process. At the onset, my shift was toward purchasing second-hand and vintage or thrifted clothing whenever possible, but as Season began to develop in the Summer of 2016, I realized that this was my chance to make a tiny splash in the space where I had always wondered about how I might help to shift the norm.
Verily: Where did your inspiration for The Pepper Dress come from?
JA: About six or seven years ago, I was really gaining a lot of momentum as a fashion blogger, but I was always trying to come up with ideas for how to dress in a unique way. One of those was occasionally making my own garments, and the very first prototype for The Pepper Dress was actually a mash-up of two other dresses that I already owned and loved. I took apart an Anthropologie maxi dress (purchased from a thrift store) and used the fabric to recreate a piece that had the bottom from one style and then the top silhouette from the other.
I still wear that dress quite a bit, and it wasn't until it became a travel uniform of sorts that I started to notice how versatile it was! The development process over the past few months has allowed us to find even more ways to make it a true superhero cape that can go from hanging out at the beach to hosting a cocktail party in mere seconds.
I love when items in my own closet serve multiple purposes for many different occasions and am not afraid to admit that this garment is the dress of my dreams.
Verily: Where are the dresses made? Who makes them?
JA: This first run of the dress (that will fulfill our pre-orders) is being produced at a small-batch cut and sew shop in Chicago, but I have big dreams about bringing the production back here to Southern California. Throughout the launch, I've also been hard at work trying to learn more about how we can support and hire from within the refugee community here in Long Beach. I'm very excited about how Season might grow from here, but of course the people who make our dresses are just as important to me as the women who wear them.
Verily: What's your favorite thing(s) about The Pepper Dress?
JA: One of the quickest ways to ruin my mood is by pulling on an item of clothing that is far too tight, but my favorite part about The Pepper Dress is that it literally always fits.
My weight has fluctuated 50 pounds over the last several years, and this dress has stayed a constant and very forgiving staple in my closet for that entire time. I'm also very proud of the values that we keep at the center of our decision making, and lately I love telling people about how our silk bandanas are made from the extra dress fabric which means that this is a garment that is produced with hardly any waste.
Verily: What's it like seeing your designs come to life?
JA: It's honestly happened so much faster than I would have imagined, but at the same time, I feel like I've been working on this forever! Since the first several dresses were made by me (using my amateur sewing machine, right at our dining room table), it is certainly surreal to now see women wearing them as they go about their day to day lives and big adventures just the same. 
I feel very blessed by so many of the different chapters of my career, but can absolutely say that this is exactly what I'm meant to be doing at this time of my life.
Verily: What do you want women to know about ethically made clothing and Season?
JA: My biggest encouragement would be to know that you don't have to make any huge shopping proclamations or drastic commitments to make a difference.
Start by choosing something small and paying attention to brands who have values that match up with your own. It doesn't even have to be eco-friendly materials or production that you can feel good about (though we certainly love both of those things!), but even just making high-quality purchases that you will be able to wear for multiple occasions and keep in your closet for longer than just one season. 
Photo Credit: Christa Norman Photography