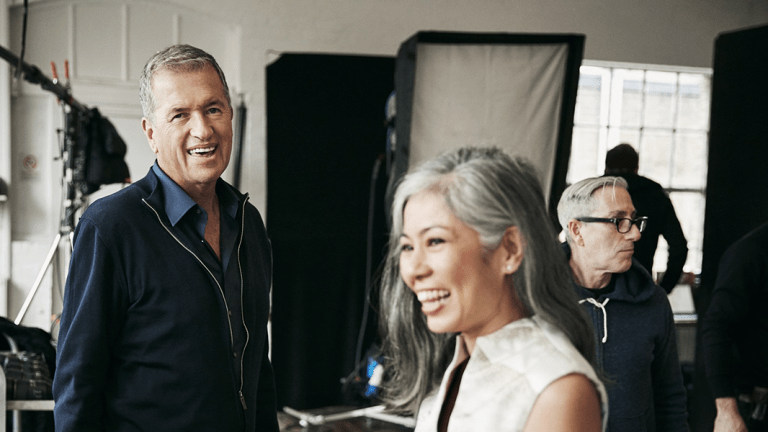 The Most Famous Fashion Photographer Ever Is Over Photoshop
'They all retouch everything,' Mario Testino says of selfies on Instagram as he promotes his collaboration with Dove #RealBeauty.
Dove, a brand that was once known only for its concave white bar of soap, is now as equally renowned for its stance on body positivity as it is for skin care products. On the occasion of the company's sixty-year anniversary, Dove has created a new #RealBeauty campaign with the help of high-fashion photographer Mario Testino.
Dove is reaffirming its stance on beauty with a new pledge that's not unlike Verily's own mission. The three vows of Dove's pledge include: always featuring real women, not models; portraying real life with zero digital distortion; and helping to educate girls about self-esteem.
Testino spoke to Vogue about the project, and what he had to say about the state of images today was quite surprising for a man in his position. Once described as "the world's most prolific magazine and fashion trade photographer" by Aaron Hicklin writing for The Guardian, Testino is much less into Photoshop than his work with all the glossies might suggest. The full interview is here, but these are the standout (both praiseworthy and kind of cringeworthy) moments.
"To me, something without flaws isn't exciting. Perfection I find quite boring because it's not real."
The photographer said that while the industry has gone the way of retouching, he's never been a huge fan of it, saying he used to only manipulate lighting in his own work. He says he likes that Dove isn't trying to change people, just bring out their "essence."
"I talk to the girls who put their selfies on their Instagram; they all retouch everything, and that's their prerogative."
Testino very plainly told Vogue that the reality of what people are embracing today is no longer what's real but rather what can be achieved through Photoshop. He didn't denigrate the practice, though, saying everyone is entitled to his or her own point of view.
"When you don't consider yourself beautiful, it reflects in all your actions and all your attitudes: in your security to your work, your security toward your partner, your security to your children."
On why he partnered with Dove for this project, Testino remarked that the company is allowing more women to accept themselves by focusing on "inclusion," not perfection.
"For me, it's been great to do the [Dove campaign] because it was an exercise for myself: What happens if I don't change anything? If I don't retouch [these women], is the result the same? I want that to influence the pictures that I do for magazines, rather than the other way around because, in a way, it makes us in our business kinder and gentler and less hard on each other."
Not unlike when British Vogue publicly called out designers for not working with its plus-size cover model Ashley Graham back in December, Testino might be able to shake things up as a leader in his field pushing back against unrealistic standards.
Here's hoping this Dove campaign will speak to Testino's high-fashion audience and Dove's "real" women alike, to continue to usher in an expectation of acceptance and celebration toward all.
Photo Credit: Dove