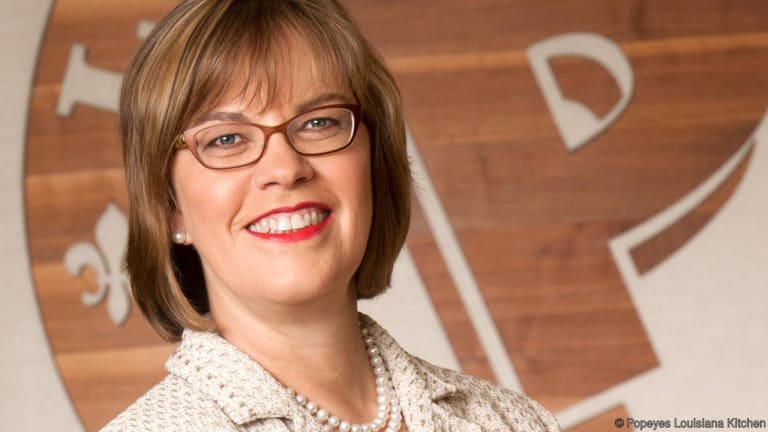 From Getting Fired to Being a CEO, Cheryl Bachelder Says We Should Embrace the Seasons of Our Lives
An impressive career leading KFC, Popeyes, and Domino's means Cheryl Bachelder has some lessons we can all benefit from.
Cheryl Bachelder is exactly the type of person about whom others say: "How does she do it?" A devoted wife and mother of three girls who she raised while climbing the corporate ladder to its highest rungs, Cheryl is not a machine, nor does she obsess about "balance." Instead, she just gets what matters done—at work and home too.
Cheryl is best known for being the CEO of Popeyes Louisiana Kitchen from 2007 to 2017. Before that she held leadership roles at KFC, Domino's Pizza, Gillette, and Procter & Gamble. She is the author of Dare to Serve, a book about her turnaround efforts at Popeyes that led to the company's return to growth.
As I've shared in one of my own books, I Know How She Does It, I've studied numerous people's routines, and I know that women have more answers than they realize. Even the highest achieving among us, such as Cheryl, use methods we can all learn from and practice. Cheryl's path to success was paved by awareness. Rather than being all things at once, her approach is about seasons—knowing when to press on, when to reflect, and when to shift gears.
I caught up with Cheryl during a rare pause in her life. With Restaurant Brands International (the owner of Burger King) recently completing an acquisition of Popeyes, she was pondering her next steps. I asked her for leadership lessons and advice on combining work and family. Here's what she had to say.
Laura Vanderkam: You're one of four siblings, and all of you have led businesses. How did your parents encourage that?
Cheryl Bachelder: Our father was a very successful businessman who, over the dinner table, and at every opportunity, told stories about what leadership looks like. That really shaped us into leaders with convictions.
He ran manufacturing plants, and one of my clearest memories was when he had to close a factory. He knew the people that worked in the factory by name, and he was feeling terrible about it. He was pacing the floor, sweating. I asked him what was wrong and he told me how sad it was that families' lives would be disrupted, but how necessary it was to keep the business healthy and performing. That taught me that leaders should sweat the difficult people decisions. They should be hard. They should feel bad. He modeled that.
LV: What drew you to the restaurant industry?
CB: I had the opportunity to meet the founder of Domino's Pizza at a time when I was looking to make a job transition. I was attracted to the pace. You could put something on the menu, and you'd know by tomorrow if it was selling. You could put advertising on TV, and you'd know by Thursday if people were going to come or not. I went to work for him in 1993 and fell in love with the restaurant business.
LV: After Domino's, your high-profile job as the president and chief concept officer at KFC ended unceremoniously. What did you learn from being asked to leave?
CB: I learned a lot of things. It's funny how, in our culture, on the day you take a big job, you're a super hero. There's a beautiful picture of you in the paper, the headlines say you are the next phenomenal leader. Well, on the last day, the newspaper runs a really ugly picture of you, and the headline says ousted.
Getting fired, that was my loser day, and from that comes all kinds of very important lessons.
I was disappointed, sad, angry, frustrated, all those emotions. But then you say to yourself, "What can I learn from this?" It changed the way I approached leadership. Every leadership principle I implemented at Popeyes came from failure at KFC. Because we don't learn from our successes. We learn from getting smacked by a failure. That's when the learning goes deep, and you make real change in your life.
LV: What exactly hadn't worked?
CB: I had 16 months of great results and 14 months of bad results. But 14 months is a long time in public company world. One of my surprises was how short the fuse was on how I was being judged for my leadership. In the public markets you're judged according to the quarter. But I've learned to be accountable for that. At Popeyes, I had something like 28 quarters of positive sales and profits. I learned that lesson, and the importance of it.
But I learned other things too. I decided that I wanted to work in a place that was interested in long term results. I wanted to work in a place that thought culture was as important as strategy. I wanted to test the thesis of "servant leadership"—leading by taking yourself out of the spotlight—and find out if that created a better environment for people to perform.
LV: You were brought into Popeyes to turn things around. What did you do in the first few weeks to set the tone?
CB: I assembled my team and then we went on the road. I called it a listening tour. We went to seven cities, and we talked to all of our stakeholders. We talked to guests, to people who worked in the restaurants, team members; we talked to restaurant leaders, supervisors, owners. The answer is always in the room. You don't have to invent the answer, you have to focus on the few things that will solve the really big issues.
For example, we'd always had a slow drive through. So we said, you know, if we fix that, sales will go up. That's just a math problem. So we focused intensely on improving speed of service, and our sales improved.
LV: Many women leaders face a dilemma in how people perceive them. If they're too tough, they're bossy. If they're too nice, they're weak. Does servant leadership help women through that dilemma?
CB: I know exactly what you're talking about. I had a boss once who, after a meeting, pulled me aside and said, "I need to see a more strong, tough, powerful Cheryl." I said, "OK, I'll take that feedback." The very next day, after a meeting, he pulled me aside and said, "Listen don't go emotional on me," suggesting I had sounded too harsh. I just looked at him and said you're terribly confusing.
I've landed on two words that I've found to be more helpful than "tough" or "weak": courage and humility.
Courage leads you to boldness. Put your ideas out there. I started taking very bold positions on my business issues. For example, at Domino's I proposed that we use heated bags that keep the pizza hot from the oven to your table. It was a tremendous innovation and nobody wanted to do it. I presented it eight times. I would not give up. Some people thought I was annoying! But I wouldn't let go of an idea that I knew would drive business for years to come.
But then I think you also have to demonstrate humility. It's not about you. Your bold ideas are for the enterprise. It's not about your resume, it's not about your promotion, it's not about your salary. People figure out pretty quickly if the leader is for them or for the self. People don't want to follow a leader who is solely focused on advancing themselves.
I think women have an opportunity to demonstrate both sides of that coin—that we are bold and courageous, but it is for the sake of the enterprise, the people that we lead, not for ourselves.
LV: What did your schedule look like as the CEO of Popeyes?
CB: Mondays and Tuesdays would start with quiet time at home, alone. A leader absolutely has to prepare for the day by getting their head quieted. Wherever you get your perspective from—if it's from your faith, from your reading, from meditation—you need quiet time to get yourself together in the morning.
I always ate breakfast. It's my favorite meal. An egg and a piece of toast or a piece of fruit.
Then I headed into the office. Mondays were my coaching days. I believe a senior leader should spend a third of their time in one-on-one coaching with their leaders. I saw them every other week for 90 minutes each. It was their time to bring issues, decisions, people conversations.
Then I had my staff meeting on Tuesday mornings, so we were all together to move forward on our critical priorities. As for hours, I'm an 8:30 a.m. to 6:30 p.m. person.
In the evenings on Mondays and Tuesdays I tried not to go out for dinner, because every other night of the week I was traveling or out for dinner. I tried to take a walk in my neighborhood, wind down, read a little bit, catch up on emails in the evenings.
Then other days, I would travel. I was usually going to a meeting of franchisees. I would tour restaurants while I was in that city. I also met with suppliers and other kinds of partners, like our advertising agencies. It takes a lot of people to run an organization. I wanted all our partners to feel like part of the Popeyes family.
LV: Did you ever sleep?
CB: I like to sleep! I'm probably a seven hours person.
LV: You raised three daughters. If one of them said she wanted to be a CEO and raise three kids too, what kind of practical advice would you give her?
CB: I do talk to my daughters about their choices around family and work. If one of them said she wanted to become a CEO, I would say, well that's hard. Be prepared for some difficult choices. I think the biggest lie we can tell our children is that it's easy or that it's always fun. It is fun some days, but it's not always fun.
Careers have seasons just like life has seasons. I would encourage them to keep their wits in each season, and not be so ambitious at work that they kill themselves in their personal and family lives with exhaustion. If you have young children, you don't have to get promoted every year. Frankly, I thought the teenage years were the most demanding. I took three years off during the teenage years because I thought my kids needed me more than the workplace did. Then I went back with a vengeance when they went to college with a CEO job. So look at each stage as a season, and don't think that you have to get it all done in any one particular season.
LV: A lot of women worry that if they take a career break it will be hard to get back in. As someone who did that successfully, what would you suggest?
CB: I think women worry about that way too much. The workplace does not have enough terrific, productive leaders. If you have a great reputation as a leader with certain skills the industry needs, they're still going to need them later. What you can do is you can maintain your contacts when you take a break. You can further your education through formal or informal ways. When I took a break after KFC, I did a variety of consulting projects—just one at a time so I wouldn't get too distracted—but they kept me in the game, and in the conversation, and gave me some new experiences.
LV: You talk a lot about authentic leadership. Why does authenticity matter, especially for women?
CB: I think women really struggle to become confident in their authentic selves, but that's the way you become a great leader. Look at your skills and your life experiences and your values and decide that these are my leadership convictions. This is who you will meet when you meet Cheryl Bachelder. Set aside the opinions of others that you will never satisfy. They don't know your purpose and what you're called to do.
LV: You and your husband have been married for over three decades. How do you build that kind of strong relationship?
CB: The first thing it requires is a commitment. In our family we talk to our daughters about the importance of making a commitment to be married and to stay married come hell or high water. Second, we make time for each other. We have date night. When the kids were young we'd go out and talk about them the whole night, but it was still going out! Now we find those evenings delightful breaks to catch up with each other. We always go to church together. We make family events a priority. And periodically we do take a parents-only vacation!
LV: Popeyes was just acquired (by Restaurant Group International). Now that the acquisition is complete, what's your next act?
CB: Ina Garten, the Barefoot Contessa, once said, "I think type A people need to stop before they start new things."
I'm taking that advice. We have a little lake cottage in northern Michigan, and I'm going to spend the summer there. I'm going to reflect on the past ten years and what I did and how I feel about it and what that implies for the next stage. My instincts are that I will continue to focus on leadership development. I don't think that work will ever be done for me. I love working with up-and-coming leaders. I think teaching is probably a part of it. I think writing is certainly a part of it. It will be some combination of these things for the purpose of creating a next generation of leaders that's more effective than in the past.
Photo Credit: Popeyes Louisiana Kitchen