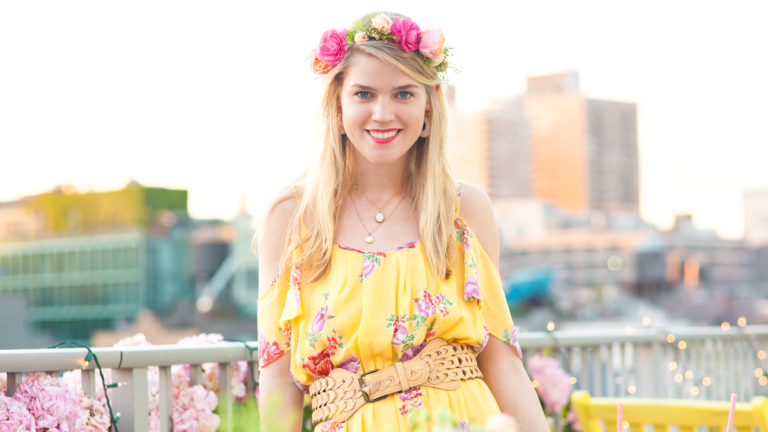 Beauty Bag Must-Haves: Christy Doramus
This floral mastermind shares the tinted moisturizer she's used every day for five years and more.
Raise your hand if your dream office space includes fresh florals every day, a flower-clad ceiling, mirrored closets full of ribbon, and a pink retro fridge filled with bubbly drinks? 
Well, for one Manhattan-based entrepreneur and floral stylist, this is a reality. Former beauty publicist, Christy Doramus, made her passion a reality with Crowns by Christy, a floral styling brand specializing in custom fresh and faux flower crowns. In addition to styling flower crowns for a living (seriously!), she wrote and published a DIY book titled Flower Crowns, hosts DIY classes in her SoHo studio, and works with a number of individuals and brands for special and custom events. But she hasn't left behind an appreciation for another kind of beautiful product—the kind we use for our skin. 
Her Beauty Philosophy:
"My beauty philosophy is that if you have confidence, you can rule the world! I feel most confident with clear skin and white teeth (or at least as white as I can get them!). Considering that I often fall into the habit of letting my head hit the pillow after an exhausting work day without brushing my teeth or taking off my makeup (gasp!), my priorities start here. I always begin my day by using the GO SMiLE Sonic Blue Toothbrush (it really works if you stick to a routine!) and then washing my face with June Jacobs Cucumber or Lemon cleanser. My moisturizer of choice is SkinCeuticals Daily Moisture, followed by Chantecaille eye cream.
My favorite beauty treat is a mask by Joanna Vargas. I am completely obsessed with her sheet masks for eyes and face. I also have an addiction to Tata Harper's Hydrating Floral Essence, which I spray on both before and after I put on my makeup. With the confidence of clean and glowing skin, I'm ready to face the world with a few makeup essentials."
Her Routine:
"Although I have been so lucky to try and experiment with the very best in beauty throughout my career, my everyday essentials make up a pretty short and consistent list. I love to dream about being daring enough to wear that fun new blue eyeliner or glitter shadow someday, but I find myself in a daily routine that is repetitive yet reliable and always under 10 minutes."
Photo: Courtesy of Christy Doramus