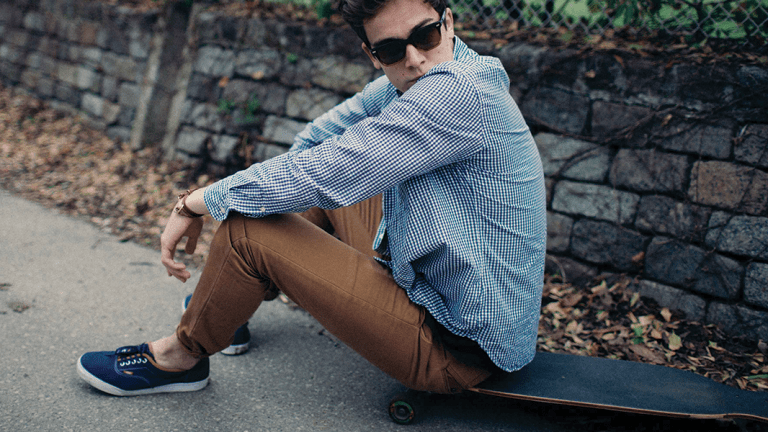 7 Guys You Can Confidently Swipe Left and Pass On
You don't have to linger over these guys profiles for long.
If you were to gather up all the women who use dating apps today, it would be obvious that we are an incredibly diverse group of people. While I'm sure some of us are particular about the height of our partners, their education level, or where they're from, most of us just want to meet someone who is classy and actually wants a relationship. 
Unearthing the gems from the lumps of coal—based solely on a few photos and a short bio—is a frustrating and often unpredictable experience. But! Just like it gets easier to spot a jerk IRL the more you people you date, it gets easier to spot them online the more you swipe.
Every woman's taste is different. One woman's Mahershala Ali could be another's Mike "The Situation" Sorrentino. We aren't talking about judging a book by its cover here. We are talking about genuine red flags. There are tons of little clues in his profile that will tip you off to a guy you should probably swipe left (in other words, pass) on.
01. The guy who is prematurely defensive.
We've all been burned in love, but your dating app profile is not the place to air your grievances. The guy whose profile includes things like "Since you're going to ask anyway, I'm 6'2" or "Let me guess, you like tacos, traveling, coffee, wine and dogs?" is not usually in a kind, open-hearted frame of mind. I'm not saying he's a bad guy, I'm just saying that this kind of attitude is a red flag that he may not be emotionally ready for his next paramour.
02. The guy who advises you to "Be interesting" or "Be funny" in his bio.
This guy is a lot like defensive guy. Peppering your bio with expectations of the women who are viewing your profile is counterproductive and…a little rude, frankly. It reeks of insecurity wrapped in an inflated ego with just a dash of sexism. I genuinely wonder why this guy thinks that instructing (reminding?) women how they should be or act towards him will pique their interest. It reminds me of the idea of "negging," whereby you insult someone to gain their affection. Always remember that you're interesting and funny enough to move right along to the next, much friendlier profile. Swipe left.
03. The guy who has excessive amounts of airport call letters and airplane emojis in his bio.
He loves to travel! He's lived in many places! He's a worldly nomad! He's also using emojis to brag excessively about something that is so much more palatable when it's shared in person. This kind of profile makes you wonder, "Why is it so important for you to say this right now?" Perhaps he's a good person under all that posturing. Still, your lifetime travel log is not the most romantically engaging use of the allotted 300 characters in an app bio. Hold out for an "about me" that's clever, creative, and a bit more intriguing. (Or at least one that includes full sentences.)
04. The guy who shares his Snapchat username.
I may be outing myself as "an old" here, but knowing (and accessing!) someone's Snapchat profile before you've matched or even met them in person is so weird. Your Snapchat is meant to be an unguarded form of social media sharing, not necessarily the first thing someone sees. My automatic assumption upon seeing a guy's Snapchat username is that he has very casual, mostly image-based intentions that are not the makings of a meaningful, romantic relationship.
*Note that I don't feel the same way about sharing your Instagram on a dating app. That medium is much more public-facing and a great way to peek at someone's social life and propensity for selfies.
05. The "work hard, play hard" guy.
For some reason I hate this phrase so much. I can't understand why are so many guys still clinging to it as a way to say they're multi-dimensional humans with a good work-life balance. I concede that my aversion to it may be rooted in the fact that I live in New York City where "work hard, play hard" conjures up visions of very late nights in very cheesy clubs, possibly with a quintessential finance bro. This couldn't be further from my vision of spending quality time with my beau.
06. The guy whose profile has too much complicated formatting or a very long list.
Have you seen the profiles I'm talking about here? The text is punctuated with strange spacing and symbols or formatted into a very long list of very short phrases, one below the other. This stipulation may make me look extra picky, but hear me out. Some explanation of yourself, your interests, your priorities—is good. Too much is just that, too much! In my experience, the more a guy has to say about himself, and the more "precious" the presentation of that information feels, the less interested he'll be in hearing about you.
07. The guy whose photos are all blurry.
I had to throw this one in here because it genuinely puzzles me. If you're technically savvy enough to set up a dating app profile on your smartphone, how is it possible that throughout your photo library, your Instagram, and Facebook accounts—you have no clear photos of yourself? I find this to be highly suspect. If nothing else, it's just plain lazy. And you know what, nobody wants to date a lazy guy.
I know as well as any woman that dating is challenging. Meeting a great guy on an app is like finding a needle in a haystack, which makes the process of trial and error so exhausting. You will probably have more bad first dates than good ones. However, my hope is that these small tips will help you spend less time mindlessly swiping and more time on high quality dates.
Photo Credit: Sean Pollock