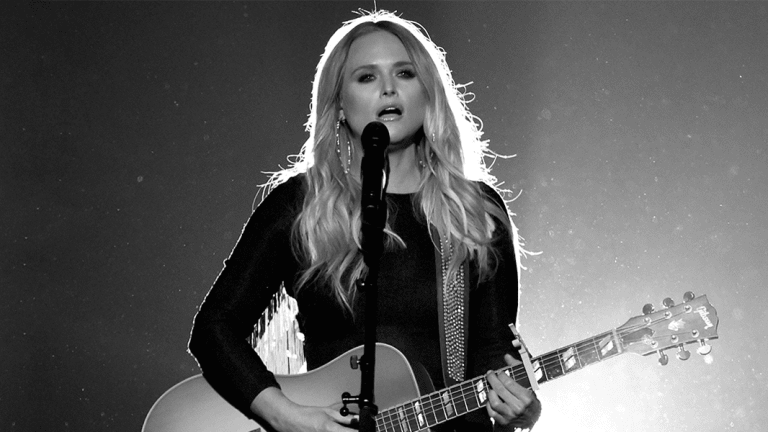 7 Moments Worth Reliving from the Academy of Country Music Awards Last Night
Country's big night did not disappoint.
The American Country Music Awards took place in Las Vegas last night. Considering the back-to-back performances and multiple stages it was enough to make viewers ask: Is this an award show or a music festival? Apparently, it was both. 
In awards show fashion, there were jokes made about the La La Land catastrophe at the Oscars. And like a music fest, some performances surprised us all—namely when the Backstreet Boys appeared on stage. (I guess boy bands know no genre borders.) Those aside, here were the 7 most notable moments from country music's biggest night.
01. Remembering Chuck Berry 
Paying tribute to the rock-'n'-roll great Chuck Berry who died last month, hosts Luke Bryan and Dierks Bentley were joined by special guest Joe Walsh for a piano-banging and guitar-riffing rendition of "Johnny B. Goode." Here's a video of the performance from People:
02. Miranda Lambert Brings the Female Fire
Receiving the award for Female Vocalist of The Year (for the eighth time—the most in ACM history, BTW), Miranda Lambert exclaimed, "I'm just glad to see females kickin' ass these days; I'm so proud to be a part of that. So cheers to all of us girls out there dreaming!"
When Lambert performed an acoustic, solo version of "Tin Man," she captivated the room. Just listen for yourself.
When Lambert also won Album of The Year for The Weight of These Wings, one of her professional partners on stage couldn't help but follow up with the remark: "At the end of the day the best music is the music that's made from the heart, and Miranda brought her heart to this record."
03. Cuddling with Sam Hunt
Singing his hit "Body Like a Backroad," Sam Hunt crooned cheeky lyrics comparing his beloved's shape to country roads. Next thing fans knew, he walked down to the audience, sitting down, and putting his arm around his fiancé Hannah Lee Fowler as he sang lyrics that said he's on a "highway to heaven." Could it get any cuter?
04. Maren Morris Sings to a Familiar Tune
Maren Morris, who won the breakthrough artist award at last year's Billboard Women in Music awards, performed a striking rendition of her hit "Love Song." The song starts with lyrics of how a cigarette and a drink won't do—"I need something stronger / That'll last a little longer / I could use a love song / That takes me back, just like that …. And yes, her performance was as striking as those lyrics. Watch her performance here.
05. Is that ABBA?
Little Big Town won the ACM Vocal Group of the Year award. Watching their performance of "Happy People" on Sunday, with a bright floral backdrop, a big-haired blonde in a bell-bottomed pantsuit, her brunette partner on vocals, and a pair of males beside them, at first glance you might have thought you were watching an ABBA reunion. But it was just Little Big Town belting out a hit from their recent album The Breaker.
06. Lady A Wants to Go Big or Go Home
With a stage full of brass-band members grooving alongside them, Lady Antebellum's performance of "You Look Good" was enough to make Little Big Town exclaim moments later that they wished to join the band. Watch the performance here.
07. Tim McGraw and Faith Hill Duet-ed It Up
While it may not have been the most musically jiving of the evening, Faith Hill and Tim McGraw's duet was not only sweet, but it also rang true to what many women want from communication with their significant other—just the truth. "She just wants you to say what you mean and mean everything that you say," Faith starts, "because that's how you talk to a woman...That's how you get with your lady who's worth more than anything in the world."
Here's to the genre that seems to get real and raw in a way that's hard to compare with anything else on the airwaves. 
Photo Credit: CBS