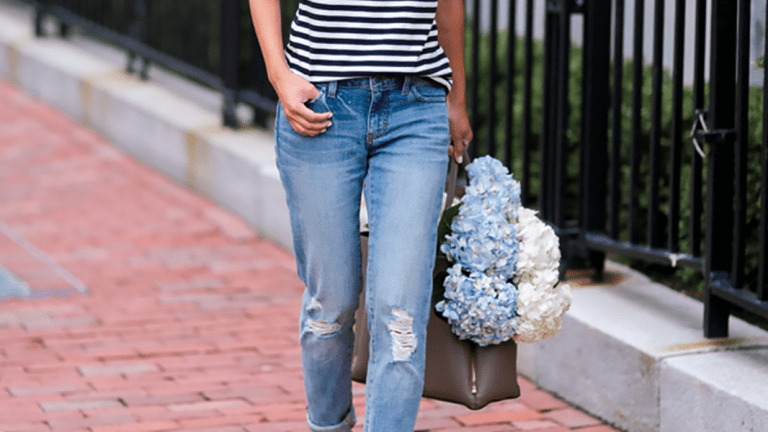 Plain Tee and Jean Combos We're Secretly Excited to Wear
These iconic wardrobe staples are both casual and classic.
We're beyond excited to start wearing our spring dresses and skirts. But honestly, we're secretly looking forward to donning our trusty wardrobe staples: blue jeans and T-shirts. These iconic pieces are both casual and classic—clearly a winning combination.
Ready to bust these comfy items from your warm-weather wardrobe? Here are five different ways to wear your jeans and tees this spring.
Parisian
The French are all about comfort and simple details that create a chic look. Namely, stripes. Stripes add a certain je ne sais quoi that is both effortless and interesting to the eye. A striped tee and jeans might seem basic, but really, the look is Parisian chic. Just take a cue from Jean, who is even rocking the bag full of flowers like a French mademoiselle.
Casual
Some days, minimal outfit effort is key. Keep your fabrics comfy, but have fun with colors. If your jeans are the standard blue, pick a complementary colored T-shirt like Rosie did with this girlie pink hue. To elevate the whole look, try swapping your sneakers for ballet flats, and throw on a structured trench.
Classic
We couldn't leave out the classic plain white tee and jeans look. Head-to-toe cotton, this classic combo is all about channeling your inner Americana. Sarah puts her own spin on this wardrobe staple by throwing on a pair of heels for a more fashion-forward look. Luckily for us, copying this look is as easy as 123.
Feminine
A T-shirt and blue jeans combo naturally has a more masculine appeal, but that didn't stop Julia from letting her feminine flair shine through. With a ruffle on the sleeve, a girlie scarf, and adorable flats, she makes "borrowed from the boys" look positively darling.
Boho
Thought a bohemian look only consisted of a long flowing dress or skirt? Kristabel proves that even jeans can be bohemified with a simple breezy lace blouse. Clearly, jeans can be the perfect canvas for anyone's unique personal style.