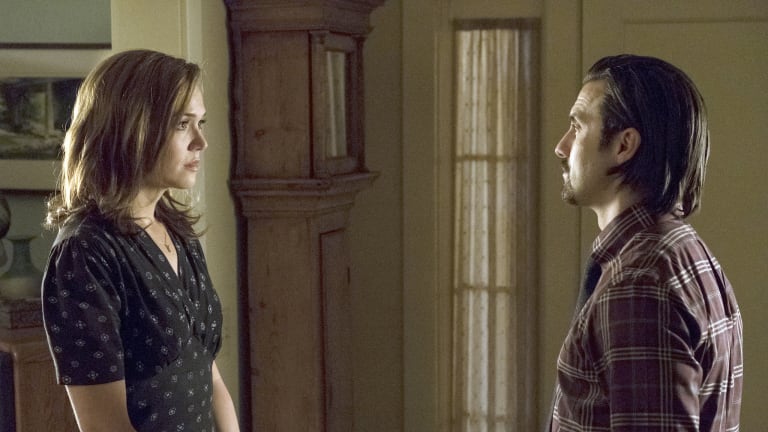 I Know I'm Going to Have 'This is Us' Withdrawal
Can we start counting the days until season two?
Last night's This is Us finale still has me reeling, and I'm acutely aware I'm going to be in serious withdrawal of this newfound favorite show of mine. 
I was late to the This Is Us game (spoilers ahead), but better late than never. I picked up the remote in January after seeing the trailer on a friend's Facebook feed and being further convinced by fellow Verily contributor Katie Scheu. The Pearson clan had my heart instantly, not least because the pilot includes the loss of a child. At the time, I was observing the fifth anniversary of my miscarriage. The scenes both in the hospital and at home were handled with honesty, power, and grace. I was all in.
This Is Us is about more than loss. It's about how our pasts inform our futures, and how the people we let in to our lives help shape who we become. I'd argue it's a show about redemption, and that's why so many people—my neighbors, my parents, the list goes on—have fallen in love with it.
Last night's season finale was unpredictable, as I've come to expect. Of course I didn't get the answers the trailer teased, and I'm sure there will be loads of opinions on the finale today. While we still don't know how a certain favorite character died—and I'm kind of glad we don't—here's what I know I'll miss until season two premieres.
01. Relating to Rebecca
Like Rebecca Pearson (played by Mandy Moore), I have three children, in addition to the child I lost. While mine aren't triplets, they share the virtue of being totally distinct human beings who need and want different things from me—and who offer me something absolutely unique of themselves in return.
Mothering is a blessing. And it's hard. So often I find myself nodding along with Rebecca and her frustrations and fears that she can't give her kids enough of what they need (and mine aren't teenagers yet!). It's something I relate to on the inside, but as a viewer I'm also privy to what this effort looks like from the outside. Rebecca makes mistakes, but overall, I think she's doing a pretty good job. I'd have coffee with her any day.
02. Being creatively inspired
The writing on this show is just so darn good. I write fiction, and my critique group regularly discusses the delicate balance of how much information to give the audience, in whose voice, at what point in the story, and what effect that might have on other scenes. The masterful way the writers for This Is Us navigate time, place, and the often messy tangle of interwoven relationships is simply brilliant. Add in solid, moving performances by the cast, across the board, and you've got something that will keep any kind of artist's creative juices invigorated and flowing.
03. Reminders that every moment matters
In any means of storytelling, the audience doesn't witness every moment of the characters' lives. We only see the ones the creators recognize as significant enough to merit playing out. In real life, we don't know which moments these will turn out to be. I've been to my local diner hundreds of times. How was I to know it would be over the most generic meal there—a chicken salad club—that I'd realize I'd fallen in love with the boy who would later become my husband?
Many of these game-changers in the show start out as ordinary moments, and I love that. A bus ride turns into a love story. A song at a bar turns into a love story. The children's birthday party turns into . . . well, another love story. Maybe there's a theme here, but it's one I can get behind: you don't know who you're going to meet today, or where that person will take you. We're all flawed, but it's worth it to be open to the possibilities. Otherwise, you could miss something pretty huge.
04. Tuesdays with Milo
Can we talk about how great it is to have Jess—I mean, Jack—back in our lives? First a peek at present-day Jess in Gilmore Girls: A Year in the Life; now, for a time at least, the return of Tuesdays with Milo Ventimiglia as Jack, father of the Big Three.
Though they're in different situations, Jess and Jack seem kindred spirits to me. They aren't perfect. They have limits. But they love with as much of themselves as they are able to give. That final scene last night? I'd watch that on loop, with my husband's arm around me, just as I did on the couch yesterday. Jess and Jack are worthy of admiration, but they don't hold a candle to my John (see point 3).
We live in a time when it's easy to only see others' achievements and happy faces via social media. Our culture encourages us to push the harder stuff away. This Is Us is a well-timed reality check: no one's perfect. No one's going to be. Life is messy, and a lot of times, it hurts. When you hurt, you can grow. The Pearson family has brought us together, and that, in my book, is art in its best form.
Photo Credit: NBC