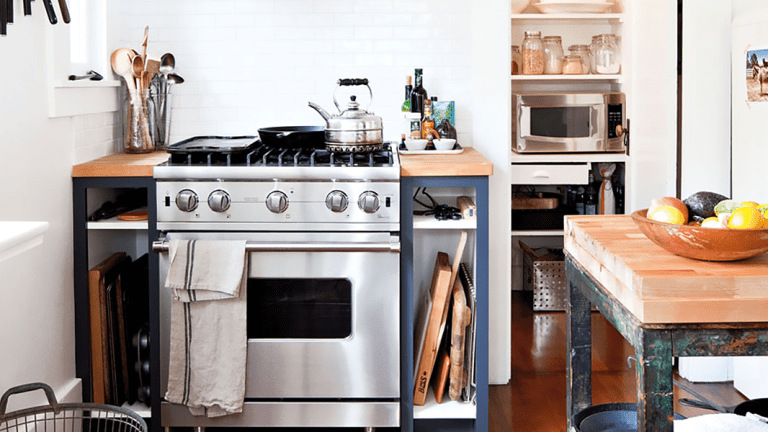 10 Types of Clutter You Can Toss ASAP Without Feeling Guilty
Lighten your load this spring by getting rid of these nonessentials, stat.
Out with the old, in with the new. It's that time of year again when tulips are blooming, new grass is growing, and the sun is shining longer and stronger. Naturally, we all want our homes to match the fresh promise of new life and the crisp, clean outdoors.
The mere thought of purging everything that accumulated indoors throughout the long, dark days of winter isn't as welcoming as indulging in springtime leisure. So we've simplified your life this cleaning season by creating this checklist of ten things to toss before you bust out your suitcase for that last-minute spring break vacation.
01. Clothing Items That Don't Fit Well
It's easy to toss clothes in the donate pile when they're stretched, beyond repair, or way out of date. But Verily's Style Editor, Lilly Bozzone, says that if you're staring at a piece of clothing, shoes, or an accessory "you want to wear at some point but never actually do, you're most likely dealing with an item that doesn't suit your style or lifestyle. It's best to let this piece move on to another owner." Lighten the load with her seven steps to detoxing your closet.
02. Gifts You're Keeping Out of Guilt
Verily contributor Maria Walley says that keeping gifts out of guilt comes from our desire to people-please. It's important to realize, though, that pleasing others doesn't make you a nicer person. "It simply adds to your own overload," says Susan Newman, Ph.D., author of The Book of NO: 250 Ways to Say It—and Mean It and Stop People-Pleasing Forever. So if you're still holding on to that trinket your coworker gave you five years ago that you haven't touched since, it may be time to let it go (let it go!).
03. Books
This one tortures my soul to say, but the slope to becoming a book hoarder is a slippery one. I have enough books to last me three lifetimes of reading nonstop. Because that is nowhere near a practical reality, about a third of them will never see the light of day. Donate books to your local library, or give them to someone who will actually read them.
04. Stuffed Animals and Toys
Somehow there are still stuffed animals everywhere at my parents' house. They symbolize our childhoods and sweet memories, but if they're just gathering dust, find them a new home with a child who will love them as much as you did. The Good+ Foundation distributes gently used goods for children and babies to families in poverty across the U.S.
05. Extra Housewares
I recently read a satirical article about the extra spatula in the kitchen that's ready to be used when the unthinkable happens to the primary spatula. How many of us have multiples? Answer: all of us. Chances are you have a set of plates, bowls, and kitchen gadgets that you prefer using over your "backup" items. Donate rarely used housewares to Habitat for Humanity, which helps families build a decent and affordable place to call home. 
06. Broken Items
With all my hopes of what that broken lamp could be, I hold off on throwing it out because one day I may be able to magically fix it, and the world will be right. Unfortunately, the chances of that ever happening are slim, so let's do ourselves a favor and toss the beautiful hair clip missing . . . its clip.
07. CDs and DVDs
My car is littered with albums such as Celtic Easy Listening, Bowling for Soup, and Jesse McCartney. As much as I still love Jesse's "Beautiful Soul," I have the entire album and every other song he's recorded at my fingertips on Spotify and Pandora. If you really can't let go, upload them into an external hard drive. While you're curating your collection, consider that it may also be time to finally toss that boom box.
08. Randoms in Your Sock Drawer
How many lonely socks sit in our drawers hoping to one day finally be reunited with their other half? As sad as this age-old story is, it's just a sock. If the missing pair hasn't reappeared by now, it's never going to happen. Picking out unsupportive bras and ugly underwear will also free up space and give you an excuse to finally invest in beautiful undergarments.
09. Office Stuffs
Office supplies tend to explode into a congregation enough to fill multiple rooms. Toss pens that are out of ink, pencils without erasers or lead left, and dry markers. After the easy stuff, move on to old paperwork and magazines. I recently cleaned out my desk and found papers from freshman year of high school. I don't remember why I held on to them, but it's safe to say I won't miss them.
10. Expired Beauty & Health Products
Makeup and nail polish somehow naturally accumulate. We see a new shade of lipstick we want to try and forget all about the other six we already own. But beauty and health products come with an expiration date. Rifle through your makeup bag and medicine cabinet for products past their 6-, 12-, 18-, or 30-month deadlines. A symbol of an open jar with a number on it tells you the product's "period after opening" shelf life (for example, if the open jar has a 6M on it, it expires six months after you broke the seal).
Decluttering is easier said than done. But start with this list, and you'll enjoy the benefits of tidying up well beyond this season. As Verily contributor Mary Claire Lagroue reminds us, "The real reward lies in these emotional benefits. In tidying up, we become careful curators of our lives, purposefully choosing what to leave behind and what to carry with us."
Photo Credit: Lobster and Swan