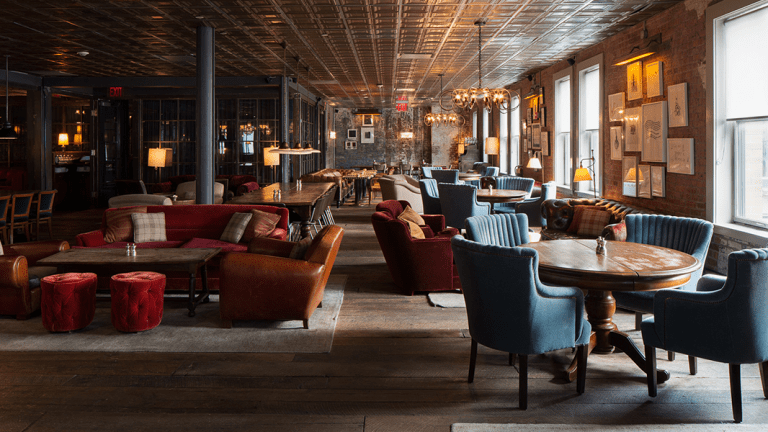 Social Clubs Stage a Comeback Amid Digital Burnout in the Social Media Age
Inauthentic social networking might launch the comeback of members-only societies.
How often in this day and age do we remark to ourselves or others: "What the heck did we do before the Internet?" Given that Google processes, on average, 400,000 queries per second, truly, how did people figure stuff out pre-connectivity? Better yet, how did they know anything that was going on in the world without a feed to tell them?
Of course, we aren't as far removed from the pre-Facebook era as we sometimes feel. And there's one bygone practice that, try as it may, the smart phone might not be able to crush completely: the idea of a social club. 
A community centered around a commonality, clubs have a rich history in modern civilization. As spaces for political conversation, sports, leisure, and—most importantly—networking, formal social clubs date back to 1800s. We can look at legacy groups like the elitist (and notoriously sexist) societies found on Ivy League campuses, or the mysterious krewes of New Orleans, or the women's clubs that often met in the tenements of New York City. You might also think of more modern iterations, like the open-to-all platform of Oprah's Book Club or any given Facebook group or Meetup. Requirements for entré may differ; motivation for doing so does not. We all like to belong—of this, we are certain. 
On a recent night in New York, I found myself at the type of old social club we Millennials tend to think only exists in a Fitzgerald novel. This was the real deal: hand-painted portraits, creaky wooden floors, tufted couches, fire places. Members huddled around with martinis in hand—Tony Bennett and Tom Wolfe among them (no, really). 
I was at The Players, one of Manhattan's oldest social clubs for film, television, music, and publishing types as well as artists. The event that night honored the legendary American portrait painter Everett Raymond Kinstler who has painted Katherine Hepburn, Ronald Reagan, and Paul Newman, to name a few. I'll be honest, I didn't know much about Kinstler, but I soon found that it didn't matter. And therein lies the true value of these clubs—introduction. 
I don't mean just some false sense of arrival into an upper echelon of sophisticated fraternity. That, we know, doesn't really line up with a Millennial's priorities. Rather, these clubs offer introduction to ideas in a way that most modern marvels still cannot. I can show up on any given Tuesday at a social club and hear Ray, in his own words, tell me that the reason he loves Katharine Hepburn, the reason his portrait of her is so compassionate, is because "she never forgot where she came from and that makes her easier to connect with." Unsolicited, offline knowledge, I find, has an uncanny ability to stick a little more than that which we fleetingly search for.  
The Players falls among that tier of members-only society in New York that includes the likes of The Yale Club, The University Club, or The Metropolitan Club. But with the onset of free social networking and the rapid growth of trendy, social coworking environments, the clubs are having to modernize to maintain membership quotas. New York has long been home to more societies than any other city, which is why its also a hotbed for looking at a new era of leagues.  
The Players is just one of such places in New York that is engaged in a full-scale renaissance aimed at attracting a new generation. Its new offshoot, the Young Players Society, boasts a seasonal pop-up restaurant and weekly events for the under-40 crowd that could include a card game at a poker table once owned by Mark Twain. The Yale Club draws young crowds with luxury fitness facilities, weekly cocktail hours, and lavish summer parties. The Montauk Club of Brooklyn boasts, "By far our largest contingent is members under the age of 35. The majority of our under 35s are unmarried—and in keeping with Brooklyn's reputation—good-looking." Well, OK then.
Meanwhile, there are nouveau societies, or self-proclaimed "covens," lacking in legacy but overflowing with enviable coolness. Some bring love into the equation, as matchmaking clubs. Others center around food, ushering in a new era of supper clubs. Still others have stuck to the more traditional networking model but upped the ante to appeal to a digital world. The Wing, an all-women club with a wait list 2,000 names long and a blow dry bar, and SoHo House, a global network of societies for the young and uber-creative types with private movie screening rooms, offer tons of outrageous perks. The prices of the new and the old vary greatly, ranging from $300–$3,000 annually. 
In Manhattan, innovative women are currently connecting at The Wing, which opened this past October. A hideaway bathed in pastel pink, it gives working women a place to primp between meetings or a destination to come work and mingle. Co-founder Audrey Gelman told Fast Company, "We saw the potential for not only convenience and making women's daily lives easier, but also having it be a hub for community and connection between women." 
Lara Avsar, founder of Her Little Story, an organization committed to bringing mentorship to young girls, says The Wing is "calming yet powerful." Avsar isn't a member but has attended events at the space and says she can absolutely see the value of this community. "I absolutely think women will pay to join social clubs if the experience is right," she says. "In my mind, the greatest benefit The Wing provides is a safe space for a diverse group of women from various industries to talk business, develop action plans, and promote incredible ideas. Oh, and the bookshelf? All female authors! I could spend hours reading the works on the shelf."
These more modern networks are arguably more appealing to Gen Y than places that inherently have just one thing new societies can never have—a rich history. But it's hard to place a value on that one enduring quality. The Montauk Club of Brooklyn entices prospective members visiting its website, saying, "In an uncertain world, it's comforting to know that one's club is a steadfast oasis that continues even after nearly 120 years." As I mingled with members at The Players, one man, a former executive for CBS, told me that the club really isn't a nose-in-the-air type of environment many cast it as. In fact, it's just a group of interesting individuals looking for a smart (and, yes, exclusive) space in which to socialize and continue learning.  
What's undeniable is that environments for in-person connection and self-growth seem more in-demand than they have for some time. People are feeling digital burnout and looking for a reason to ditch the screen time. Just as fashion and design trends cycle, wouldn't it make sense that social trends might? I've tried the trendy spaces, and I've now been to a historic one. Never as a member, only guest. Still I learned something from them both; I met new people at both; And I left both feeling like my time was well spent. I can attest to the fact that a time-tested society, such as The Players, has a certain air that can't be matched by funky wallpapered bathrooms and endless kombucha on draft. For better or worse, though, that's the stuff that Instagram dreams are made of. 
As Millennial validation continues to be dictated more by followers than by real-life connections, it's hard to say how our social dispositions will continue to evolve. But I hope there's a place for both tradition and evolution. In essence, what the newer communities lack in history, they make up for in aesthetics and perks. But what the old clubs lack in modernization, they more than make up for in wisdom. 
As Avsar told me, "The night [at The Wing] really reminded me how much happier I am when I make time for and surround myself with smart, strong women!" Whether it's women, artists, culinary connoisseurs, or a smorgasbord type of community, the value of any club lies in being together, offline. 
Getting out from behind a screen and into a room—be it pink, papered, or paneled in wood—filled with living, breathing people should be a goal for us all. Because for now at least, talking still beats typing, and a genuine laugh feels better than a "like." Internet connectivity is an amazing thing, but so is silencing your phone for a night of old-fashioned conversation with your club. 
Photo Credit: Soho House