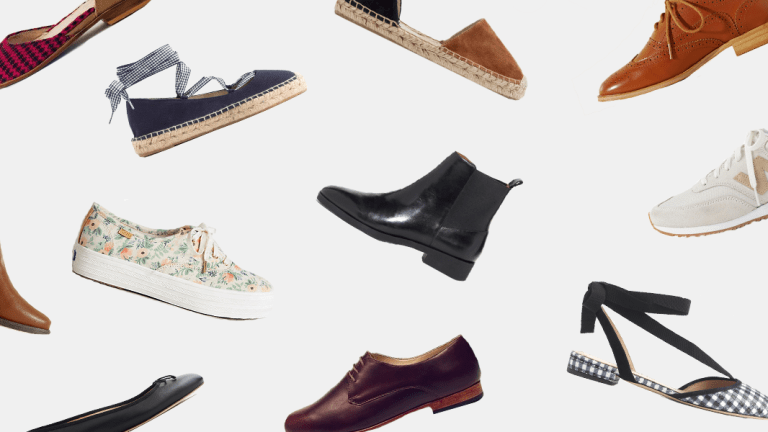 7 Times Flats Were Way Better Than High Heels
Because beauty does not have to equal pain
We can all appreciate the classic appeal of high heels, but let's be honest, do we really love wearing them? Jammed toes, sprained ankles, and bunions are definitely not fun. Many women, however, feel like heels are essential to creating a pulled-together outfit. Not so. If you need a few reasons to start swapping your heels for flats, look no further—we have seven.
Oxfords //
If you want that smart, academic, and slightly quirky look—oxfords are your go-to. From dresses, skirts, and trousers, they can easily replace your heels for a pulled together and professional look.
Boots //
We all love a sturdy pair of boots. Surprisingly versatile, boots offer a playful contrast of feminine and masculine when paired with dresses and skirts. We know we can always count on our trusty boots to make our outfits!
Sneakers //
Can we get a "hallelujah" for athleisure? Wearing our comfiest sneakers with our jeans and blazers for the day is one of our favorite looks. Walking on clouds while looking stylish? Yes, please. 
Ballet Flats //
If you're a real heel-hater, you're already well acquainted with the ballet flat. Ballet flats offer all the classic appeal as high heels without all the pain. What's not to love? 
Sandals //
If you're anything like us, you're ready to break out the summer sandals. Sandals are both practical and adorable, going with all your dresses, skirts, shorts, and jeans. We're already envisioning all the cute outfits we'll wear with our sandals.
Loafers //
If the ballet flat and oxford shoe had a baby, it'd be the loafer. Perfect for the work place or a relaxed weekend in jeans, the loafer is both comfy and easy to wear. 
Espadrilles //
The darling of all shoes, our beloved espadrilles offer a care free tropical appeal we can't help but look forward to every spring. With lace up ties and comfortable bamboo woven soles, the espadrille can dress up and dress down any outfit.