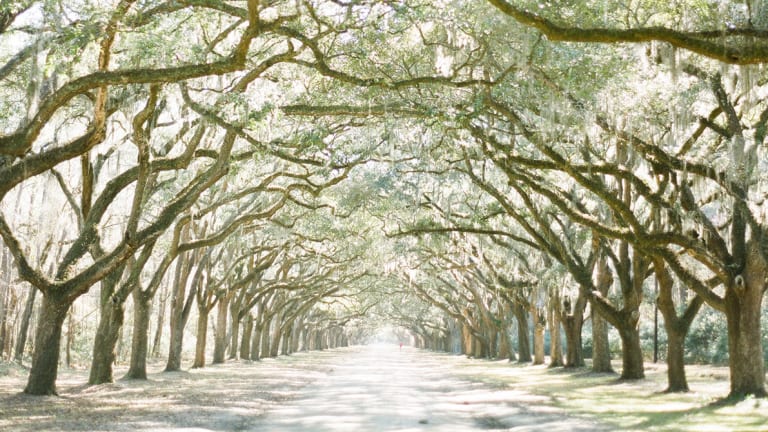 Top 10 Spring Break 2017 Destinations for the Perfect Last-Minute Trip
Get your suitcase out.
You've waited all winter long for this moment: Spring is finally on the horizon! Even better news: it's not too late to plan a trip for this coming season. From the east to the west and in between, there's ample opportunity to give in to your nagging wanderlust. Who said you had to jump on an expensive international flight to have the trip of a lifetime?
Here are ten worthy and homegrown destinations to visit when warmer weather beckons for adventure.
01. For Romantics: Savannah, GA
TripAdvisor hails Savannah, Georgia as the "picture of antebellum hospitality, thanks to period architecture and oak-lined streets." Savannah's Historic District breathes history and beauty like no other. If you're lucky enough to visit Savannah during the Spring, not only are you bypassing the brutal humidity in the summer, you're seeing the city at (perhaps) its best all year.
02. For Urban Nature Lovers: Eugene, OR
Beautiful Eugene sits a little over 100 miles south of Portland, Oregon, straight down Route I-5. Fittingly nicknamed the "Emerald City," Eugene's Cascades Coast is home to highly-acclaimed and easily accessible urban hikes and waterfall wonders. Check out the Daffodil Drive & Festival in March or the Mount Pisgah Widflower & Music Festival in May, where there is live music all day.
03. For Outdoor Aficionados: The Adirondacks, NY
Just upstate of one of the greatest cities in the world are New York's Adirondacks. The Adirondack Region features over 100 spectacular mountains, lakes, and valleys. It's a perfect getaway for anyone living in or near New England. From the "Porcupine Mountains" to Sleeping Beauty Mount and Lake George, there's plenty of hiking and camping. The website even offers free downloadable brochures and sample itineraries with suggestions of where to explore.
04. For Wine-and-Diners: Sonoma, CA
Sonoma happens to be Time Magazine's pick for a quick spring trip this March. The California treasure is acclaimed to be just as beautiful as Napa Valley—except 40% cheaper. Spring is prime time to visit a variety of local wineries and make reservations for some of the summer's busiest and most popular restaurants. Foodies can relish the gourmet local cuisine, with food festivals like California's Artisan Cheese Festival at the end of March. Cheers to wine country.
05. For Artistic Types: Asheville, NC
Lonely Planet's No. 1 pick for 2017 is heralded as "one of the USA's most eclectic and innovative small cities… quietly emerging as a haven for creative spirits." Not only is Ashville, North Carolina known for its Appalachian appeal—it is nestled between the Blue Ridge Mountains and French Broad River—it is also known for its French Renaissance-style architecture and River Arts District. Downtown Asheville and the Grove Arcade are notable landmarks for shopping, food, and entertainment. With so much to do, it's no wonder Asheville is one of this year's top destinations!
06. For Astronomy Enthusiasts: Olympic National Park, WA
Olympic National Park is one of USA Today's top picks for a spring break destination this year. The natural arch at Second Beach will woo the photography-inclined and Hurricane Ridge will give trek-lovers ample opportunities for hiking. The starry night skies are an ideal spot to check out the celestial event of a crescent moon meeting Mercury and Mars to form a triangle. Whether camping or hitting it up hotel style, there are plenty of inexpensive options for you to enjoy your stay in this jewel of the Pacific Northwest
07. For Good-Music Fans: Nashville, TN
Music City lies in the heart of Tennessee and is listed on Frommer's as one of the best places to vacation in 2017. Live music can be heard nearly everywhere you go. Nashville's thriving culture of art and fashion culminates with Nashville Fashion Week set to kick off in April. And with over 150,000 blooming flower bulbs at Cheekwood in Bloom, Nashville is surely a spring treat if you can manage a visit!
08. For Chill Adventurers: Denver, CO
They don't call 'Denver the Mile High City' for nothing! Denver offers the adventurous plenty to do—from sightseeing or skiing in the Rocky Mountains, to climbing, rafting, zip-lining, and scenic driving. With its booming cultural scene and diverse neighborhoods, Denver's spring festivals, like the Cinco de Mayo Festival or the Denver Arts Festival, are just another reason to check out the capital. Spring also happens to be one of the most affordable times to travel to Denver when there are plenty of hotel deals and incredible weather to go with them.
09. For History Buffs: Washington, D.C.
U.S. News ranks Washington, D.C. as No. 2 Best Historic Destinations in the USA plus No. 3 in Best Family Spring Break and Best Affordable Destinations. Galleries and exhibits abound—many of them free. Check out the Lincoln Memorial, the National Museum of Natural History or the new Martin King Jr. Memorial. And don't forget the White House and the Washington Monument! Whether you're strolling along the national mall, taking in the cherry blossoms, or visiting the National Zoo, it's no wonder that Washington, D.C., ranks so high in so many categories.
10. For Rousing Revelers: New Orleans, LA
Beyond Mardi Gras, New Orleans is bursting with activity and unique spots. This Gulf Coast city offers a unique melting pot of culture and cuisine. Spring just so happens to be Festival Season as New Orleans' fitting nickname is the Festival Capital of the World. Check out a few of its legendary celebrations, like the annual French Quarter Festival, which kicks off in April, or the New Orleans Jazz and Heritage Festival that ends mid-May.
Photo Credit: The Happy Bloom