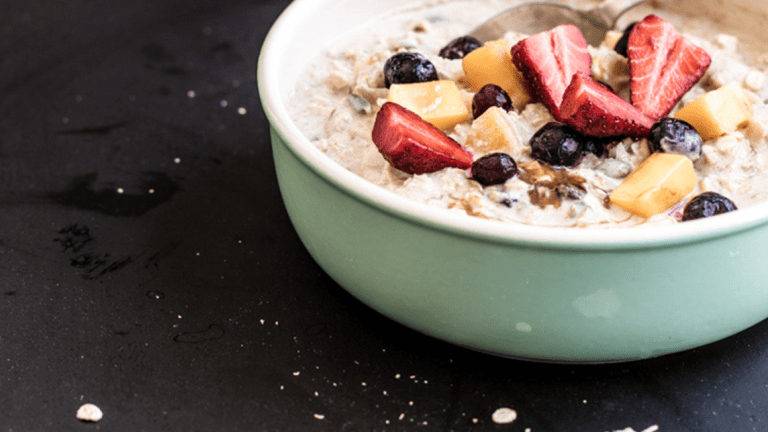 7 Healthy Packable Snacks That Aren't Your Same Old Carrots and Peanut Butter
What if we told you that you could have cookie dough for a snack?
The afternoon slump is real. At the office (or at school), it's that time of day when we all need a little pick-me-up, so we go for the snacks. But if you're as tired as I am of the same old, same old, here is a fresh set of ideas for snacks to take to the office. Instead of packing peanut butter and carrots, you can reach for these delicious and nutritious snacks to keep you energized and guilt-free.
01. (Freeze) Dried Fruit
Dried fruit (sans added sugars) is a great alternative to the standard apple or banana, and it's just as easy to pack. Add some variety by packing an assortment: berries, bananas, peaches, apples, or just about any fruit you like. Apart from satisfying your sweet tooth with natural sugars, you're also getting loads of vitamins and antioxidants. Dried apricots are one of the best options if you're trying to maintain a healthy weight. They can curb your appetite for five hours, so indulge in a handful when you're starting to feel hungry to keep you full until dinnertime.
02. Dark, Dark Chocolate
If you need a little sweet treat to satisfy your craving, skip the trip to the vending machine for candy. Instead, keep some dark chocolate (with 72 percent cacao or higher) in your desk—the darker, the healthier. Studies show that dark chocolate contains antioxidants and is even good for heart health. If you need something more substantial to hold you over, try dark chocolate–covered almonds.
03. Hit the Bar
There's an overwhelming number of options in the snack aisle when it comes to snack bars. Seek out brands that are high in protein and fiber, such as Health Warrior or Evo Hemp, both made with whole, organic ingredients. They'll keep you fuller longer, plus they'll give you the extra boost of energy you need to make it through the day. If you have time, try your hand at these homemade no-bake protein bars—they're allergen-free!
04. Fat, But the Good Kind
Avocado is a superfood, highly nutrient-dense with disease-fighting antioxidants. If you're a fan, they're delicious and versatile. Pair them with just about anything. For an island feel at the office, scoop the middle of a ripe avocado out and mix it with coconut oil, shredded coconut, macadamia nuts, and mango. If you're feeling more of an Asian vibe, pair slices with soy sauce, rice vinegar, brown rice, dried seaweed, or sesame seeds.
05. Go Greek
Yogurt may be on your typical list of packable snacks, but instead of regular yogurt, bring a pint of Greek yogurt for the week. We prefer whole milk over 0 to 2 percent; it'll keep you fuller longer. Pack some fixings like a handful of berries, nuts, or granola to add some sweetness and crunch. It's a fulfilling low-cal snack that can serve as a last-minute breakfast or post-lunch dessert.
06. Delicious Dipping
The benefits of hummus seem to go on forever; it's full of protein, essential vitamins, and nutrients. It's low in fat, sugar-free, and high in fiber. It will give you energy to tackle your day at the office. Plus, this delicious dip goes with just about anything. Pair it with carrots, pita chips, whole grain crackers, and multi-grain toast. Delighted By Hummus even offers dessert-worthy versions, like brownie batter and chocolate chip cookie dough. Chickpeas never tasted so good.
07. Stock a Mini Bar
A mini hot cereal bar, that is. Skip your local coffee shop or deli's overpriced version by stashing cups of plain instant oatmeal in your desk for easy snacking. Prepare the oatmeal as usual. Then add toppings to enhance your hot cereal to your tastebuds' desire. Or prep small Tupperware filled with homemade oatmeal and toppings to take to work with you all week. Pair fresh apples and raisins; chocolate chips and dried cranberries; or cinnamon, milk, and honey for toatally oatstanding variations.
When those 3 o'clock cravings strike, reach for one of these seven fresh ideas for packable snacks. They are easy, portable, and the possibilities are endless. Happy (and healthy) snacking.
Photo Credit: Cook Republic