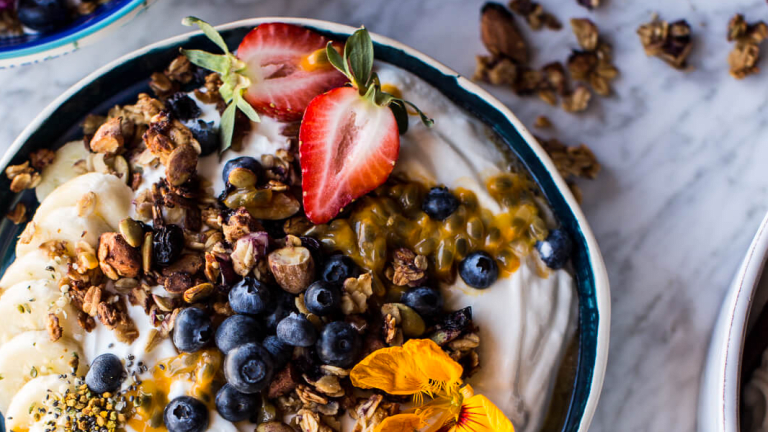 7 Healthy Snacks for When You Want to Eat Clean Without Going Crazy
It's possible to eat clean without getting bored. Ah, the sweet (or salty) taste of victory!
Let's be real: With many sugar- and salt-saturated foods masquerading as healthy, nutritious snacking can be a wolf in sheep's clothing. But in the clean eating movement, we find hope: more conscious food companies are making healthy and surprisingly tasty snacks available for anyone interested in maintaining a healthier diet.
Here are 7 food brands that stick to natural, minimally processed ingredients. Stash these healthy snack foods in your home pantry or office mini-fridge to avoid the dreaded midday munchies for chips and chocolate.
01. Allgood Provisions Gourmet Blends Trail Mix
Allgood Provisions produces simple foods using the ethically and locally sourced ingredients. Their Gourmet Blends trail mix is loaded with disease-fighting antioxidants: nothing but organic nuts, raisins, berries, and seeds. Plus, with every product purchase, 1% goes directly towards contributing to a more sustainable environment. Use Allgood's app to find their products at a store near you.
02. Siggi's Dairy Plain Yogurt
Move over, mainstream yogurts. Siggi's Dairy swaps artificially sweetened yogurt for skyr, an Icelandic cheese made from skim milk. Don't let the sound of "Icelandic cheese" fool you; Their 0% non-fat plain skyr is packed with protein (17g) and low in calories (100) and sugar (3g). Find Siggi's at your local grocery store.
03. Alive & Radiant Superfood Kale Krunch
Chips craving, begone! While it's vegan, dairy-free, and gluten-free, this healthy snack is worthy of all taste buds. Alive & Radiant's Kale Krunch Superfood short list of organic ingredients—kale, cashews, sunflower seeds, chia seeds—makes our goal to eat clean a lot more bearable. It's a good source of protein (6g) and fiber (3g), and a serving will help fulfill your daily recommended amount of vitamins A (70%), C (45%), & K (220%). Alive & Radiant's products are plant-powered yet satisfyingly seasoned and crunchy. Find Kale Krunch in Target stores.
04. Wonderful Pistachios
Pistachios are loaded with protein, potassium, and fiber. Wonderful Pistachios' No-Salt Pistachios also have zero cholesterol and only 2g of naturally occurring sugar. Since they have no additives, they make for the perfect, everyday snack if you're looking for something more substantial. Find Wonderful Pistachios at most grocery and drugstore chains.
05. Imlak'esh Organics Goji Berries
Imlak'esh Organics provides quality, sustainably harvested foods to nourish people and provide living wages and socio-economic opportunities for small farmers. This "longevity berry" is dehydrated raw to preserve its rich flavor and full nutrients. Goji berries have one of the highest antioxidant, vitamin and mineral contents of any food. Because they're also low in sugar and sodium, goji berries are a welcome snack addition to any clean eating routine. Imlak'esh doesn't have a retail store, but you can order all their products online.
06. Chic-a-Peas Baked Crunch Chickpeas
Chic-a-Peas are fiber- and protein-packed snacks that are as simple as they sound. Baked with just a touch of safflower oil and spices like sea salt and paprika, these are so good you won't miss your Cheetos. Order from Chic-a-Peas' online shop or find them at Walmart.
07. Sejoyia Foods Brussel Bytes
Sejoyia Foods prides itself on all-natural ingredients including vegetables, coconut nectar, basil, garlic, and rosemary. A serving of their crunchy Brussel Bytes is high in Vitamins A (60%/DV) and C (90%/DV), along with a solid amount of fiber and protein. What's not to love? Use Sejoyia's app to find their products in thousands of retailers across the U.S.
These 7 brands are proud to display their nutrition labels because they have nothing to hide. Their organic options will help power your day while decreasing your salt and sugar intake—crucial steps in training your body to eat clean. Next time you're in the grocery store, add these healthy snack foods to your haul.
Photo Credit: Half Baked Harvest