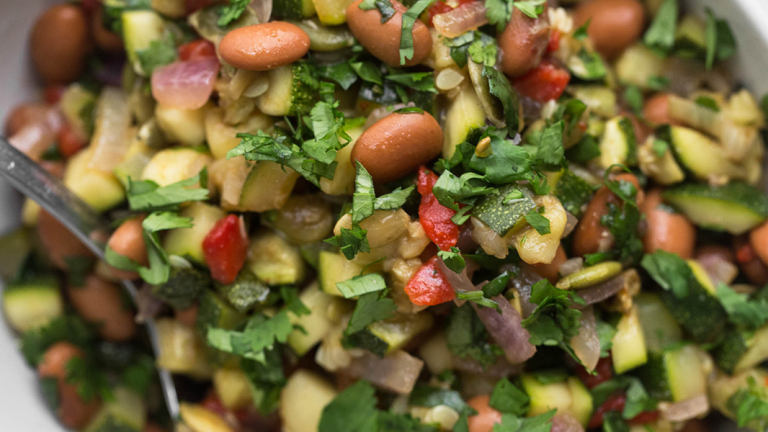 5 Healthy Packed Lunches to Give You More Energy All Week
Reclaiming lunch hour will make your midday meal the high point of your week.
In business, it's often said that you get out what you put in. The same is true of nutrition. Fueling your body intentionally is crucial to making the most of the hours you devote to getting your job done, whatever that job may be. Rather than grabbing another sandwich or $13 salad, try a bit of planning to make sure you're giving your body the fuel it needs to have a great day.
For healthy lunch ideas, look for a balance of lean protein, complex carbohydrates, healthy fats, and fiber to keep you full and energized. Avoid high-caloric and high-fat foods because these require more energy to digest and will leave you in an afternoon food coma.
We've rounded up a week's worth of affordable, packable, healthy lunch recipes to get the most bang for your caloric buck out of the other most important meal of the day.
Tuna isn't the only thing in a can. The vitamin B12 in crabmeat, a solid source of lean protein, helps keep tiredness at bay. The iron in spinach is essential for proper functioning—including making part of your blood cells—and the gloriously healthy fat in avocado will keep you feeling full. Plus, isn't it pretty?
Pack a snack of melon chunks—cantaloupe, honeydew, watermelon, take your pick—to keep you hydrated and alert until it's time to punch out.
If you're going the sandwich/wrap route, opt for whole wheat flour for fiber to avoid a sugar crash. Add your favorite nut butter for protein and healthy fat. Bananas boast fiber, natural sugars, antioxidants, and a slew of nutrients like vitamin B and magnesium for energy. Once in a while, sprinkle in a few mini chocolate chips to transform it into dessert.
Pull a cup of edamame from the freezer in the morning, and they'll be ready by lunch for a balanced dose of fiber, complex carbs, healthy fat, protein, and the magnesium and B vitamins your body uses to produce energy.
Salad doesn't have to mean lettuce—zucchini is green, too, and a fiber powerhouse. Roast some for dinner and use the extra for the next day's lunch in this creative yet simple dish. Plus, the pinto beans do double duty as a protein and complex carbohydrate.
While noshing, sip a cup of green tea with honey: amino acid L-theanine in green tea will help you stay alert and honey's low glycemic index means it's a steady and consistent fuel. Add an apple, which takes longer to digest than most other fruits, to keep you in motion for the long haul.
Eggs are a fantastic source of protein, not to mention very inexpensive. Here, they're paired with nutrient-rich asparagus. Sub brown rice pasta for wheat—it's a good source of manganese, which plays an important role in metabolism, i.e. transforming protein and carbs into energy.
If it's going to be a late night, munch on a portion of cheese cubes and grapes to stay solid.
In addition to being a good source of protein, salmon contains vitamin B6, niacin, and riboflavin, which help convert the food you eat into energy. You can use the canned stuff, but roasting a filet doesn't take much more than a pan, a bit of olive oil, and about 20 minutes on the clock. Make some for dinner and save the rest for next day's lunch. Lemon and dill are a flavor match made in heaven, while lentils—a hearty source of protein, complex carbs, and fiber—provide fuel without much fat.
Bring out your favorite nut butter to top baby carrots or apple slices for a TGIF treat.
Many of these healthy lunch recipes make multiple portions, so pack them in individual containers when you make a batch. Having them ready to grab and go will make your morning (and lunch!) routine that much simpler. Even better, pair up with a coworker or two and assign a dish and a day to each person. Less stress, more variety, more time and energy—a recipe for success indeed!