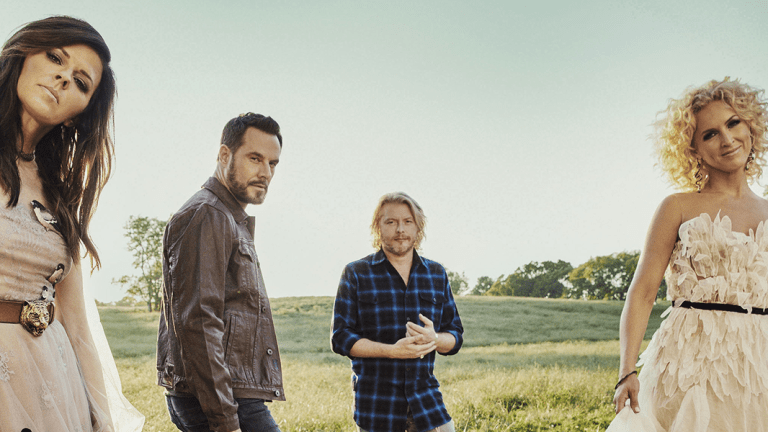 5 Gorgeously Vulnerable Little Big Town Songs from 'The Breaker'
With harmony and heartache, here's some fresh new music.
With the recognition as CMA Vocal Group of the Year in 2016 behind them, Little Big Town released its much-anticipated new album last week. The Breaker is the eighth studio album from the country music group and two-time Grammy winners who are now wooing the mainstream.
The Breaker is a strikingly ambitious album in terms of its scope, and it doesn't shy away from big themes either. In just twelve tracks, Little Big Town covers happiness, heartbreak, and everything in between. I found The Breaker for the most part musically solid. The album boasts some stunning harmonies and incredibly catchy tunes. And with so much variety, there really is a song for every mood. Here are my favorites.
'Happy People'
The pursuit of happiness may seem like an impossibly big theme to crack in under three minutes, but the secret of this track's success is its simplicity. The message is as old as it is optimistic,"Happy people don't fail, Happy people just learn." In this track, Little Big Town suggest that the happiest people are also the kindest people.
The song also has some of the best harmonies in the entire album. On the website the band offers a snippet of an acoustic version. Add a rocking bass and vibrant guitar riff, as they do in the album, and guaranteed you will be humming this tune for the rest of the week. But with such a positive message, why not?
'Free'
Have you had a stressful day? Do you need something soothing to relax to? Well, as the ten-second intro to "Free" seems to promise, this is the perfect song for winding down.
Like "Happy People" before it, "Free" is also brimming with virtuous wisdom: "We work so hard to have it all / When all the things we want are free." And what are the things we really want? Little Big Town seems to have more than a few suggestions. 
'Better Man'
In case you missed this song when it was released as the album's lead single in October, here it is again! You may even have heard of the track's songwriter. Does the name Taylor Swift ring any bells?
In a Facebook live press conference, Little Big Town's Karen Fairchild said that T. Swift "thought of us because of the harmonies, [despite that] she's never pitched a song to anyone before." Fairchild added, "The moment that we heard it, we were like, 'Man, that is a song that we're gonna cut.'"
Complete with music video, this song is an emotional experience for anyone who has been let down by someone they love. According to Radio.com, the music video "examines three generations of single parents . . . wherein their partner isn't a 'better man' and leaves them behind. Things change at the end, though," when the latest generation male grows into "the kind of role model that will change their family's pattern."
'The Breaker'
As the album's title song, "The Breaker" is both beautiful and melancholic. In a way, it is the flip side of "Better Man," as the song explores the guilt of falling short of expectations.
Written by Connie Harrington and T. J. Osborne, the strength of the song is in its chorus: "I thought I was the hero of your heart, but I turned out to be the breaker."
'Beat Up Bible'
"Beat Up Bible" is the album's dark horse. Its subject is heavy—death and grief. Yet the song's message, that faith and family can get you through anything, is ultimately a hopeful one.
This song should come with a warning: If you have ever lost a loved one, then it will make you cry. But if it does, you can always return to the album's first track and hum along to "Happy People" again, somehow without skipping a beat.
Photo Credit: Little Big Town