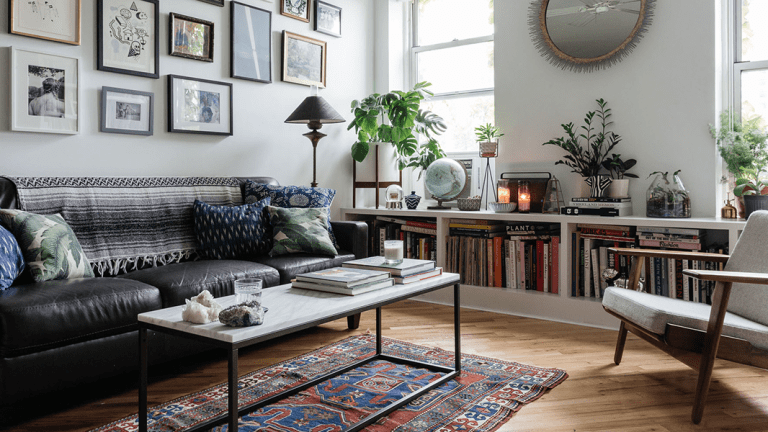 Spring Cleaning Hacks: 5 Tips to Find More Space in Any Room
These clever, cheap, and easy organization tricks will make your place feel light and airy, just in time for warmer weather.
Ah, spring cleaning. These two words are a lot like "holiday shopping"—either you love it or you hate it. If you're in the hate it camp, is it simply because you don't know what to do with all your stuff?
The easiest way to declutter is to purge. But once you've cleaned out all those bags destined for Goodwill, it's time to put what's left away. Here are five clever hacks to get the most out of your precious square footage.
01. Add Hooks
For a smart way to use your walls, buy some hooks. There a tons of gorgeous ones at spots like Anthropologie that add a bit of decor flair as well. If you're a renter or just not all that keen on drilling holes, 3M's decorative removable adhesive hooks were made for you. They're available in a variety of sizes, and can be found in both plastic and metal. You've got options, lady.
Hooks can also come in handy inside a closet or underneath kitchen cabinets. Don't have much counter space? Add magnetic hooks to your refrigerator for pot holders and aprons. Done and done.
02. Use the Doors
Every room has a door or three. So why not put them to work? Over-the-door containers are a blessing. Seriously. Think racks, baskets, and pockets. In the bedroom, belts and scarves can be hung up; in the bathroom, a hanging basket can clear your counter of toiletries. You can even find over-the-door spice racks for the pantry.
But don't limit yourself to actual doors. Cabinets are also fair game. Smaller door storage can be used on the little doors under the bathroom or kitchen sink. Even simple metal or plastic over-the-door hooks can make a huge difference. For example, repurpose a shower caddy for hair accessories in the closet. They're super easy to move around, so don't be afraid to experiment.
03. Look Under the Bed
When you've got little kids, peeking under the bed means looking for monsters. But as a grown-up? It serves as a mission to find more space. Luckily, for most people, this spot is a gold mine.
Everything from shoes to books can be stored under the bed. It also serves as prime storage for winter clothes and holiday decor. Even extra blankets, towels, and bedsheets can find a home down under.
Obviously, you shouldn't just shove everything in and call it a day. Protect your stuff from dust bunnies with good quality bins and baskets, or splurge on chic under-bed drawers. If you're really pressed for space, consider using vacuum bags.
04. Use Drawer Dividers
Oftentimes, you can feel like you don't have storage space because it's cluttered. The worst offender? Our drawers. For a fool-proof clutter remedy, use drawer dividers. These simple yet mighty tools can transform any room, regardless of what's in it.
A divider gives everything a home. In the bathroom, it can be used for your toiletries or makeup. Underwear and socks can stay organized in the bedroom. The hot mess of a kitchen counter can be condensed into a single drawer. Finally, all your mail and pens will have a spot.
05. Keep a Bin in Every Room
Thanks to the craziness of everyday life, things can get messy—literally. It's easy to just toss stuff to the side after a long day. Instead of using the floor or counter space, opt for a basket or bin. Keeping everything in one place will prevent the room from looking cramped or tight. Choose a container that's stylish yet functional—weaved baskets and rustic crates are perfect options.
Remember, the best way to find space is to get rid of stuff. Use this spring season to decide what items actually add value to your life. Once you've figured out that part, these hacks will be even more useful.
Photo Credit: Homepolish