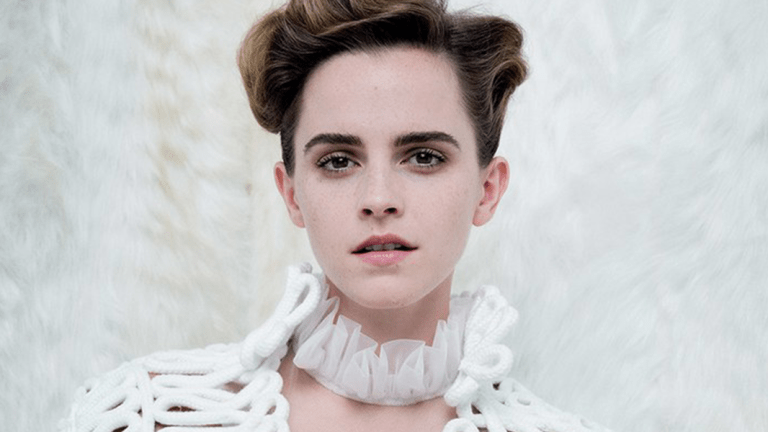 Emma Watson Explains Perfectly Why I'm a Woman Who Is Afraid of Feminism
'Feminism is not a stick with which to beat other women.'
I don't know about you, but I honestly have zero interest in chiming in about what Emma Watson wore—or didn't wear—for her controversial Vanity Fair photo shoot that hit newsstands last week. What I would like to discuss, and what I wish more women would focus on, is her response to her critics, which was quoted by the Washington Post:
"It just always reveals to me how many misconceptions and what a misunderstanding there is about what feminism is," Watson says. "Feminism is about giving women choice. Feminism is not a stick with which to beat other women. . . . It's about freedom, it's about liberation, it's about equality. I really don't know what my tits have to do with it. It's very confusing."
Feminism is not a stick with which to beat other women. Watson's words here resonated deeply with me as a woman in 2017. Women are having a "moment," as they say, and it's emboldened many to speak out about inequality and share their perspectives on feminist causes. By and large, this is a hopeful thing.
But lately, I have felt more and more silenced and afraid. As Emma Watson put it so well, I feel as though feminism has been used as a stick to beat me. 
The concept of a feminist has become a lot broader now compared to the more cut-and-dry mantra of our fore-sisters. We've won basic liberties such as the right to vote and the right to pursue an equal education. Today, our cultural debates have become more varied; we focus on what policies and cultural norms make women more free.
As these conversations continue to grow, it's become clear that the definition of feminism is not universal. More and more, one brand of feminism is accepted as legit, and those who contradict it are banished, no longer seen as a respected voice at the table. Or at least this is how I feel.
What if I told you I am a feminist who does not champion birth control as a great thing for women, or that I am a feminist who could never see abortion as empowering. Am I still a worthy feminist even though I might one day choose to stay home and raise my kids? Even though I took my husband's last name?  
These fears aren't unfounded. Slate shamed Adele and Beyoncé and Salon shamed Natalie Portman—all for expressing that motherhood has been more important to them than their careers. The Internet raged against Amal Clooney's decision to take her powerful husband's surname, and pro-life women were shunned for wanting to join those in pink for the Women's March on Washington this past January. Women who choose the things I choose and value the things I value are being attacked in the name of feminism. Can you blame me for feeling afraid?
There are, of course, plenty of women like Watson and myself who share the belief that feminism shouldn't be used against women just because you don't see eye to eye on every issue. But these days, voices that don't resound with the likes of Lena Dunham or Gloria Steinem seem to be unequivocally deemed less important. 
Thankfully, I can still debate and find points of commonality with my female friends in one-on-one conversations. But I wish there was more space in the public forum to dissent and still be treated with respect as fellow feminists.
As Watson continues to make her own voice heard in the feminist conversation, her comments make me hopeful that she will encourage women to have fruitful dialogue rather than dogmatize singular perspectives. After all, as Watson herself says, feminism is about freedom.
Photo Credit: Vanity Fair