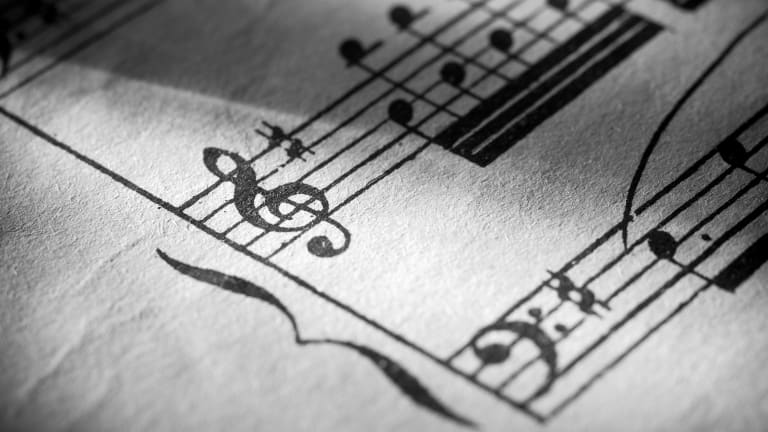 5 Female Composers Who Changed the World
There's more to classical music than Mozart.
While pursuing a master's in voice, by happenstance I came across a collection of music by several centuries of women composers. Not expecting anything particularly mind-blowing, I began to study the scores. To my delight, I discovered that this repertoire was not only equally excellent as music written by men, but in many instances, the music was also more expressive, more daring, more demanding, and—quite frankly—more beautiful than anything I had encountered. As we celebrate Women's History Month, here's a list of just a few women whose music has truly changed the world.
Saint Hildegard of Bingen (1098–1179)
Hildegard of Bingen, considered to be the founder of scientific natural history in Germany, entered the Benedictine monastery of Disibodenburg at the age of 14. Here, in a small stone cell she shared with one other nun, Hildegard learned to read Latin and to sing the Psalms. Hildegard eventually became the abbess of her community, and subsequently founded her own convent at Rupertsburg. During her life, Hildegard produced an impressive body of writing, including two medical treatises, four theological works, and more than a hundred sacred songs. Although the style of Hildegard's music is obviously inspired by the Gregorian chant she sang on a daily basis, her songs reveal a very distinct, individual style. Her melodies are longer-breathed, her lines more sinuous, her pinnacles more stunning, and her depths more heart-rending than others of the time—one of her liturgical songs encompasses a vocal range of two and a half octaves!
Hildegard's most innovative musical work is the Ordo virtutum, a musical play about a wayward soul that was the first morality play ever performed outside religious services; in other words, it could be considered the first musical. Although our society tends to look at the restrictions of medieval religious life as stifling, it is interesting to hear how Hildegard's formation in the monastic life allowed her intellectual and musical talents to flourish.
Francesca Caccini (1587–1641)
From 1621 to 1628, two women ruled Tuscany: Archduchess Maria Maddalena de' Medici and her mother-in-law, the dowager Archduchess Christine of Lorraine. Together these women promoted the works of female artists in unprecedented ways. Singer and composer Francesca Caccini became the highest paid musician on the Medici payroll. Supported by Maria Maddalena's unswerving patronage, Caccini composed madrigals and solo songs as well as music for prayer services. 
Caccini is especially celebrated as the first woman to compose an opera, La liberazione di Ruggiero. The opera premiered at the Medici palace on February 3, 1625. La liberazione is more than a run-of-the-mill mythological tale (as were many early operas). At the center of the story stands Melissa, the heroine of the opera, who rescues Ruggiero from his enchantment by the evil sorceress Alcina. La liberazione is a testament to Archduchess Maria Maddalena's political strategy, which proclaimed to a male-dominated Europe that women could be beautiful, wise, powerful, and virtuous. Francesca Caccini's music was an indispensable element of this platform.
Barbara Strozzi (1619–1677)
The adopted (and most likely illegitimate) daughter of the libertine poet Giulio Strozzi, Barbara Strozzi was the most prolific female composer of the Baroque period. Her madrigals and solo cantatas surpass other works of the period in extreme range, expressivity, and virtuosity. Sadly, Strozzi was also most likely a courtesan, one of the high-class Venetian prostitutes who served as companions to the many noblemen seeking cultivated mistresses skilled in poetry, rhetoric, and—above all—music. Strozzi's own father—also of illegitimate birth—seems to have groomed her for courtesanship.
Strozzi's most intriguing musical publication is a volume of passionately religious songs which she issued the year before her two daughters entered a convent. Strozzi's "gift" of her daughters to religious life changed the trajectory of her ancestral narrative. Due to an extremely expensive and exclusive dowry system, an illegitimately born Venetian woman had only two options: courtesanship or religious life. However, when her own daughters came of age, Barbara paved for them a better path. 
Élisabeth Jacquet de La Guerre (1665–1725)
French composer Elisabeth Jacquet de la Guerre began performing music on the harpsichord and singing at the royal court of Louis XIV when she was only five years old. Despite the apparent assurance of a lifetime position as a court musician, Elisabeth left the court of the Sun King in 1684 to marry the organist Marin de la Guerre and to pursue an independent career as a teacher, performer, and composer.
During the early modern period, women who performed music in public had become almost inextricably associated with loose morality (consider, for example, Barbara Strozzi's situation). Jacquet de la Guerre was a revolutionary figure in this regard: her Parisian concerts became famous, and parents sought her as a teacher for their budding harpsichord virtuosos. Her sonatas are still studied as exemplary works, full of variety and emotional sincerity. Scholars consider her sacred cantatas among the finest composed in the Baroque era.
Amy Beach (1867–1944)
The American pianist and composer Amy Marcy Beach made her concert debut playing Chopin and Moscheles on October 24, 1883. After her marriage (per her husband's wishes), she limited her performances to one recital a year. In the meantime, she focused on composition—and for this, posterity thanks her!
Throughout her career, Beach published several impressive works for orchestras and chamber ensembles as well as songs, church music, and one opera. She also became the first American woman to venture into territory previously considered to be decidedly masculine terrain—the symphony. Today she is recognized as one of the most important composers of the "Second New England School." And it seems that the men of her generation already understood her importance; after the successful premiere of her "Gaelic Symphony" in 1896, the composer G. W. Chadwick remarked: "I always feel a thrill of pride myself whenever I hear a fine new work by any one of us, and as such you will have to be counted in, whether you will or not—one of the boys." Despite Chadwick's chauvinist assessment, his acknowledgement that women can equal—and surpass—their male counterparts in the creation and performance of beautiful music was remarkable, and deserved.
Photo Credit: Adobe Stock