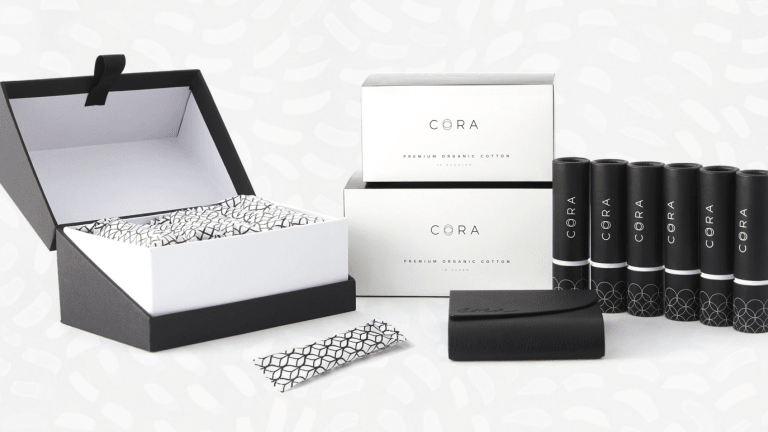 5 Cool Ethical Period Products to Try in 2017
These innovative products are totally ethical and period-friendly.
In honor of International Women's Day, Meghan Markle recently wrote that we should treat our periods with respect, not shame or disgust. The actress and humanitarian drew on her recent travels to Mumbai and Delhi to discuss the need for period education and management. The lack thereof causes many girls to drop out of school, perpetuating cycles of poverty and health issues not just for women but for all involved.
As the healthy, normal function of the female reproductive system, we should all be educated and able to manage our periods. For those of us fortunate enough to have the feminine hygiene products we need to manage our periods, gone are the days of having one option for feminine care products. Now, more than ever, our options for doing so feel much more exciting.
Due to the negative stigma associated with periods, this isn't a conversation that gets brought up enough. But here are five innovative companies that are both ethically friendly and seeking to erase the stigma surrounding periods.
01. Cora Tampons, $12/month
Cora Tampons is redefining the meaning of monthly subscription. The custom organic tampon subscription process is simple: Visit the website, choose how many tampons you use per month, pick your absorbency preference, and place your order. A major bonus: These discreet kits also come in lipstick-esque containers inside a sleek carrying case. The ethical tampons are made from 100 percent certified organic cotton and are 100 percent biodegradable and hypoallergenic. There's even a free one-month trial option. If you like them, it's $12 a month for a yearly subscription.
02. DivaCup, $40
The DivaCup has been all the rage among many of my friends. It's a silicon menstrual cup that you insert and leave for up to twelve hours of leak-free protection. I was a little skeptical at first, but there are detailed instructions on the website on how to insert and remove the cup. It's a lot simpler than I was expecting. The best thing about the menstrual cup is that it is reusable; one can last five or more years. Not only do you get out of buying new pads and tampons each month, but you also eliminate the waste you would have created using disposable products. You can either order online or buy it in stores at any Walgreens or CVS. The price is a little daunting, but considering the product's lifespan, it's a steal.
03. GladRags, $100
GladRags are reusable cloth pads. I was wary of how well cloth pads would work when it comes to absorbency and leak protection, but the reviews were glowing, so I gave it a shot. These pads are super-soft and more absorbent than traditional disposable pads. Plus, the cotton makes them more breathable than synthetic fibers. Customize your order based on your absorbency preferences and whether you need night or day pads. If you want to go economical, the kit options include everything you need. A Heavy Flow Kit is $100 and comes with six pads: three day and three night pads, a mesh laundry bag, and a cute carrying bag. The upkeep is a little intensive because you have to soak each pad in cold water, wash, and dry it after each use. But GladRags last well over five years, so the cost and waste benefits make them worth a try.
04. Dear Kate, $38-$44
This is not your typical pair of undies. Developed by a chemical engineer, Dear Kate panties are made for your period. They are leak-free and sweat-wicking, so they leave you feeling dry. Each pair is lined with an innovative fabric called Underlux, which is meant to hold up to 3 teaspoons of liquid—the average amount of blood a woman loses each day of her period. They're really meant to serve as a back-up to pads and tampons on heavy days but can easily be used sans feminine products for lighter flow. A variety of styles and coverage options are available. Not only are they practical, but Dear Kates are also really cute and feminine. No feeling frumpy in these!
05. ORGAN(Y)C, $4.74/box
ORGAN(Y)C's full line of feminine care offers organic pads, panty liners, tampons, and maternity goods. This is a good option if you don't want to try out a product that is totally foreign and a little scary-sounding, especially if you're used to using regular pads and tampons. As the name suggests, all of the products are 100 percent organic, made from organic cotton with no synthetics, toxic plastics, or wood pulp, like some other brands. Because they are organic, many ladies have found these to be gentle on sensitive skin. Plus, women are relieved at the peace of mind they get with using organic, healthy products. A box of sixteen regular tampons is $4.74 on Amazon, so they're affordable, too.
It's time to embrace that periods are a part of life, and we aren't beholden to just one standard for managing ours. See you soon, Aunt Flo.
Photo Credit: Cora Tampons