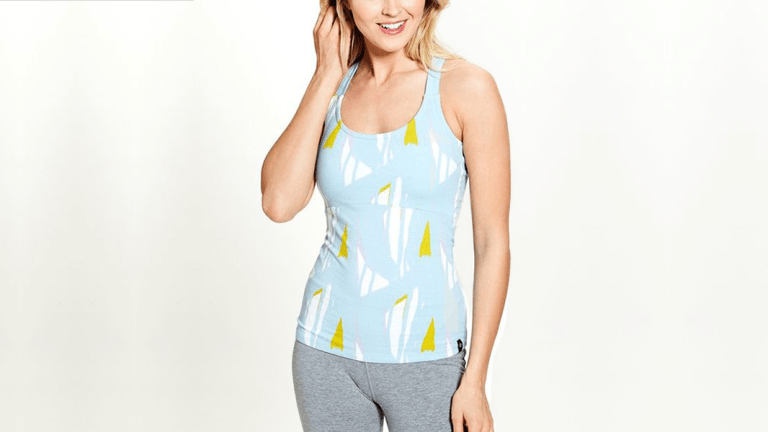 5 Empowering Activewear Brands to Shop at Instead of Lululemon
They're cuter, too.
We're all familiar with the trendy brands that have been dominating the athleisure scene (Lululemon, we're looking at you). But as we look forward to getting back into our summer workout routines, we want more options—specifically, more socially conscious options. We believe dressing well means purchasing well, and our athletic wear is no exception.
That's why we've rounded up our favorite ethical brands that create socially conscious activewear. These brands use organic fabric and ethical production and make low-environmental impact distribution a priority. If you thought Lululemon was your only choice for quality yoga pants, think again!
Satva Living //
When we think "organic" fabric, many of us picture a burlap sack material in some sort of beige hue. So you might be surprised to discover that the brightly colored items from Satva are all made from organic cotton. Better yet, their cotton cultivation in India is completely free from pesticides and fertilizers and their farmers are provided with the highest quality of organic non-GMO, non-treated cotton seeds. They also exclude the use of all toxic chemicals including bleaches, waxes, sulfur, and heavy metals. Their mission to provide quality organic clothing for their customers starts with creating a humane work environment so that the Satva brand may provide economic prosperity to the farmers and their community. 
More than just a cute yoga wear brand, Satva also partners with Suminter India Organics to ensure that a portion of all proceeds are invested into local communities and agricultural programs. Together, they launched Disha, an initiative that sponsors the education the young girls who live in the villages where Satva cultivates organic cotton. 
Vyayama //
Far from your crunchy granola eco-friendly stereotype, Vyayama is the high fashion of sustainable activewear. With sleek silhouettes, edgy prints, and beautiful lines, Vyayama makes you feel simply beautiful in your activewear.
Also, if you haven't heard of tencel fabric before, get ready to never look at your synthetic yoga wear the same again. Crafted in Europe from sustainably farmed eucalyptus, tencel fabric is blended to be smooth and supportive with a high quality finish. Eco-Awarded and Certified Non-Toxic, tencel is one of the softest, high performing eco-friendly fabrics, and is both moisture-wicking and comfortable. 
Vyayama is based in New York City and manufactures from Portugal, promising a clean internal water treatment system within their facility that in no way negatively impacts their local environment. 
Manduka //
Long before the creators of Manduka launched their sustainable activewear collection, they knew they wanted to be different from the mainstream brands. With a goal to lead by example, Manduka wants to provide socially conscious products that will last longer and benefit the environment—even if it's easier or less expensive to do otherwise.
Advancing the activewear fabrics industry, Manduka is creating durable sustainable fabric blends that compete with and out perform brands that primarily use synthetic materials. Regarding nature as the highest form of technology, Manduka uses raw fibers to create new fabrics made organic cotton, hemp, tencel, sorona, and recycled plastic water bottles.
Manduka's innovative fabric is enough to have us on board but what about their designs? One word comes to mind: cool. This is the kind of activewear we go to the gym feeling like superstars in—and hey, we'll take any motivation we can get!
RUMI X //
If you're all about cute and colorful activewear, look no further than Rumi X. With playful designs in vibrant hues, who wouldn't be excited to work out in these digs? Made from plastic water bottles and coffee grounds (you heard that right), Rumi X's materials are creative to say the least. 
Recycling to the ultimate degree, their process begins with shredding, drying, and processing the plastic bottles into flakes which are then washed and melted. Then, yarns are pulled from the melted polyester. The raw thread is spun into a yarn and woven into their signature fabric. The used coffee grounds are washed, dried, and shaped into small pellets that are made into recycled raw thread and then spun into yarn to be woven into the Rumi fabric. Talk about resourceful! 
Rêve En Vert //
Named as the Net-a-Porter of ethical fashion, Rêve En Vert is a first of its kind online retailer of sustainable luxury. Created as a response to fast fashion, Rêve En Vert is committed to driving awareness to ethical fashion movement by supporting designers who are improving ethical clothing production standards.
Their activewear collection is highly-curated with a modern yet timeless aesthetic. Holding their featured designers to a standard of organic and recycled materials, Rêve En Vert also demands that each featured brand respect the local communities in which their goods are produced in and to strive to give business back. The people who make the featured items is also important to their mission, checking for fair factory certification from each of their partnered brands.