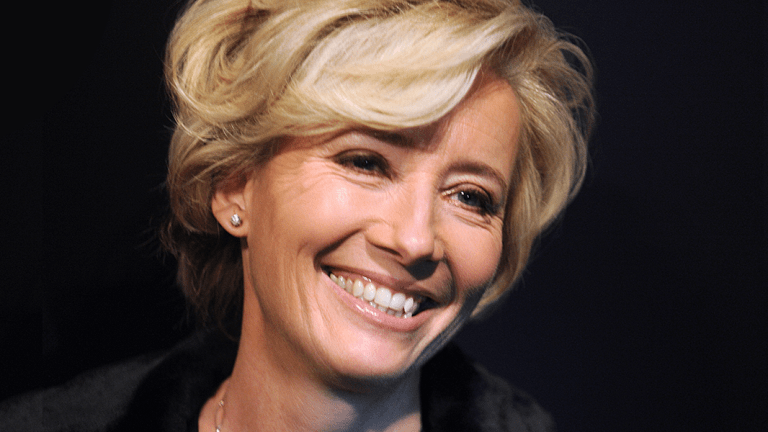 Emma Thompson Calls Out Body Shaming, Saying She Nearly Quit a Movie Over It
Will we ever move beyond the impossible weight standards that Hollywood perpetuates?
Talking to Swedish media outlet Skalvan last week, beloved actress Emma Thompson (Harry Potter, Love Actually, Beauty and the Beast) pressed pause on all the size-inclusive body diversity talk happening of late. According to the two-time Academy Award-winning actor, weight concerns in Hollywood have far from subsided even as the culture at large attempts to neutralize size bias. Thompson said:
"The anorexia, there's so many kids, girls and boys now, and actresses who are very, very thin into their thirties, who simply don't eat. They don't eat! Sometimes there are just some subjects that you absolutely have to make noise about because it's so tedious and it's gone on and on."
According to the National Eating Disorders Association, anorexia is the third most common chronic disease among young people; asthma and type 1 diabetes are the two leading conditions. NEDA also reports that anorexia "has the highest mortality rate of any psychiatric disorder."
Thinness has been the celebrity/fashion/Hollywood M.O. for all of our lifetimes. But to hear that in the year 2017, when the fashion weeks just had their most inclusive (even if only marginally so) catwalks, Ashley Graham—a plus-size model—is one of the most talked about "it" girls, and many media outlets are attempting to make conscious inclusion efforts part of the collective unconscious, the reality that the pressure to be thin is in fact worse is a shock to the system. But it's also not. Because, let's be honest, thin still feels like just as much the ideal as it ever has.
Our media's love-hate relationship with the topic of thinness bears out in our national conversations. The recent online commentary regarding actress Allison Williams as portrayed on the final season of HBO's Girls is hyper-focused on her appearance, as viewers remark that she's dangerously thin. Williams, who plays Marnie, maintains that she simply has a fast metabolism. Many have also speculated about the show's co-creator and star Lena Dunham's weight loss. Accusers say she has succumb to Hollywood pressures; she vehemently maintains her noticeably smaller size is related to healthy changes to combat endometriosis.
In France, several issues regarding weight have produced major headlines in March. First, the famed fashion house Yves Saint Laurent was heavily criticized on social media for using an overly thin model depicted in degrading positions in a spring 2017 ad. Reuters reported that the Autorite de Regulation Professionnelle de la Publicite asked the brand to change the visuals for fear that it sent the wrong message to young women. Then, the official poster for the 70th film festival at Cannes was criticized for thinning the thighs on a photo from 1959 of Italian actress Claudia Cardinale. Despite Cardinale's own approval of the image, many were quick to note the apparent Photoshopping. Lifestyle referred to one Twitter user who said, "If even Claudia Cardinale cannot represent beauty without being retouched, we really are in trouble."
All of these weight-related controversies occurred just in the last month. At the same time, Vogue published its March issue with a cover featuring six models (including Graham) touting the idea of the "Modern American Woman." Billed as an issue celebrating diversity, Vogue was quick to hear otherwise from the Internet. Also in March, the fast-fashion conglomerate Zara ran an ad introducing a new denim line for curvy women featuring two very thin young women clad in the brand's jeans alongside the text "Love Your Curves." Again, the people responded with a collective stunned sigh.
As Thompson has reminded us, we aren't as far along as we might think in the battle against dangerous thin ideals. Whether the current climate reflects a gradual give and take or veritable stalemate, only time will tell.
Thompson went on to tell Skavlan that she once threatened to leave a job because of weight shaming. Working on the movie Brideshead Revisited, one of Thompson's female costars was asked by a producer to lose some weight. Thompson recalled telling him: "If you speak to her about this again on any level, I will leave this picture. You are never to do that."
As evidenced by many social media feuds, we still haven't exactly figured out an appropriate way to constructively calibrate our culture's issues with size. But by wielding her own influence to protect another's integrity, Thompson certainly caught the attention of a worldwide audience.
Photo Credit: SBS