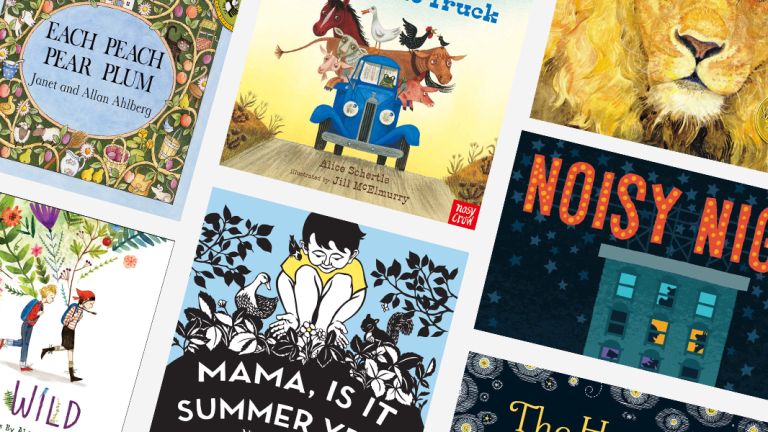 Delightful Children's Books for Your Girlfriend's Baby Shower
Look no further.
Is it just me, or is every one of your married friends pregnant right now? By my Facebook feed, it sure seems like it. Before you stress about what to bring to the next baby shower, allow me to suggest what is bound to be among your girlfriend's favorite gifts, something that is both baby-quieting and imagination-stirring—that's right, picture books. As an avid reader and collector of children's literature, I have good news for you: We're living in a golden age of picture books.
There are the classics: The Very Hungry Caterpillar, Strega Nona, Goodnight Moon, and Moo Baa La La La. And there are the new, fun, trendy, find-them-everywhere-including-airport-convenience-shops such as Knuffle Bunny and the entire Oliver Jeffers canon. Here are some no-fail recommendations that will please both baby and mom, many times over. A couple Amazon clicks from now, you'll have all the baby showers covered for a year.
THE AWARD WINNERS & NEW CLASSICS
Every newborn I met in 2011 got a copy of A Sick Day for Amos McGee—I loved it that much. Charmingly illustrated and sweetly told but never saccharine, it follows zookeeper Amos McGee to the zoo to see his animals. But one day he doesn't show up. What will the animals do without him?
Jerry Pinkney's The Lion & the Mouse is a wordless wonder, a retelling of Aesop's fable of the same name. A child will get lost in the illustrations and grow old with this beauty.
The House in the Night originally came out as a regular picture book, but it is available as a board book, and I recommend purchasing it in that format. A black-and-white lullaby, it's marvelous for babies, who love the high-contrast of black-and-white images. The text is soothing and pleasant even after the hundredth recitation. 
INTERACTIVE & BOARD BOOKS
Hervé Tullet has brought some of the magic back into reading thanks to Press Here. It's so fun to watch kids' eyes grow wide as they see the changes that their interactions with the book bring. (Check out the Chronicle Books video.)
Dr. Seuss is essential, of course. But I've recently fallen in love with his board book Hop on Pop thanks to its rolling, rollicking cadence. Recently at brunch in a busy restaurant, the baby in our company awoke and began crying. Her mom started reading Hop on Pop aloud, and we all caught on to the tempo and started keeping beat until the whole table was in sync. Needless to say, she stopped crying and started laughing. It's grand!
I'm not entirely sure why The Little Blue Truck is so beloved, but it is. I haven't met a single toddler who doesn't LOVE it. It has all the essential elements: animals and trucks, rhyming couplets, and homey illustrations. It's great!
CITY MOUSE & COUNTRY MOUSE
Any city dweller will recognize the theme behind Noisy Night by Marc Barnett and Brian Briggs. Each floor of an apartment building has another group of people making noise. Punchy illustrations and clever repetition make this book a blast.
Mama, Is It Summer Yet? asks the question we're all wondering in the northern half of the country. But March snowstorms aside, this beauty by woodcut artist Nikki McClure teaches about the change of seasons: listening to the birds and watching for buds.
And lastly, for both city mice and country mice, I recommend Finding Wild by Megan Wagner Lloyd and Abigail Halpin. Finding Wild is a lovely exploration of what the word "wild" means; the text is never preachy, and the illustrations are lush and detailed.
BOOKS TO GROW OLD WITH
Each Peach Pear Plum by Janet and Allan Ahlberg is one of those magical books: It combines a handful of nursery rhymes into one hide-and-seek adventure. I distinctly remember reading this to my little sister (she was 2; I was 7) and still (still!) being entranced by the illustrations—there's so much to look at.
Toon Tellegen is the A. A. Milne of The Netherlands. A few years ago a publisher in England translated four volumes of his animal-centric stories (illustrated, as it so happens, by Jessica Ahlberg, the daughter of Janet and Allan mentioned above). Tellegen's is an animal dream-world, where Squirrel can be best friends with Ant. Only Letters to Anyone & Everyone is currently in print, but the others are readily available used. (The Squirrel's Birthday and Other Parties is my favorite; the others are A Great and Complicated Adventure and Far Away Across the Sea.)
Bring a bunch of these books to your next baby shower, and your girlfriend will find that they're the gifts that keep on giving.
Margaret Perry started a children's book website, Little Lamb Books, in January 2009 in honor of her grandmother, to promote children's books that contain exceptional beauty in both narrative and illustration. She is from Napa, California, and currently lives in Virginia.