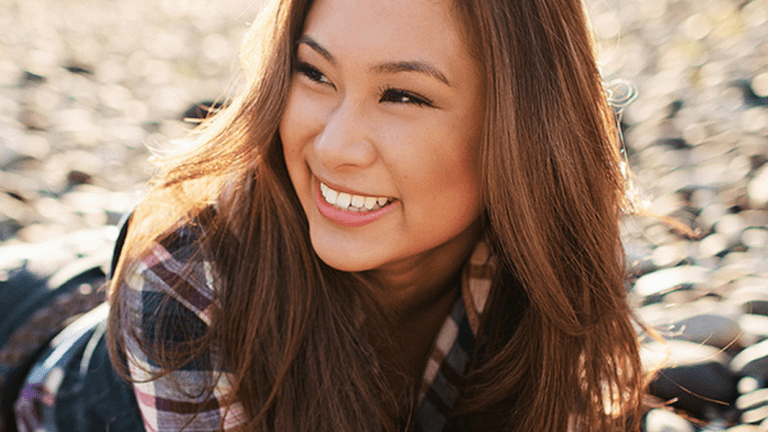 5 Teeth Whitening Kits That Are Way Cheaper Than Crest Whitestrips
Whiter teeth, greener wallet
There's no question that Crest Whitestrips changed the dental game when they were introduced more than fifteen years ago (we know, we can't believe it's been that long either). Crest's gooey teeth wraps are a bargain compared to professional whitening at the dentist, which can easily amount to $200. But at about $40 a box, they're still a bit of an investment.
Everyone's teeth react differently to whitening, so it's impossible to predict exactly what results you can expect. But if you're looking to add a little brightness to your smile without breaking the bank, here are some much more affordable options that actually garner good reviews.
Luster 2-Minute White, $12.99 //
For those of us who'd rather not spend thirty minutes waiting for a strip to work its magic, this quick treatment is a good alternative. A two-step system consisting of a neutralizing mouthwash and a paint-on serum that dries quickly, this kit can work with your timeline. Use it up to four times a day for rapid whitening or twice a day for a more gradual process. Don't expect a miracle from this, but it is extremely user-friendly and makes a difference.
inVitamin Activated Charcoal Tooth & Gum Powder, $9 //
If you're wary about chemicals, this is the whitening agent for you. The pro: It's all-natural and also claims to support gum health. The con: It's kind of messy. Application methods vary some, but essentially you dip your damp toothbrush into the black powder and brush your teeth. It's not exactly the picture of glamour, but if a couple minutes of a murky-looking mouth reveal long-term pearly whites, it's probably worth it. These reviews are full of praise and also a few before and after photos for any nonbelievers.
A+ Teeth Whitening Strips, $14.99 //
If you're a fan of the Crest strips system, this is a much cheaper alternative. Review.com named A+ as one of its top five whitening systems out of more than eighty contenders. The kit contains enough for fourteen full-mouth applications. If you've used some of Crest's older strip kits, you'll recognize some similar issues with A+, such as the strips sliding around or feeling really gunky. But then again, A+ is about a third of the price.
RapidEffects Teeth Bleaching Gel Syringes, $8 //
If you're an old-school whitener, you're probably used to using trays, so this might be just the bargain you're after. This is the gel only, so you'll need your own trays, but with stellar reviews and a bargain price tag, it's not a bad option. Many tray and bleach users note that it can be the most risky form of whitening, often causing some discomfort due to the intensity. Alas, this is part of the equation with chemical whitening, and you can't know how your teeth will react without trying it.
Plus White 5-Minute Premier, $13 //
If you're open to trays but looking for speed, this is the option for you. One professional product reviewer raved, "My teeth were just as white as they were with the Crest 3D Whitestrips, but I had zero sensitivity. It was quick, it didn't taste too bad, and it was cheap!" This kit is one of the most recommended of its kind, and it costs less than some pressed juices. Sounds like the best of all worlds.
Photo Credit: Jonathan Yacoub