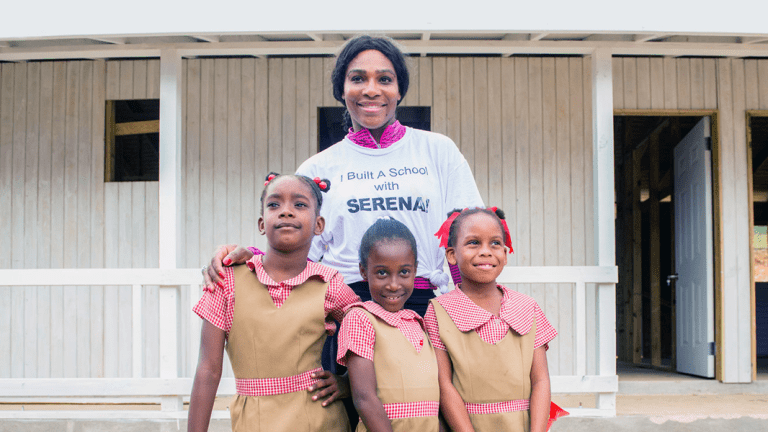 9 Celebrities Who've Spoken Up on Female Empowerment
Amid objectification, inequality, and global injustice, these famous women are making the world a better place.
Like it or not, celebrities hold the bar on many cultural and societal standards. They set trends, inform attitudes, and influence the young. And with frequent objectification of women in media and an obsessive body image crisis, it's easy to forget that celebrities can also be a force for good.
Recently it has been great to see that female empowerment and gender equality are two areas in which more and more celebs are taking a stand. As with anything, there are many different ideas of what female empowerment looks like. But when it feels right, it is undeniably a breath of fresh air.
Here are nine times celebs have used their platform for positive portrayals of empowerment.
AMAL CLOONEY
In September 2016, Amal Clooney gave an emotional speech at the United Nations when she introduced her client Nadia Murad Basee Tah, a survivor of ISIS human trafficking. Around 2.5 million people fall victim to human trafficking a year, most of whom are women and children.
Clooney said she was "ashamed" that the UN had not done more to protect Yazidi women. She said, "The worst thing that we can do as women is not stand up for each other. And this is something that we can practice every day no matter where we are or what we do." Just this past week, the attorney and her client made headlines again as they urged Iraq to allow an investigation into ISIS.
Clooney believes that if women "are united, there is no limit to what we can do."
SERENA WILLIAMS
When it comes to female empowerment, tennis star Serena Williams is a consistently positive role model. Williams has risen above body criticism with dignity and confidence, encouraging others to do the same. Williams said, "This body has enabled me to be the greatest player I can be, and I'm not going to scrutinize that."
Williams also leads by example. Back in 2008, she fulfilled a lifelong ambition when she opened a school in Kenya, followed by another in 2010. Williams' schools aimed to fight the culturally ingrained gender inequality by insisting that at least 40 percent of the students are girls.
JENNIFER ANISTON
Ever since her split with first husband Brad Pitt in 2005, Aniston has been the subject of constant gossip—not to mention countless pregnancy rumors. But, in an incredibly dignified and articulate letter in July 2016, Aniston spoke out about the constant scrutinizing of women's appearance and lives.
Aniston wrote, "We use celebrity 'news' to perpetuate this dehumanizing view of females, focused solely on one's physical appearance, which tabloids turn into a sporting event of speculation. Is she pregnant? Is she eating too much? Has she let herself go? Is her marriage on the rocks because the camera detects some physical 'imperfection'?"
Aniston really drove it home, saying, "The objectification and scrutiny we put women through is absurd and disturbing." A million times, yes!
KATE MIDDLETON
Kate Middleton continues to be an excellent role model for women everywhere. As a full-time mom as well as a royal, she's smart, classy, stylish and selfless. In November 2016 she visited the Nelson Trust Women's Centre in Swindon, England, which helps over 500 vulnerable women every year, most of whom are victims of trauma and abuse.
Together with husband Prince William and brother-in-law Prince Harry, Middleton has repeatedly tackled mental health stigma, helping to empower both men and women everywhere.
MILA KUNIS
Actress Mila Kunis opened up last year about the sexism she has faced in her career. Kunis exposed the media industries for how they really view women when her refusal to pose "semi-naked" for a men's magazine was met with an ugly threat from a producer who said she'd "never work in this town again."
Kunis said, "I was livid, I felt objectified, and for the first time in my career I said, 'no.'" Rather than cave into this pressure, Kunis took a stand. "I'm done compromising", she said, hoping that her voice would help empower other women who feel similarly pressured.
BLAKE LIVELY
Nearly 200 million women and girls are estimated to have been subjected to female genital mutilation worldwide. Back in 2015, actress Blake Lively joined L'Oréal in making a stand against this horrific practice.
On her Instagram account, Lively raised the issue in the United States, where half a million girls are estimated to be at risk. She also uses her social media to encourage female leaders and entrepreneurs.
VIOLA DAVIS
In 2015, Viola Davis made history as the first black woman to win an Emmy for lead actress in a drama. And in 2016, following her Academy Award for Best Supporting Actress for Fences, Davis became the first black actor to achieve the Triple Crown of Acting: with Emmy, Tony and Oscar acting awards.
Davis has used her time in the limelight to speak about important issues, including gender and racial equality. On equal pay, Davis said, "if a woman does the same job as a man, she should be paid the same amount of money." 
ADELE
There are countless reasons to love Adele, but one of her most endearing traits is her enduring authenticity. Adele does not fit any prepackaged, hypersexualized image of what a star ought to be. Adele is successful simply because she is talented. If that is not empowering, I don't know what is. 
It could be considered ironic that Adele's atypical popstar figure is accompanied by some of the most empowering and self-respecting body talk in the entertainment industry. "Even if I did have, you know, a 'Sports Illustrated' body, I'd still wear elegant clothes," Adele recently said.
ANGELINA JOLIE
Angelina Jolie has fallen off the radar slightly since her recent split with Brad Pitt. Yet there is no denying her continuing commitment to female empowerment. 
In 2015 at the African Union Summit in Johanesbourg, Jolie called violence against women a "global epidemic." She is a big believer that gender equality should empower both sexes. Jolie said, "We need policies for long-term security that are designed by women, focused on women, executed by women. Not at the expense of men, or instead of men, but alongside and with men."
Photo Credit: Serena Williams