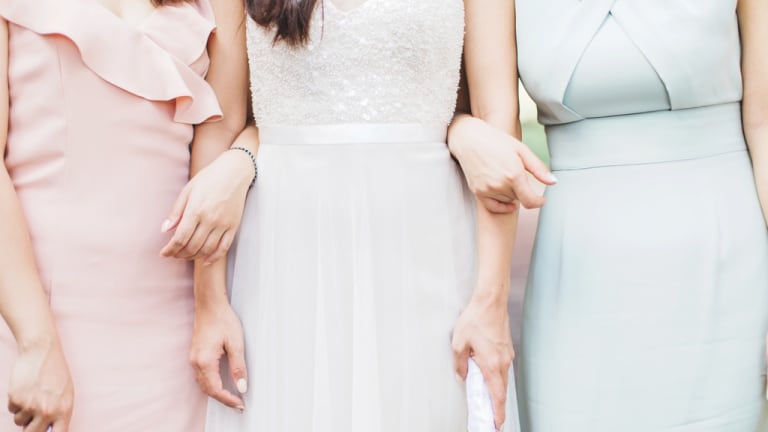 6 Tips for Choosing Dresses Your Bridesmaids Will Actually Like
Follow these tips, and even your pickiest friend will love her dress.
We get it—it's your day. But please do us, your best friends who'll be standing beside you on the big day, a favor, and don't stick us with a terrible dress.
Although unconventional, there are ways to choose dresses that your nearest and dearest will actually like and maybe even wear again. Here are six tips for finding dresses for even your pickiest bridesmaids.
Avoid the Bridal Section
To really score with your bridesmaids, avoid the bridal section at all costs. No matter how pretty you think that David's Bridal dress is, it's still screaming "bridesmaid" and, therefore, will be unwearable post-wedding. Step outside the norm and go for a unique and modern look instead. Try classy cocktail or summer dresses from one of your favorite stores that your bridesmaids can wear beyond your nuptials.
Versatile Colors
Another bridesmaid dress cliché is choosing "girlie" pastel colors. While undoubtably adorable in your photos, these colors are almost impossible to wear again in a normal environment. They also aren't flattering on every skin tone. The key to making your bridesmaids happy is to choose a normal, versatile color, such as navy, maroon, black, gray, or even metallic. These colors are typically universally flattering to every skin tone and can easily be worn again.
Affordable Price Point
This is a big one. As much as your friends love you, they really don't want to spend $300 on a dress and shoes. Your wedding will most likely cost your bridesmaids north of $500 dollars between travel, lodging, gifts, hair, makeup, and the bachelorette party. So they will be especially grateful if the dress' price tag isn't to hefty. The $80 to $150 price range will have your bridesmaids sighing with relief.
Shorter Lengths
A floor-length gown is perfect for four occasions: awards shows, prom, galas, and weddings. Unless your bridesmaid is a celebrity, a teenager, or a socialite, chances are she won't be able to wear the floor-length bridesmaid dress ever again. A shorter length that hits at the knees immediately makes the dress more versatile for numerous occasions, such as cocktail parties, New Year's Eve, and any other formal event.
Universally Flattering Silhouettes
If you're putting your friends of varying body types into one dress style, it's best to make sure it's a universally flattering fit. For example, mermaid, empire-waist, pencil, and sheath dresses rarely work for every body type. And it really stinks to be the bridesmaid who ends up with a dress that is ill-fitting for her body type. So forget about those super-trendy fits, and stick to universally flattering silhouettes, such as the A-line dress. Every woman looks lovely when her waist is being highlighted and when a flared skirt is allowing her to move freely.
Other styles most bridesmaids dread are strapless dresses, spaghetti straps, V-necks, and backless dresses. Chances are, your bridesmaids will have varying preferences when it comes to baring skin, and it's easier to simply choose styles that offer coverage. Besides, who wants to constantly adjust their dress when doing the Cupid Shuffle? Non-plunging necklines, cap sleeves, three-quarter-length sleeves, and wider straps are always bridesmaid pleasers.
Give Them Options
When in doubt, go for the mix-and-match bridesmaid dresses route. This can go a couple different ways. You can either choose individual dresses for each bridesmaid (which can be a lot of extra work), or you can give your bridesmaids the option of choosing among a few different dress styles you've already selected. A lot of brides give their bridesmaids specific guidelines, such as a preselected color palette (e.g., only gray and navy) or dress style (e.g., only tea-length and cap-sleeve). Just make sure you approve of the dresses before your bridesmaids purchase them.
Inspired? Check out our selections below.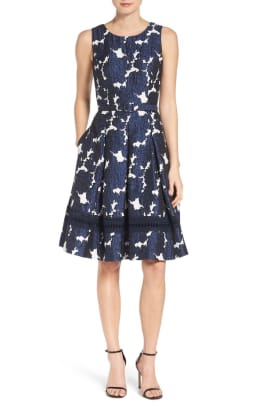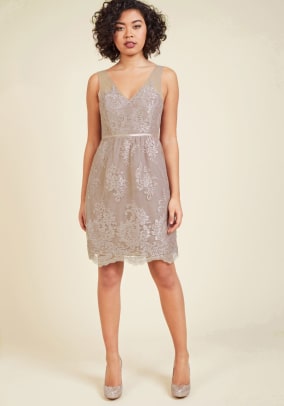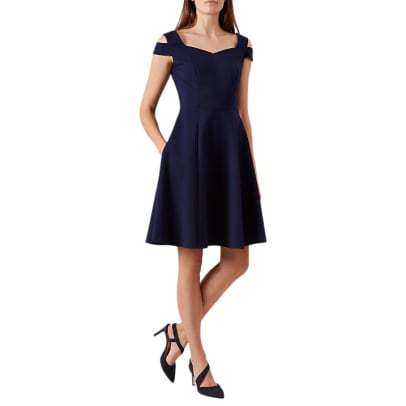 Photo Credit: Vine and Light