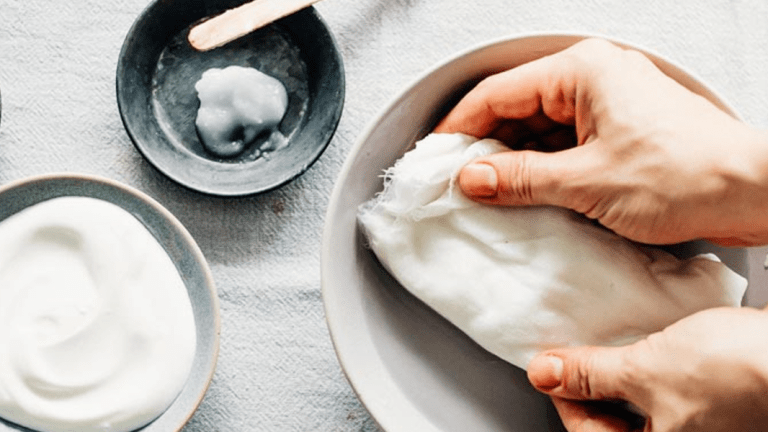 7 Steps to Benefit from a Salon Facial Without the Hefty Price Tag
Save this for a girls' night in!
It's been a long few days, and you just need some me time. "A facial sounds nice," you think. But a quick check of your bank account verifies that this indulgent practice is out of the question.
Far from just cucumber-eyed vanity, though, regular facials have long-term benefits, such as increased blood circulation—which gives your face that healthy glow. While it may not be just like the spa, there are ways to reap the benefits from a facial without the hefty price tag. Here's how!
Tip: We suggest doing your at-home facial at night, so you can go to sleep afterward and allow your skin to rest and absorb all the treatments you just did. Your pores will be clean and open after your facial, so make sure your pillowcase is clean, too.
01. Remove Makeup and Pollution //
It's very important to remove any makeup, dirt, oil, or pollution before you begin the process. If you don't, you could potentially push the debris further into your pores during your facial's following steps. Simply use an oil cleanser or micellar water on a cotton ball to wipe away all the grime you accumulated over the day.
02. Cleanse //
Now it's time to cleanse your skin as you normally would, making sure that any residue from your makeup remover is also gone. The goal is to treat your skin with kindness during your facial, so avoid abrasive face washes that dry out your skin or cause redness. We suggest a gentle wash such as Cetaphil or La Roche-Posay Hydrating Cleanser. Rather than your usual hurried wash, take the time to massage your face and really enjoy this restorative act (more on that later, though).
03. Exfoliate //
If you've cleansed with a Clarisonic brush, you've already exfoliated. If not, or if you're looking for a little extra, consider using a facial polish or gentle scrub. Exfoliation is an important part of a weekly beauty ritual, but this step shouldn't be abrasive at all. Avoid physical exfoliants that contain fruit pits or nut shells; these ingredients have a tendency to cause micro-tears in the skin. We suggest using only very small granules, such as one of Fresh's face polishes.
Another exfoliating option is to use a peel. You've probably heard of chemical peels, which exfoliate your skin by penetrating your skin's layers to loosen both dead and living skin cells. Chemical peels often include varying intensities of salicylic acid, glycolic acid, and lactic acid. These are the peels that cause the most irritation and sometimes even require downtime afterward because of the redness they can induce. For a gentler alternative, we suggest using an organic enzyme peel, which uses fruit and vegetable extracts to speed up your skin cells' turnover rate. The great thing about these natural enzymes is that they only exfoliate dead cells but do not damage or remove live tissue. Continued use of enzyme peels promotes your skin's collagen production and diminishes scars, fine lines, and discoloration. Use peels that contain pumpkin, papaya, pineapple, pomegranate, and blueberries.
04. Steam //
Steaming opens up your pores, allowing your skin care treatments to be more effective and more easily absorbed. If you used a chemical peel, do not steam. As steam opens up your pores, it will cause the chemicals to go further into your skin and can cause added irritation.
You can steam two different ways. (1) Stand over a pot of water that has been brought to a boil with a towel over your head so that the steam is captured. (2) Dip a washcloth into hot water, squeeze out the extra water until the cloth is damp, and cover your face. Steam for ten minutes. Just make sure the water or steam isn't scalding your face. If it feels too hot, it probably is—let the water cool off until it's hot but comfortable.
05. Mask //
Now for the typical salon facial part. Depending on what treatment you want to do, pick a mask that targets your skin concerns. A clay mask will draw out any clogged pores or impurities. Natural ingredients such as kaolin, bentonite, Dead Sea mud, and mineral clay are nonirritating but effective. Let this mask set for about fifteen minutes before removing with a warm washcloth.
Some people like to do another mask after the clay one and choose a mask that targets their specific skin concerns. Most salons will use hydrating masks to replenish your skin, but depending on your skin type you can choose masks that are targeted toward dullness, dryness, sensitivity, and more. If you're in a pinch or want to try something super-natural, simply apply plain Greek yogurt. Keep this mask on your face for fifteen to twenty minutes.
06. Massage and Moisturize //
The massaging portion of the facial is what we are all really looking forward to. While it's not as relaxing when doing it to yourself, you can still reap the benefits. Gently massaging your skin in upward motions promotes blood circulation in your skin and tones your facial muscles. Aesthetician Cecilia Wong says it's like taking your face to the gym and that she notices a visible difference between clients who massage their skin regularly and those who don't.
We suggest using a serum to massage into your skin. There are two types: water-based and oil-based serums. An oil-based serum contains non-pore-clogging oils such as black currant seed, carrot seed, sunflower, argan, grapefruit, rose hip, bergamot, and almond. These serums are highly moisturizing, and you don't need to apply an additional moisturizing cream afterward. Water-based serums often consist of ingredients such as vitamin C, vitamin E, ferulic acid, resveratrol, and zinc. Be careful when using serums that contain salicylic, glycolic, and hyaluronic acids because your skin will be a little more tender and sensitive to chemicals.
For the actual massage, make sure your skin is damp for maximum absorption. You can layer your serums, but first test how the texture of the serum feels between your fingers and layer from thinnest to thickest. Apply serum to clean hands and massage into your skin with two fingers in upward circular motions. Start at your cheeks and massage all over your cheekbones, jaw, chin, and forehead; be most gentle around your eyes. After your serum(s), apply your moisturizing night cream.
07. Spot Treatment //
If you have a pimple you're trying to get rid of, now is the time to apply a spot treatment. Depending on how harsh of a treatment you want (remember, your skin is more sensitive post-facial), use either a drying lotion or a chemical treatment.
Drying lotion will not burn your skin but contains zinc oxide, which draws impurities from the skin more naturally. However, if you're fighting an angry whitehead, you might want to use a spot treatment that contains salicylic acid and benzoyl peroxide. Salicylic acid will help unclog your pore, while the benzoyl peroxide will fight the bacteria growing inside. Apply a dab of either spot treatment to your pimple before going to bed, and leave it on overnight.
Photo Credit: Hello Glow