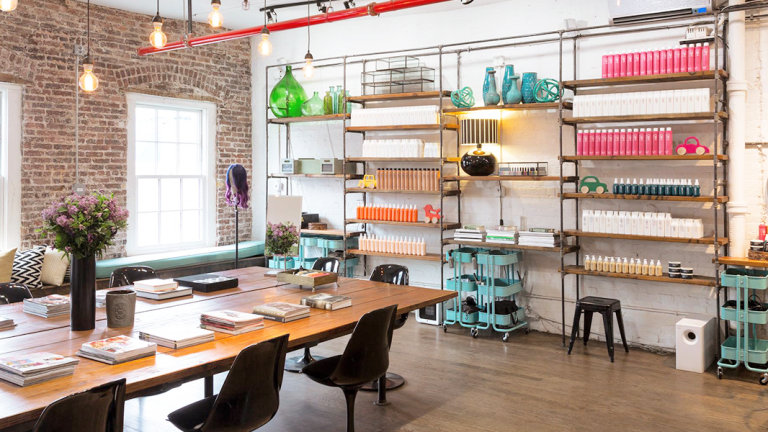 Does Organic Hair Dye Work? I Tried It To Find Out
The future of beauty is here.
When I was 16, I dyed my hair black. I felt like a mini scientist as I prepared to dye my own hair from a box. I expertly covered every inch of my hair in purple goop and waited thirty minutes for the dye to do its work. 
Once I rinsed and dried, I had shiny black hair—and angry red splotches all around the crown of my head. The splotches began to itch and burn, but I thought, "Well, this is just how hair dye is." And you know what? I dyed my hair again every three months for the next three years. 
But my story doesn't even touch on the women who suffer through blisters, boils, scabs, and more due to regular hair dye use. Seventy percent of U.S. women apply chemicals such as ammonia, resorcinol, and paraphenylenediamine to their heads on a regular basis. In a country where we want organic food, natural skin care, and even sulfate-free shampoo, why are we still OK with bathing our scalps in the harmful chemicals of hair dye?
My guess is either (a) we don't know that an alternative exists, or (b) we don't trust that a natural dye would work as well. I know I was skeptical. But as I've been hearing more and more about natural hair dye, I decided to make an appointment to see whether this healthier alternative could actually yield desirable results.
As I arrived at the Original & Mineral salon in New York City, I was immediately overwhelmed by the lack of ammonia in the air. Rather, my senses were greeted by an earthy smell that reminded me of a mossy forest. What is this place? I marveled as I mentally compared it to all the sterile, fast-paced salons I've been to in the past.
While I got my dye job, hairstylist and Original & Mineral educator Briana Davis sat down to talk to me about my hair, and, boy, was I surprised by what I learned. 
What's So Bad About Mainstream Hair Dye? 
Davis explained to me, "The whole idea of natural hair dye is to keep it clean and to exclude the use of ammonia, PPD, or resorcinol." If you're anything like me, those chemical names mean nothing, so here's a quick scientific debriefing:
PPD (paraphenylenediamine) is a chemical substance used in all mainstream permanent hair dyes. It's known as a possible carcinogen and often causes allergic reactions such as reddening and swelling of the scalp and face (ding, ding!). In extreme cases, reactions can result in skin swelling, redness and even anaphylaxis.
Ammonia is another lovely chemical in common hair dyes, which most of us can identify by smell. Ammonia forces your hair cuticles to open up fast so that the color can be absorbed all the way through the hair. If you've ever experienced watery or red eyes while getting your hair dyed, you're actually having an allergic reaction.
Resorcinol is commonly used as the coloring agent in mainstream dyes and also commonly found in topical acne treatments.
Davis estimates that the average woman who dyes her hair visits the salon every four to eight weeks. The dying process takes two to three hours, tallying up a total of up to thirteen to thirty-nine hours spent in the salon being exposed to these harmful substances every year. 
How Does Natural Hair Dye Work?
To develop hair dyes without the ingredients listed above, researchers looked into natural alternatives that could achieve the same effects with clean technology. Davis says, "Instead of relying on chemicals, they use minerals. They've replaced it with literal minerals from Australia's sand and sea."
Three minerals in particular contribute to the O&M Mineral CCT Permanent Colors. Illite, a crystalline clay mineral that penetrates the hair and allows the micro pigment molecules to saturate the hair with color; kaolin, a clay mineral, protects against color fade; and montmorillonite, another clay mineral, boosts scalp and hair health. They also infuse ingredients such as sunflower seed wax and sweet almond oil into the dyes to nourish hair while treating. 
To dye the hair itself, they use direct mineral color pigments, or as Davis calls them, "tone boosters." They use red, orange, purple, and gold to mute or amp up a tone.
Does It Last as Long as Mainstream Hair Dyes?
This is the most popular question of the natural versus mainstream hair dye debate. Most women assume that a natural-based dye would only be semi-permanent, but Davis assured me that it's just as permanent as mainstream dyes. How? Because of the illite and kaolin clays, which gently open up the hair cuticles to allow the mineral color pigments to penetrate the hair shaft as deeply as mainstream ammonia and dyes. 
For me, the proof is in the pudding: It's been two months since I tried natural hair dye, and my locks have maintained the lustrous mahogany color Davis gave me.
Big-Picture Benefits 
Davis added that over time, the mainstream process of hair dying takes a toll on your hair and at a certain point, it can't hold color anymore. I think we can all remember a time in which a hair dye seemed to literally fry our hair. In some extreme cases, women have to cut off their hair because it's so damaged. Natural hair dye prevents this from happening because the kaolin clay protects the hair cuticle, unlike ammonia which damages the cuticle. 
Davis concluded our interview (after giving me gorgeous hair, of course) saying that, "If hair color gives us an extra hop in our step, then there's no reason not to do it. If there is an alternative (to mainstream dye), then there's no reason not to take it because it's only going to do good things for you, and it will allow you to have fun longer." 
Well, she has certainly convinced me!
Photo Credit: O&M NYC