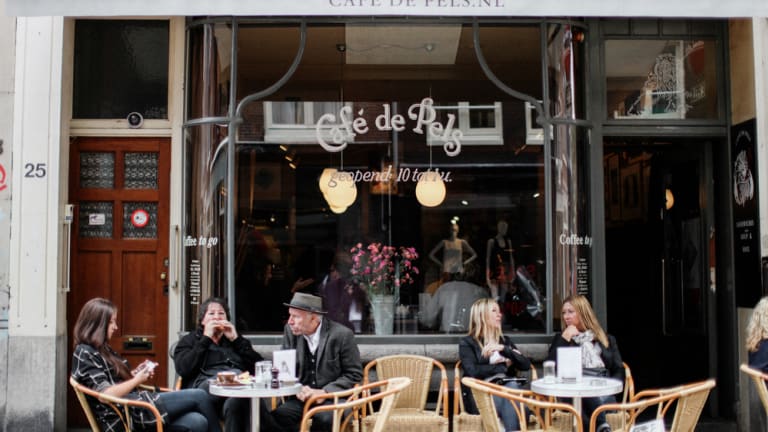 Top 10 Things to Pamper Yourself With (That Aren't a Spring Break Vacation)
Not counting yourself among this year's spring breakers? Treat yourself to these 10 luxurious things instead.
If you're not planning to bask at a top vacation destination for 2017, brace yourself—a barrage of glorious travel photos are about to take over your Instagram feed. No matter how much you love your hygge, smiling spring breakers can trigger sun-envy in the best of us.
Or maybe the typical spring breakers scene isn't your thing. Still, there are major mental health benefits in taking leisure time to salute spring. Spending your money on experiences rather than things will fuel your mind, heart, and soul. The good news? You can still unwind and get all the refreshing benefits of spring break without breaking the bank.
Here are the top ten ways to "spring clean" your mindset, for far less than a plane ticket. I also created a handy point system for the type A personalities in the group (I know it's not just me) to help assess whether you're unwinding too little or just right. Earn all fifty points, and you'll thank me later!
Get (Your Feet) Ready
Points: 3
Nothing makes me more excited for sandal season than de-winterizing my feet. Book a pedicure. If you opt for polish, go bold with the OPI 2017 Fiji colors, bright and ready to take on spring. But because I publicly swore off pedicures in exchange for massages, I'll be going the DIY route and making some citrus-smelling coconut sugar scrub before finding a color that fits my springtime mood (I'm feeling OPI's creamy lavender Polly Wanna Lacquer?). Get ready to wear those cute strappy shoes.
Go Outside and Break a Sweat
Points: 4
What's a vacation without a long meander? If you're lucky, flowers are blooming, and the weather is fresh and ready for you to explore and admire. Plus, if you haven't heard, going outside is really good for your brain. Whether hiking, biking, or taking an afternoon to paddleboat, a good vacation means getting outside and enjoying the fresh air. (But maybe take some of these seasonal allergy precautions.)
Read a Beach Book
Points: 7
While you might not have a beach near you, you do have the sun. Picking up a "beach book" (one that screams "I'm on vacation!") is the easy part. Whether it's pop culture or high literature, this clutch companion is the fastest way to get into vacay mode. I'm looking at you, Austenland. Plus three points if you read yours outside in a hammock or lounge chair (you lucky woman, you).
Sip a New Cocktail
Points: 2
It's the perfect time to try easy-to-grow herbs to make fresh spring cocktails. If you're in the mood to share your spritzers, host a small gathering of friends who are also skipping spring break this year—then double your points.
Buy New Sunglasses
Points: 2
Even if you live in a place as infamously dreary as Seattle or London, sunglasses are the type of accessory that can get you in a sunshiny mood, rain or shine. Fortunately, you don't have to break the bank, as we all know that designer sunglasses can look exactly like the sunglasses on the Urban Outfitters sale rack (and if you lose them, you're not out $90). Check out our guide to find the perfect on-trend shades for your face shape.
Listen to Live Music
Points: 6
Nothing screams "Winter's over!" like getting out and jiving to real, live music. Whether you've snagged tickets to the Lumineers or are just rocking out to your cousin's band playing at the local bar, live music takes us out of our element. So keep an eye out for your local venues, or see if any of your favorite bands are coming to a concert near you.
Support Your Local Art Scene
Points: 8
Anytime I travel, I browse around the local shops and check out the art scene. Unfortunately, I don't do this where I actually live. So why not check for gallery openings around your city? Learn about your local artists. Art is a priceless investment, and there's something for every budget. Plus, nothing freshens up your living space like new and unique art.
Dine Alfresco
Points: 2
You know it's springtime when restaurants double in size due to their now-open outdoor patios. Get out to your local favorite's patio, or try something new. If you can't go out, grill out or pack a picnic to enjoy when the weather is as scrumptious as the food you're planning to eat.
(Re)Discover the Art of Aromatherapy
Points: 6
Aromatherapy is the best way to usher in that fresh spring cleaning feeling without really doing much. You can find a diffuser for as low as twenty bucks (though, I'm eying this one). Then drop in your favorite essential oils. Experts recommend floral scent combos, such as rose or jasmine, for an enhanced seasonal boost.
Sleep a Ton (Seriously)
Points: 10
If you really want to feel like you're on spring break vacation, sleep—a lot. What's the point of a vacay (or staycay) if you don't leave it well rested? Carve out early nights or late mornings. Or take a day off and make a long weekend out of it. Brunch in bed, anyone? Even if you can't take the time off, this sweet season understands. Embrace it.
Photo Credit: Vine and Light