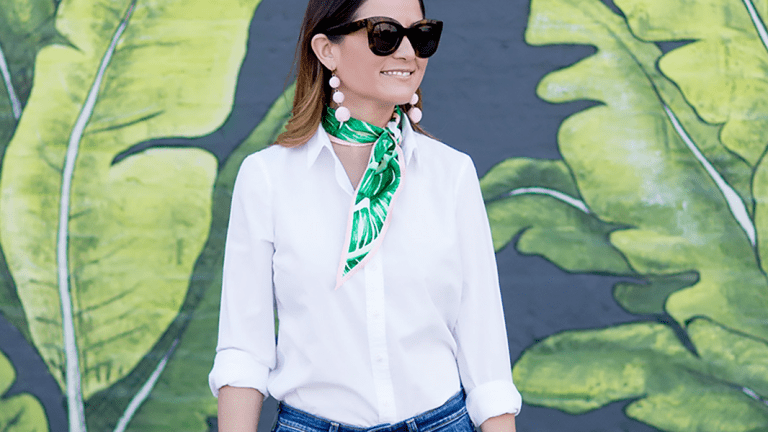 Simple Ways to Add Color to Your Outfit
Get out of your style rut with some vibrant hues.
During the dull intersection of winter and spring, it's hard not to get stuck in a style rut. We're looking forward to warm-weather dressing, but the weather is not cooperating. Cue the endless cycle of black, gray, and more black.
You don't have to wait for sundress weather to lighten up your outfits though. The easiest way to spice up your look is to simply add color. You'll be surprised at how much a cheery hue can brighten up your look and your day!
Belts //
Instead of grabbing any old brown belt, pull your look together (literally) with a punchy belt that draws even more attention to your waist and takes your outfit to the next level. We don't know about you, but we're copying Jessie Arigue's blue belt look ASAP.
Heels //
Leave it to Shira Rosenbluth to rock a pair of colorful heels like a pro. We love how she went black on black with her dress, jacket, and tights, allowing her bright red pumps to steal the show.
Purses //
If you feel like your black-and-white outfit is lacking something, it's probably a pop of color. Take a cue from Jean Wang, who topped off her perfectly ladylike look with the cutest bright red purse.
Tights //
Life is too short to only wear black tights! Louise Ebel shows us how to make even bright pink tights look sophisticated by pairing them with sleek booties and a midi skirt.
Hats //
Sometimes a colorful hat is necessary for topping off an outfit. Peony Lim creates a feeling of regal elegance with her wide-brimmed blue hat, certainly making her personal style stand out.
Lip Colors //
The easiest way to give yourself a pop of color is to swipe it across your lips! Naty Michele knows what's up with her bubblegum pink lipstick, proving that a bold lip to even the simplest outfit immediately elevates the look.
Earrings //
Blair Eadie is the queen of colorful outfits, so she knows a thing or two about bright accent accessories. Her girlie pink earrings play up her flouncy spring dress to create an über-feminine outfit, and we're definitely making this look our own come spring.
Scarves //
This one's a no-brainer, but Jennifer Lake's outfit makes the colorful scarf look revolutionary. Who knew a plain-white button-up and jeans could look so chic?
Nails //
If you're looking for a semi-permanent solution, consider painting your nails a fun color like Kristabel Plummer did with this metallic green shade. Whether you're typing at your computer, picking up your phone, or hailing a cab, never underestimate the power of a great manicure!