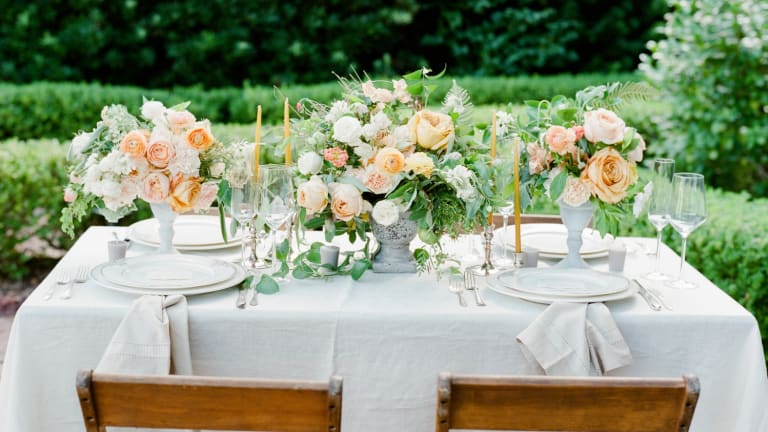 6 Wedding Trends in 2017 That Are Sure to Become Classics
We combed through all the forecasts from top event planning experts to find the wedding trends we can actually get behind.
Every year, personal wedding planning site The Knot collects data from thousands of weddings to help determine upcoming nuptial trends in the new year. In 2016, they surveyed over 13,000 weddings and found that the average American wedding took place in the fall, included about 140 guests, and that navy, gold, and blush dominated wedding themes.
The survey also reports that, in 2016, a wedding cost the average couple over $35,000 (not including the honeymoon)—which is more than 60 percent of the median American household income. That's bananas! With growing wedding trends like drone photography, extravagant entertainment (aerialists and full-on choirs at wedding receptions are becoming a thing), wedding costs for 2017 could grow be even higher.
Thankfully, we're witnessing more and more couples counterbalance epic wedding expectations and costs with practical and meaningful wedding trends—on a fair budget. We combed through all the forecasts from top wedding experts and picked out these 6 wedding trends we can actually get behind in 2017.
01. Green
Pantone's 2017 Color of the Year, Greenery, is finding its way into many couple's wedding colors, which means foregoing flowers for more—you guessed it—greens! Not only is this more affordable (greenery costs far less than florals), but it is also life-affirming shade. Pantone's color experts call Greenery "nature's neutral", making it a refreshing complement to neutral, pastel, and bold wedding colors alike.
02. A Return to the Sacred
Bronson Van Wyck of event production firm Van Wyck & Van Wyck tells Vogue, "Brides and grooms will recognize more that their ceremony is the sacred part of their celebration." Couples are turning to more unique and special ways of highlighting this aspect of their wedding day by scheduling time for thanksgiving with their wedding party before the ceremony, sharing spiritual traditions with their guests, or hosting the reception at or just steps from their church. They know the reception is the party, but couples are becoming more intentional about reminding their guests what matters most on the wedding day—their union as husband and wife.
03. Candid Captures
In Style Me Pretty's guide for 2017 wedding trends, Lynn Easton of Easton Events notes, "We are noticing that our brides are requesting a more photojournalistic style be included in their wedding photography. It's not just about the perfectly posed pictures in very dreamy tones anymore." Whew, less pressure for the bride and groom during photo-taking? Sounds like a very dreamy tone to us.
04. Less Pinterest, More Personal
In an interview with Vogue, wedding and event planner Colin Cowie warns, "Pinterest can be an excellent tool for brides-to-be to find inspiration and get their visions in motion, but the homepage-of-Pinterest wedding look is well overdone." Your wedding should be unique to you and your fiancé, and nobody knows you as a couple better than you know yourselves. So take a break from those Pinterest boards before you start dreading your wedding. Instead, brainstorm ideas with your future husband to inspire your "dream" wedding—and to remind yourselves why you're planning this beautiful event in the first place.
05. Celebrating Consciously
The Knot predicts that more couples are "going green" in 2017. Jamie Chang of online wedding planning program Passport to Joy tells Brides, "In a shift that focuses more on giving than getting, couples are embracing charity registries, which allows guests to make a donation in their honor." Danielle Calhoun, founder of conscious weddings source Black Sheep Bride tells Verily, "The perfect wedding of your dreams can be accomplished with less waste—and money—by using socially conscious vendors." Here are five of our favorite ways to plan #weddingsthatgiveback that also benefit you in this fun and exciting season of love!
06. A Couple That Stays Together
Celebrity wedding planner David Tutera has noticed, "What's been happening is couples separate to their friends and don't hang out with their significant other on their celebration. That's not good. That's something I am trying to force people to understand is incredibly important." To guarantee you and your new husband stay connected during the big day, schedule in plenty of one-on-one time after the ceremony and during the reception. And rather than being seated with family or the wedding party, more couples are opting for a more intimate sweetheart table for two.
The key word for 2017's best wedding trends seems to be "forgoing" something good for something even better: like more fresh greens instead of flowers, candid rather than perfectly posed wedding photos, or less Pinterest trends for more personal touches. However you choose to celebrate your wedding, we hope these themes inspire a joy-filled and meaningful wedding planning process that your budget will agree with.
Photo Credit: The Happy Bloom