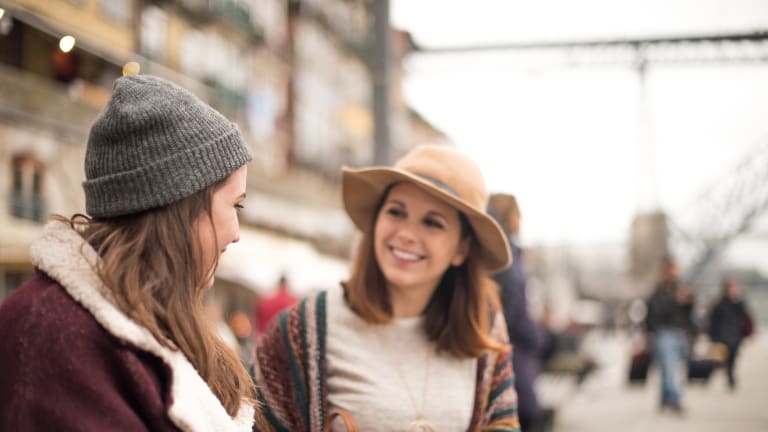 Changing The Way I Talked About My Husband with My Friends Saved My Marriage
When venting goes too far, a bond can be broken.
It was a cold day in January when I called my friend Kaite to vent. So cold, in fact, that we were snowed in. I complained to her that I was alone because my husband, Will, was working in Philadelphia for the month and wasn't coming home due to the snow. But it was more than just this one weekend. My husband is in residency and his hours are long; no matter how glad I am that he is working hard in his field of choice, this is a really difficult time in our marriage.
I heard a lot of careless words by adults when I was growing up; family members and family friends, openly talking about their spouses. The impression it left on me was one of insecurity. Would my future spouse talk about me that way? So, when I married Will, I was determined not to bring our marital issues to anyone else. I wanted to show respect for my husband and not fall into the siren's trap of unproductive ranting. 
I lasted seven months.
We were living in another part of the country from our family, and I was feeling vulnerable. No family to visit, just husband and wife, together, defining our marriage each day. We were still finding our stride in cleaning, organizing, daily schedule, and preparing for the birth of our first child. Will was in graduate school, focused on his goals, and I was newly unemployed and pregnant. A lot felt uncertain or new. We were definitely experiencing the growing pains of navigating our new life together. When we fought, he wanted to keep the conversation going, but I often shut down and needed to collect my thoughts. 
The more I put off talking to Will about my struggles, the more I vented to girlfriends. Venting feels so good in the moment. You're angry, you're frustrated, you are in a bad position, you're sad—you're just feeling a lot of feelings. But what comes after the venting usually feels worse. Oftentimes, you're only obsessing over the details, in a tailspin of hurt. The problem is not solved yet and the hard part, actually dealing with the trouble as a couple, is still to happen. 
During Will's second year of residency, I reached a breaking point. One night, I let him hear my frustrations in a totally unfiltered capacity. It was an extremely tough conversation. For Will, though, it was a breath of fresh air.
It was in that moment that I realized how I had hurt my husband and my marriage by holding back my frustrations from him and venting about them to my friends instead. In that moment, I didn't vow to never again talk to friends about my marital frustrations, but I did resolve to be more careful about the way I talk about my husband with my friends.
The truth is, sharing your marital struggles isn't always a bad idea. Sometimes, we need perspective and better ideas about how to tackle the issues. It's hard not to vent sometimes; but it's important to draw the line between expressing frustration and steamrolling him to open ears. In my experience, how we share with friends, and with whom, makes the difference between constructive venting and hurting our spouse.
Erika Boissiere, a licensed therapist and founder of The Relationship Institute of San Francisco, warns against seeking information from the wrong people—the people who do not have your best interests at heart. Her advice is, "Know your village. Reach out to the people that reflect who you are. This is how we make our way through tough marital issues, not alone in our head, but with our tribe." 
In an informal poll of friends, most women said they have a select few whom they confide in when they need an honest, outside perspective, and for good reason. "When we reach for our friends for help with marital issues, it usually grants us with a few benefits," Boissiere says. "First, they often offer a different perspective that you haven't considered yet. They also offer the potential to ground you, giving you information you may have overlooked. Sometimes, we just need to talk it out. Speak our fears aloud, so we can understand them better. And finally, when we talk about our marriage, we are no longer alone with our dark thoughts. Sometimes, we need someone to bear witness to our pain."
When I am talking to a good friend, I feel that we cannot help but connect better by finding common ground. To share the vulnerable is to embrace truth. "While you can validate their feelings by letting them know they make sense and empathize with them by imagining what emotions they may be experiencing, being there for your friend in his/her moment of pain is the greatest gift that you can give," says Rabbi Shlomo Slatkin, therapist, author, and founder of The Marriage Restoration Project.
Now, if I am going to discuss anything sensitive, I have to be able to trust my friend completely. I need to know she is not going to share my struggles with anyone else. I need to know she will not take sides—my husband and I are a team—and if I need to talk about a situation that is frustrating to me, I need to know she is going to always be on our team while still empathizing with me.
My experience also taught me that venting to a trusted friend only becomes a dirty secret when your partner is unaware of these same feelings and frustrations. Sometimes, it may feel that girlfriends have a better understanding of you than your husband, but it is wise to resist that thought. Your relationships are different, and girlfriends should only provide an outsider's impartiality and a listening ear. Look to your friends for empathy and perspective, and your husband for clarity and truth as a most trusted life partner.
Barbara, who has been married for almost thirty years, says she talks about her husband and their marriage carefully; "Among a wider circle, only praise, or at most, point out cute quirks. Among besties, you can open up a bit more, but if all you ever do is complain to them, they will start to think your marriage is in trouble. Part of your job is to protect him." As Barbara explains, "At some point, one realizes that the sanctity of marriage depends a lot on trust, and that deep and binding commitment to your spouse is far more important than a funny story to tell your girlfriends."
Marriage is a long-term venture. None of us set out on the journey properly prepared for what is to come, which is why we ask for help from family and friends. I have discovered that boundaries protect my marriage when I vent. By showing kindness toward my partner, I can work with my girlfriends to build up my marriage and theirs. We help one another move through trouble spots, encourage love and fidelity, and strive to be the kind of friend a married friend can trust and love in return.
Photo Credit: Adobe Stock