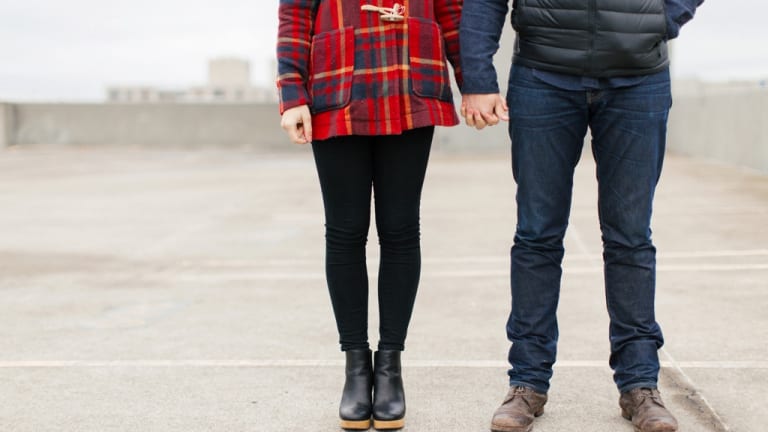 10 Very Chill Valentine's Day Gift Ideas for the Guy You Just Started Dating
You don't have to be madly in love to say, 'Be my Valentine.'
Let us get something out of the way: We are not (repeat, not) suggesting that you need to get a Valentine's Day gift for a guy you've been "going on dates with" for a month—especially if you haven't yet had the DTR conversation. But, if you're a few months in and things are going well, you're in what we shall call the Gifting Gray Area.
Somewhere between a box of candy hearts and hearts on boxer shorts, there's a way to show your main squeeze that you think he's pretty great, without overwhelming him with too many #feelz. From silly socks to a flying disc—we have ten affordable and playful gift ideas for a new boo who's not quite your bae (yet).
01. Cover the bar tab.
Sometimes the simplest gift is the best gift—especially when a relationship is just finding its sea legs. Grabbing the tab after a night of drinks (or even dinner, too) is a sincere gesture to make, especially if your new guy has been treating for everything except the occasional coffee and a bagel on the weekends. Valentine's Day is the perfect opportunity to thank your guy for being such a gentleman. Every man wants to know he is appreciated!
02. Burt's Bees beeswax lip balm. Walgreens.com, $4.
What's the best part of a new relationship? A good kiss! Infatuation comes with some downfalls though, such as chapped lips. This affordable drugstore gift is a sweet way to say, "Pucker up, babe!"
03. 'This is a cheesy Valentine' card. Hellolucky.com, $5.
When a card costs $5, it definitely counts as a gift. This one is cute and silly and artistic, so don't be surprised if it ends up on his fridge. In the early phases of romance men don't like to feel like they are being pressured to get more serious. So don't go overboard on the note inside—remind him of an inside joke, let him know you're having fun…That kind of thing.
Save the heart-print boxers for your husband. Socks are quirky and pretty much completely devoid of a "deeper implication" so you can gift without fear of freaking your new guy out. But aside from having your totally chill covered, a nice pair of socks is a luxury few people—and especially few men—will indulge in, so it is sure to warm his heart.
05. Aerobie 'Skylighter' flying disc. Amazon.com, $12.
If you want score some serious playful points, suggest an afternoon (or evening!) in the park and come ready with an activity. When it comes to early dates, guys prefer to move. Doing an activity, like frisbee, frees them up to talk about their feelings and other personal matters—which is always helpful for relationship growth! There are lots of dates that involve activity, but frisbee gets our vote because it's inexpensive, free of rules and easy to throw no matter how rusty your hand-eye coordination might be.
Simple, stylish and straight to the point. If you and your new guy are proficient in emoji-speak, gift him a tiny reminder (that he should wear pinned to the pocket of his flannel or a denim jacket) that he's so 100. But don't laugh this kind of trinket off as meaningless; little reminders of inside jokes help to build shared meaning and history, which helps unite a couple and make them feel close.
Fancy, right? And thoughtful! Yet so casual, too. These stainless steel chopsticks will majorly upgrade your next Netflix and chill (and takeout) date night.
08. Reclaimed vintage retro sunglasses.
We'll go ahead and apologize for the cheese factor ahead of time, but if you're feeling confident about your relationship status with this guy, give him a cool pair of (inexpensive) sunglasses with a gift tag that reads, "Our future's so bright, you've gotta wear shades!" Too much cheese for you? Just tell him that you think the shades are cool, and that he is pretty cool, too. Get good at complimenting your guy now because it's those little gestures that keep the romance burning bright. 
09. The Sill 'Tillandz' air plant. Thesill.com, $20.
Take a deep breath. We aren't suggesting you go full How to Lose a Guy in 10 Days and get him a "love fern." Air plants are really low-maintenance, so he won't need to worry about letting the plant, or your love, die. If he stores the air plant in a humid place (such as the kitchen or bathroom), he won't even have to water it.
The playlist has been a tried-and-true low-key romantic gift since it was called a mixed tape. Do note that this falls into what I would call the advanced level early dating gift category. While the cost is nothing, the implications can be everything. Still, this gift is low-key enough because all you have to do is send the link to the playlist. If you want to be extra cute, write out the song list on a piece of stationery and wrap it around a pair of cheap earbuds. Be sure to stick to songs that you think he might like, and don't use these songs to send any kind of message other than, "I think you might like these."
Photo Credit: Vine and Light Photography